'I Thought Breastfeeding Was Going to Be Easy,' Says Pediatrician

What kept this local pedia and lactation counselor going was the immense breastfeeding rewards she knew was waiting for her and her baby.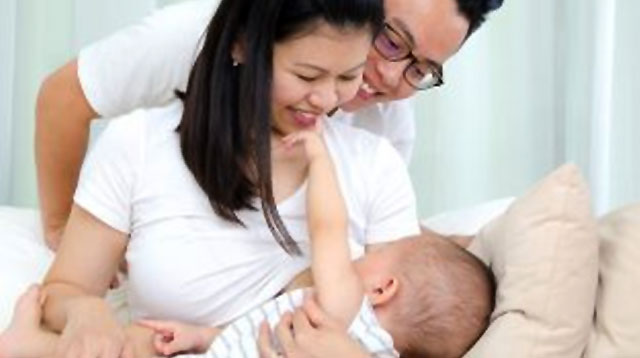 There is no doubt that breast milk gives your newborn the best chances for a strong immune system. So every new mom wants to breastfeed, but it's not always a blissful journey. Just ask Jamie Isip-Cumpas, M.D. At our recently held "Smart Moms Birth and Baby Workshop," co-presented by Pampers at Discovery Suites in Ortigas, Dr. Isip-Cumpas reveals she thought breastfeeding was going to be easy. 

"I was a pediatrician and I was teaching it to the mothers. But later on, I realized that the first two weeks [of breastfeeding] were so horrible," said Dr. Isip-Cumpas, who is also a mom of three, a member of the breastfeeding committee of the Philippines Pediatric Society, and international-certified breastfeeding and lactation counselor (ICBLC).  

Having the right knowledge on breastfeeding, she says, helped her successfully breastfeed her two younger children. Dr. Isip-Cumpas says the first step is to keep the rewards of breastfeeding in mind, which should motivate you to go for the breast, er... best!

Benefits for baby
1. Breastfeeding is your baby's first immunization.
It's the first protection you can give to your baby. "Your body will produce the milk that your baby needs," Dr. Isip-Cumpas explains. "For first three to five days, you will produce viscous, yellowish milk called colostrum. It's packed with antibodies your baby needs to fight illnesses." 

2. Breast milk is the most nutritious meal for your newborn.
Aside from the anti-bodies, breast milk also contains growth factors that are not present in any formula milk. Its nutrients are also better absorbed by your baby. Breast milk will actually change and adapt to the needs of the baby as he grows.

3. It is easily digested by infants.
A baby's body absorbs more nutrients found in breast milk because his underdeveloped stomach can easily digest it. "Your baby will poop very often, almost every time he feeds. That's a very good sign that your baby is digesting the milk very well," says Dr. Isip-Cumpas. "A formula-fed baby has higher chances of being constipated, colicky, and will be very fussy because the milk is not well digested," she explains. This also means that your baby will not easily get gastroenteritis, or infection in the gut.

ADVERTISEMENT - CONTINUE READING BELOW

What other parents are reading

4. It helps your child reach his full brain potential.
"Intelligence is genetic, so it does mean that a breastfeed baby will be smarter than everybody else. It means that whatever the child's potential is in terms of intelligence, your child, if he is breastfed, will be able to reach that," clarifies Dr. Isip-Cumpas. Studies have found that a breastfed child shows improved understanding of language at age 3 and acquires higher IQ scores at age 7.

5. It lowers the risk for several infections and illnesses.
A breastfed child will have lesser chances of getting ear infections and respiratory infections such as pneumonia and upper respiratory tract infections. Breastfeeding also lowers a child's risk for high cholesterol and heart ailment, diabetes, and certain cancers. "The longer that you actually breastfeed your baby, the more benefits you will give him. If your baby is breastfed for eight months, you are lowering your baby's risk for allergies and asthma. If breastfed for 10 months, it lowers the risk for leukemia and lymphomas. So prolong breastfeeding as long as you can," Dr. Isip-Cumpas advises.

Benefits for the mom
1. You will save a lot of time and energy.
No need to sterilize bottles, get up and pre-pack milk in containers or shake, shake, shake formula milk. "Save your time and energy -- just put the baby to your breast," Dr. Isip-Cumpas says.

2. Breastfeeding helps stop uterine bleeding.
When you breastfeed your baby directly, you'll feel slight pain in your uterus. That's actually your uterus contracting to stop the bleeding inside and on its way to return to its original state.    

3. Nursing is a sacred bonding activity with your baby.
This emotional bonding with your little angel will serve you well in the future. "You'll notice when your baby is sick, you'll be able to give your baby comfort by just putting your baby to the breast," Dr. Isip-Cumpas shares.

CONTINUE READING BELOW

Recommended Videos

What other parents are reading

4. It is the perfect contraception for the first six months after giving birth.
The Lactation Amenorrhea Method (LAM) is a natural family planning method that only works if you check all three conditions: One, your baby is less than six months. Two, you have not had your menstruation yet. And three, you are exclusively breastfeeding your child. Other means of contraception such as estrogen-only pills may have side effects and could lower your milk supply.

5. Breastfeeding lessens your chances for illnesses.
Nursing decreases your risk for developing ovarian cancer, breast cancer, type 2 diabetes, and postpartum depression.

6. It will help you lose weight.
This is a favorite -- and it does what it promises. However, Dr. Isip-Cumpas warns that breastfeeding mom should not go on a diet. "Just eat and drink and just enjoy it, you'll burn more calories breastfeeding," she stresses.

Benefits for the dad
Make sure you involve your husband or partner in your journey, so he won't feel left out. Share with him these facts. For starters, breastfeeding is free. You and your partner can actually save almost P21,000 to P25,000 in formula milk expenses for the first six months. You'll also have less medical expenses and less absent days from work because a breastfed child does not get sick as often as babies who are formula-fed. Also, share with him how LAM works as a natural contraceptive. That maight be the key! *wink*

What other parents are reading

Celebrate your pregnancy milestones!


Enter your details below and receive weekly email guides on your baby's weight and height in cute illustration of Filipino fruits. PLUS get helpful tips from experts, freebies and more!

You're almost there! Check your inbox.


We sent a verification email. Can't find it? Check your spam, junk, and promotions folder.
Trending in Summit Network