One Pinay Mom's Experience: How and Where to Donate Breast Milk

She shares what you'll need and how to prepare breast milk for donation.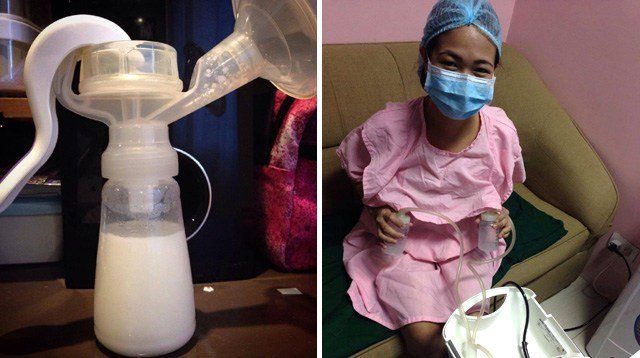 Remember Rodessa Villanueva-Reyes, the ingenious mom behind the viral cardboard play kitchen? We caught up with her recently and learned that 4-year-old daughter, Audrey, owner of the play kitchen, is now an ate! Rodessa gave birth to a baby boy, Damien, and as we spoke to her about her breastfeeding journey, she told us that a lot of people had been asking her about her experience with breast milk donation. Yes, Rodessa has been blessed with breast milk supply that is more than enough for her 4-month-old son. 

"I pump three to four times a day. Each session lasts around 15 minutes, and I'm able to express around 5 to 8 ounces of milk," Rodessa shares.  

Donating breast milk to infants in need stems from a personal place for Rodessa. "I lost my firstborn to a stillbirth. I would have done anything to save her life. If she were born alive and would need breast milk to survive, I would knock on each breastfeeding mom's door and beg for it."

What other parents are reading

Rodessa first began donating breast milk when Audrey was 9 months old. "I saw in the news that a newborn baby was found abandoned on the street with his umbilical cord still attached. The hospital he was admitted to was near our home so I went to inquire how I could donate breast milk for the baby." 

This time with Damien, Rodessa's first recipient was her nephew who was born a month earlier than her baby boy. "He was a preemie. As soon as my milk supply was stable, I started building my stash not just for Damien but my nephew as well." 

Rodessa was surprised that many women wanted to donate breast milk, but they didn't know how to go about it. So we asked her to share her experience.  

What you'll need
If you already know how to collect milk via hand expression or have a breast pump at home, donating will be easy, says Rodessa. You'll need disposable milk bags, an insulated bag or cooler to keep the milk frozen and chilled upon delivery, and extra freezer space.

ADVERTISEMENT - CONTINUE READING BELOW

What other parents are reading

Since full-time mom Rodessa donates regularly, she invested in a few other tools like manual breast pumps she can use while she sterilizes the used ones. "I have three of the same type, which I'm already 'hiyang' to. I don't reuse the pumps without washing and sterilizing them because milk might get contaminated if I don't."

Rodessa also has this reminder for those who will donate. "Breastfeeding moms are the hungriest and the thirstiest. To produce more milk, I eat the right kind of nutritious food and keep hydrated." 



How to prepare breast milk for donation
You have the option to go directly to a milk bank to express and donate milk, or you can express from home. Here's a starter guide to familiarize you with what to do if you prefer the latter. 

1. Find a suitable container.
Donated breast milk is typically stored in disposable milk bags. You can also use food-grade polypropylene plastic or glass containers with leak-proof lids, according to The Philippine Human Milk Bank Guidelines. Fill containers only 3/4 full to allow for milk expansion when freezing.

2. Label properly. 
Make sure your containers are properly labeled with the date and time of expression. "Stored breast milk is only good for a certain period," says Rodessa. "This also helps your recipients know which milk to consume first." 

CONTINUE READING BELOW

Recommended Videos

What other parents are reading

3. Store in the freezer.
Store your filled milk bags in the freezer as soon as you're done expressing until you're ready to donate them. Keep in mind that milk banks only accept breast milk that is expressed within three months before donation. 

4. Keep frozen until you reach the milk bank.
Transport breast milk in a cooler or insulated bag to keep it frozen. The guidelines recommend using frozen gel packs in your cooler to keep it cold and stuffing the empty spaces with a towel or crumpled paper. 

Other reminders: 

Drip milk collected during or between feedings is acceptable for donation.
Do not discard the first 10 ml of expressed breast milk. Collect this too. 
Remember to wash your hands and practice proper hygiene before expressing. 
Thoroughly clean all tools and materials for expression before use. 

What other parents are reading

How to become a donor
The process of becoming a milk bank donor is easy and the tests you need to take for it are free. So if you're looking to donate, don't hesitate. Here are the steps you'll need to take: 

1. Find the milk bank nearest to your home. A list can be found below.   
2. Accomplish a screening form and interview. Questions will include those concerning your health, the health of your baby and any medication you're currently taking. 
3. Sign a consent form. 
4. Undergo a physical. 
5. Undergo serologic tests that will look for Hepatitis B and Syphilis among others.  
6. Donate breast milk, which the milk bank will then process and pasteurize. 

According to The Philippine Human Milk Bank guidelines, those who are not eligible include women who:

ADVERTISEMENT - CONTINUE READING BELOW

currently smoke or use illicit drugs
consumed liquor in the last 24 hours
have undergone blood transfusion or an organ or tissue transplant in the last 12 months
are undergoing chemotherapy
are tested positive for HIV
have tattoos 

If you've had a cough or colds in the last two weeks, the milk bank will need a clearance from your doctor saying that you can donate. Moms with mastitis or any breast or nipple infection are also temporarily disqualified to donate. 



Human milk banks in Metro Manila
(to donate to and acquire breast milk)

Quezon City General Hospital
Seminary Road, Quezon City
863-0800 loc. 203

Philippine Children's Medical Center
Quezon Avenue cor. Agham Road, Quezon City
924-6603

Dr. Jose Fabella Memorial Hospital
Lope de Vega St., Santa Cruz, Manila
733-8537

St. Luke's Medical Centre, Global City
Rizal Drive cor. 32nd St. and 5th Ave., Taguig
789-7700

The Medical City
Ortigas Avenue, Pasig City
988-1000 local 6720 

Rodessa says it takes extra time and effort to collect breast milk. "You have to pump more, store, label, organize, wash and sterilize." But she is more than happy to share the blessing. 

She adds, "Breast milk saves lives. It's food and nutrition now for these babies, but the benefits last a lifetime. Kaya ang sarap sa pakiramdam ng nakakatulong ako sa kanila at sa parents nila." 

ADVERTISEMENT - CONTINUE READING BELOW

Celebrate your pregnancy milestones!


Enter your details below and receive weekly email guides on your baby's weight and height in cute illustration of Filipino fruits. PLUS get helpful tips from experts, freebies and more!

You're almost there! Check your inbox.


We sent a verification email. Can't find it? Check your spam, junk, and promotions folder.
Trending in Summit Network