A Mom's Painful Loss Is a Reminder: Don't Be Afraid to Ask for Help

This mom didn't know her newborn son was not getting enough milk. What we can learn from her rare but but tragic experience.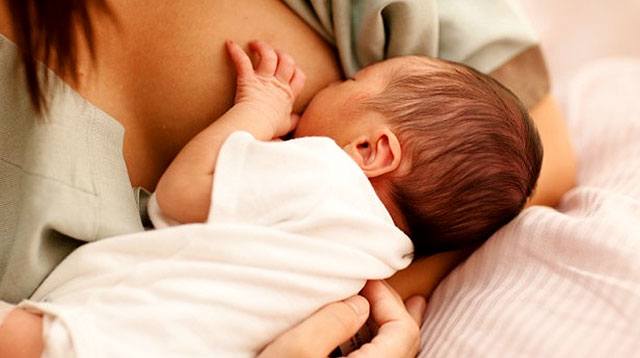 Nursing a newborn can be a struggle for first-time breastfeeding moms. It can be such an uphill battle for many reasons that some moms will decide to supplement with formula milk. One mom wishes she did just that.

In a blog post, Jillian Johnson shared the heartbreaking tragedy that befell her family five years ago. Her son, Landon, passed away, and Jillian writes it was because he was "literally starving."  

According to Jillian, the lactation consultants at the hospital said Landon, who weighed seven pounds and seven ounces when he was born, had "a great latch...but there was one who mentioned I might have a problem producing milk." She recommended herbs for Jillian to take when she left the hospital.  

But Landon cried all the time unless he was on the breast. So Jillian had to nurse him "nine hours straight during his first day of life." After about two days, Landon lost nearly 10 percent of his birth weight (as Parents.com points out, it's normal for breastfeeding babies to lose up to 10 percent of their weight after birth).

What other parents are reading

"I had no idea that he was inconsolable because he was starving – literally. We took him home… not knowing that after less than 12 hours home with us, he would have gone into cardiac arrest caused by dehydration. And the best advice I was given by one of his (neonatal intensive care unit) NICU doctors while he was on life support is sure breast is best, but follow with the bottle," Jillian wrote. 

Pediatrician Dr. Rachel Prete with Arnold Palmer Hospital for Children in Orlando, told Parents.com that Jillian and Landon's case was "extremely rare." Most of the time doctors and lactation consultants can help and guide moms with their breastfeeding challenges, including low milk supply and delayed onset of milk, which may have caused Landon to become dehydrated.

Dr. Prete advises new moms to look for physical colostrum to make sure baby is getting fed. "Moms should be able to hand express some colostrum," she told Parents. "A minimum of a teaspoon (or 5 milliliters) per feeding is enough," adding it can take three to five days for mom's milk supply to come in.

Dr. Jack Newman of the International Breastfeeding Center shared his expert advice that might help new moms spot signs that could tell them their baby is not getting enough milk. 

"The pause in the chin as the baby opens his/her mouth at its maximum, just before starting to close his/her mouth tells you. That pause in the chin (watch this video) says the baby just got a mouthful of milk. The longer the pause, the more milk the baby got," he wrote.

ADVERTISEMENT - CONTINUE READING BELOW

What other parents are reading

 

There are a few things a mom who aims to breastfeed exclusively can do to prevent this rare and painful kind of loss. 

1. Do your research on breastfeeding.
Take the classes and learn everything that you can about breastfeeding. Level your expectations. Pay close attention to the issues you could encounter and what you can do about them.

2. Consult with a lactation counselor.
Don't hesitate to ask for help. If you're having issues, get in touch with a lactation consultant. They are trained to help mothers who are having a hard time nursing so use their expertise. There are breastfeeding groups like LATCH Philippines and Arugaan that have lactation consultants and hold regular breastfeeding workshops. Ask your doctor for referrals. 

3. Go to well-baby visits regularly. 
Don't miss any well-baby visits so you can monitor your baby's health's progress. While Dr. Newman says a baby's weight is not a surefire indicator of whether your baby is getting enough breast milk, a doctor's advice is necessary if you need to make decisions on your baby's health.

4. Trust your instincts.
If you feel like there's something wrong, bring it up with a lactation consultant or your child's pediatrician. No matter how small it seems, choose to err on the side of caution. Make your doctor listen. If he doesn't seem to be hearing you, seek a second opinion.

What other parents are reading

 

5. Know your options.
If you have delayed onset of breast milk or experiencing low milk supply, formula milk is not your only option. You can mix-feed. Ask your breastfeeding mommy friends if they could donate. You can also go to a milk bank. Check here to find a milk bank nearest you. And, again, talk to a lactation counselor or your child's pediatrician. 

6. Don't be too hard on yourself. 
We cannot stress this enough. Adjusting to your new life as a mom and breastfeeding can be overwhelming. Don't forget to care for yourself. Do what you feel is best for you and your child, and don't worry about that other people would think or say. We also need to lessen the bias -- and judgment -- and listen to both sides. 

Jillian, whose blog first appeared on Fed is Best, a "non-profit, volunteer organization consisting of parents and health professionals that were founded to push back against the social pressure to exclusively breastfeed," said she kept the pain to herself because she feared being judged by others for what happened. She shared her story and for "people to know how much deeper the pain gets...in the hope that no other family ever experiences the loss that we have," she wrote. 

CONTINUE READING BELOW

Recommended Videos

"It's important to acknowledge that exclusive breastfeeding simply won't be successful for all mother-baby pairs, Dr. Alison Stuebe, a maternal-fetal medicine physician and medical director of lactation services at University of North Carolina Health Care, told The Huffington Post. "We need to be honest about that and point out that even if 100 percent of the milk doesn't come from mom, she can still have a nurturing relationship with her baby at the breast." 

What other parents are reading

Celebrate your pregnancy milestones!


Enter your details below and receive weekly email guides on your baby's weight and height in cute illustration of Filipino fruits. PLUS get helpful tips from experts, freebies and more!

You're almost there! Check your inbox.


We sent a verification email. Can't find it? Check your spam, junk, and promotions folder.

Trending in Summit Network