Real Moms Speak Up About Using Nursing Covers

Ultimately, it's the mother's choice and not the anyone else's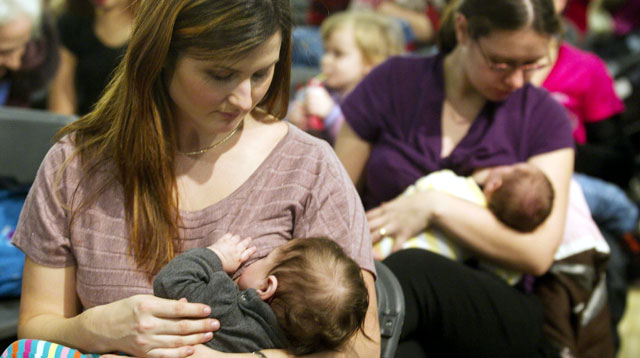 Photo from Foxnews

Breast is best. Studies have proven the benefits of breast milk and breastfeeding—and the list of the advantages of nursing is still growing. Every year, researchers are still uncovering positives associated with breast milk and breastfeeding itself.

While not all moms can breastfeed or choose not to for personal reasons (and we respect that!), most moms have realized the advantages and have embraced this challenging task. Breastfeeding has been on the rise lately, and a lot of moms do so even when they're out and about with their baby—and that's great!

However, some people who see moms who breastfeed in public are uncomfortable. Breastfeeding is a centuries-old practice and yet it's still not "normal." There are advocacy groups who campaign to normalize breastfeeding, so all mothers can do it anywhere, anytime, with or without a cover, and without getting humiliating stares from onlookers.

ADVERTISEMENT - CONTINUE READING BELOW

And so we asked what real moms thought about using nursing cover-ups.  

Of the 728 moms surveyed, 147 choose to cover up—but not because they're ashamed of breastfeeding in public. A whopping 581 moms (almost 80%) who participated in the survey strongly believe that moms who breastfeed their baby in public don't need to use a nursing cover.

CONTINUE READING BELOW

Recommended Videos

Hear what they have to say:

Charlotte Lennen-Garcia, who breastfed her baby for a year, shares that whenever she went out, she made sure to bring a nursing cover with her--and it's not because she's ashamed of breastfeeding. "There's no harm in covering up; just make sure your angel can breathe freely," she says.

Mom Mona Verdida admits she's just taking the most careful way to not have other see her breasts. The best solution for her is to go to a breastfeeding station "para comfy ako and si baby. Tahimik pa," she adds.

ADVERTISEMENT - CONTINUE READING BELOW

Nursing mom Shiella Concha Guerra bought breastfeeding-friendly clothes while still pregnant, anticipating that she'd have to breastfeed her baby when she goes out of the house. "Para hindi makikita ng buong-buo yung dibdib ng mommy when breastfeeding," she explains.

Breastfeeding mom for two years, Kristine Zenedy Mercado, says she chooses to be considerate of others. "Though I know I could [breastfeed] whenever, wherever, I also consider the people around me, that they won't feel uncomfortable. I cover only the exposed part of my breast (not cover the baby's head) so as not to make my baby feel uncomfortable, too. It's a win-win," she explains.

Mom Indeelana Maida Auiree-Natiola, who breastfed her youngest child for three years, says, "I always bring my cover with me, or I look for the nursing rooms in malls. It's not because I'm ashamed of breastfeeding. It's because I'm generally shy to show skin in public." She adds that there would also be instances when her daughter would suddenly unlatch herself, leaving her exposed. "I cover up because I breastfeed everywhere. I'm a proud breastfeeding mom: While eating in a restaurant, a mom would commend me for breastfeeding my child while eating. I feel proud when people look at me when I breastfeed while walking—because I cover up." She stresses that no one dictated her way of doing things; it's just the way she nourished her baby.

ADVERTISEMENT - CONTINUE READING BELOW

"Breastfeeding moms don't intentionally show their breasts to make a show or to try and catch attention. There are also babies that don't like being covered, it irritates them more. Given the situation, if my child is already hungry and crying, I don't care how I would make people think or feel. My priority is my child," says mom Melissa Carlos-Arpas.

For mom Lala Arellano, she agrees that breastfeeding moms should not cover up because it's uncomfortable for the babies to feed under a nursing cover. "If they need to cover up because the breast is exposed to public then we should all remove posters of underwear models," she says.

Marie Fulo Alviar also doesn't think moms should cover up when breastfeeding. "It's much more comfortable breastfeeding without a cover. Everybody should be open-minded about breastfeeding," she says.

Ultimately, it should be the mother's choice. "If she or the baby is uncomfortable with a cover, then she shouldn't be required to do so. Besides, it's easier to avert your eyes if you're uncomfortable seeing someone breastfeeding than to wrestle a hungry baby under a cover," says mom Em De Guzman-Cruz.  

ADVERTISEMENT - CONTINUE READING BELOW

Mom Chelo-Marie Dychingco says it's up to the mother what she feel is comfortable for her and the baby. "What matters most is that you advocate breastfeeding, so every mom would be inspired to nurse their little ones," she stresses.

Trending in Summit Network