A Guide to Safe and Unsafe Medications When Breastfeeding

Nursing moms often just forgo taking any medication even when needed, but that shouldn't be the case.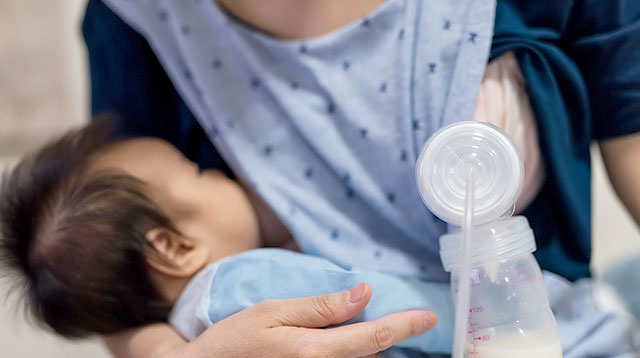 During pregnancy and breastfeeding, women are cautioned against taking medication without the advice of a doctor, as some of these may have adverse effects on your baby or affect your milk supply. As a result, most moms choose not to take any medication to be on the safe side. Some prefer to pump and dump breast milk until they finish taking their medication or give up breastfeeding altogether.

Not a lot of research has been done about how medications affect pregnancy and breast milk. The American Academy of Pediatrics (AAP) recommends that nursing moms "take medication only when absolutely necessary" and "to take the lowest dose for the shortest time possible." It is also encouraged to observe your baby for any reaction —loss of appetite, diarrhea, sleepiness, excessive crying, vomiting, or skin rashes — to any drug that you took.

But even when prescribed with strong medications, nursing moms can still express and store milk until the drug is flushed from her body. How long the drug takes to get out of your system varies, so ask your doctor about it.

"It's likely that the vast majority of drugs are perfectly fine to use in breastfeeding if the dose is moderate," Dr. Thomas Hale, Ph.D., co-director of the InfantRisk Center, a leading research facility for medication safety during pregnancy and breastfeeding, tells The New York Times.

It's still best to consult with your doctor before taking any medication. Based on available research, here's a guideline on what you can safely take or not while breastfeeding:

ADVERTISEMENT - CONTINUE READING BELOW

Medicines that have been proven safe for babies are okay.

Acetaminophen, ibuprofen, and some antibiotics, such as amoxicillin, are safe for nursing women. Dr. Hale explained that for most medications, less than three percent of a mother's dose of a drug can make it into her breast milk if the dosage is moderate.

Topical medications are generally safe.

These medications, such as a cream, foam, gel, lotion, and ointment, are those applied to a particular area on the body, mostly on the skin, to treat ailments like acne or rashes. Little or none of those drugs get absorbed into the bloodstream and thus will not end up in breast milk.

Sedatives, anti-anxiety medication, anti-nausea drugs, and sleeping aids should be taken with caution.

These types of medication (i.e., Valium, Xanax), as well as pain medication such as high-dose opioids which can be sedating, can cause excessive drowsiness and breathing problems in infants. Low-dose opioids may be an option but should be taken only for three days maximum. Dr. Hale advises that nursing moms whose babies are prone to have brief episodes of apnea, where the baby stops breathing, should avoid sedating medications.

Avoid over-the-counter allergy, cold, and sleep medications that contain antihistamines.

These drugs (e.g., Benadryl, Advil Allergy Sinus) can also cause drowsiness. Ask your doctor for a non-sedating allergy medication, such as cetirizine, loratadine, and fexofenadine, instead.

Birth control medication should only be taken after breastfeeding has been established.

The AAP says birth control pills have no harmful effects on the baby. Combination pills with high doses of estrogen may lead to lower milk supply. Nursing moms can take progestin-only pills without affecting breastfeeding but may experience more side effects. (Click here for a list of the safest birth control alternatives for nursing moms.)

ADVERTISEMENT - CONTINUE READING BELOW

Recommended Videos

Breastfeeding itself is a contraceptive method, called the Lactational Amenorrhea Method. It only works if you are less than six months postpartum, are breastfeeding exclusively (and not supplementing with formula or solid foods), and have not gotten your period back since you've given birth.

Consult with your doctor before taking any homeopathic or herbal medicines.

Natural remedies, herbal medicines, even supplements that are marketed to increase milk supply, are not as strictly regulated by the Food and Drug Association (FDA). There's little research on what it contains and even fewer studies on how it may affect babies. Discuss with your doctor first before taking any alternative medicine or supplement.

While research is being expanded, several online resources help the cause. InfantRisk.com, LactMed, and MotherToBaby.org are some of the websites that provide information on medication ingredients and safety during pregnancy and breastfeeding. Infantrisk and LactMed are also available to download on Apple and Android smartphones.

What other parents are reading

Celebrate your pregnancy milestones!


Enter your details below and receive weekly email guides on your baby's weight and height in cute illustration of Filipino fruits. PLUS get helpful tips from experts, freebies and more!

You're almost there! Check your inbox.


We sent a verification email. Can't find it? Check your spam, junk, and promotions folder.

Trending in Summit Network