'I Breastfed My Son for Two Years. Now I Must Wean Him from My Milk'

A mom shares the struggles that come with weaning her toddler from breastfeeding.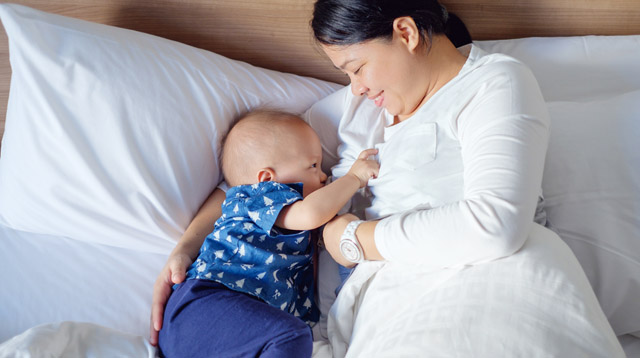 Like many women, I had romantic notions about breastfeeding. I thought it was the most natural thing in the world. So easy, so gentle.

When I gave birth, I was determined to nurse my son. My initial goal was to breastfeed for six months. Then it became a year, then two. Yes, I had those lovely memories of feeding my son. I remember thinking, "This is motherhood. I feel fulfilled."

But it wasn't always the case. Each stage was fraught with its own struggles. During the early months, I pumped because my baby couldn't latch properly due to my engorgement. I had clogged ducts the size of golf balls! When my supply leveled out, it was easier for my baby to latch and he soon became a regular attachment to my right breast. Then, I struggled with a teething baby, crying each time he bit down on me. Then he became a wriggly baby, nursing in the most awkward positions imaginable.

What other parents are reading
How did I stay sane? I didn't. I cried a lot. I had one nervous breakdown. I'm just lucky I had emotional support from family and friends. I followed the advice of other moms: focus on one chore at a time — the house can wait. I wake up earlier so I can have solo time to focus on myself. I napped when the baby napped. Easier said than done, I know.

At this point, I had long discarded my romanticized opinion about breastfeeding. It wasn't always gentle, it wasn't always easy. What kept me going? In his two years, he's only had a fever once, and the sniffles once. On both occasions, I just nursed him more frequently and cuddled him. The next day he'd be right as rain, as though nothing happened.
ADVERTISEMENT - CONTINUE READING BELOW
My son was healthy. For that, I will always be grateful that I had the opportunity to breastfeed.
What other parents are reading
Now we're officially weaning off. After three failed attempts to wean off gradually, I decided to quit cold turkey. I got up, slapped a cabbage leaf inside my bra, wore my button down shirt, and told my son in a firm voice that there's no more milk.

He didn't believe me, of course. He was in denial. Mommy's just joking. She wouldn't dare. But when he finally realized that I was serious about weaning, he had a full-blown tantrum. Nothing could console him. Not hugs, not kisses, not sweet lullabies. His Daddy had to step in and play with him till the wee hours. They both slept at around 6 a.m., utterly exhausted. I think that was my son's first heartbreak.

The next day, he tried batting his eyes and kissing me. He tried crocodile tears, then real tears... heck, he even tried to go on a hunger strike!
What other parents are reading
Then on the third day, he asked for pancit canton. It was not the most nutritious choice, but I'll take it! He sat on his tiny chair, grabbed his spoon and began feeding himself. He nibbled on snacks throughout the day, and even asked to drink his juice from his big boy cup. He took a nap in the car at around 10 p.m. and then slept at around 3 a.m.. He didn't ask for "dede" again, but sometimes he would stare at it longingly.

As of this writing, my son has been off breastmilk for a little over 80 hours. It's a struggle, but I know we will pull through. My son is resilient.

How long will this last? I don't know. Some say a week, others say it can last up to 3 weeks.

Won't I miss breastfeeding? Of course, I will! I will miss my milk-drunk baby. I will miss how easy it was to calm him down with my milk. It was good while it lasted, and I am content. My decision to stop breastfeeding won't take away my love for him. At the end of the day, he is fed and bathed, cuddled and smothered with kisses.

Loved is best.

Sheila Marie T. Sultan is a teacher by profession and a stay-at-home-mom by choice. She is based in Saudi Arabia with her husband and two-year-old son. She hopes to go back to teaching once her son is ready for school. In the meantime, she blogs about her keto diet journey on Instagram as @pinayketo.
ADVERTISEMENT - CONTINUE READING BELOW
Recommended Videos
What other parents are reading
Celebrate your pregnancy milestones!

Enter your details below and receive weekly email guides on your baby's weight and height in cute illustration of Filipino fruits. PLUS get helpful tips from experts, freebies and more!
You're almost there! Check your inbox.

We sent a verification email. Can't find it? Check your spam, junk, and promotions folder.

Trending in Summit Network