Pregnant At 36, Bianca King Reveals 'I Dropped Everything And Focused On My Well-Being'

She encourages women who are trying hard to conceive to never lose hope, "If you want IVF, do it. If you have time to wait, give nature a chance."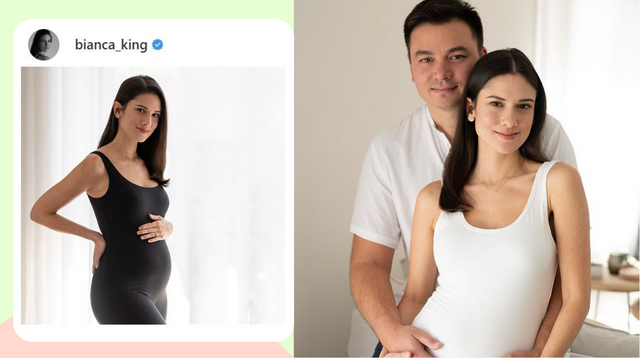 Actress and host Bianca King announced that she is pregnant with her first baby with her husband Ralph Wintle. 

"I lived my life exactly the way I wanted. Took my time and did everything I needed to do. When it was time for us chase the dream of becoming parents, we were ready as ever," Bianca said.

Now based in Sydney, Australia, Bianca said that being in their mid to late thirties, they had a hard time conceiving. That's why she chose to become a full-time housewife in April to focus on her health.

"I mentally gave up and was about to do IVF. But surprise! A natural miracle happened."

She revealed she conceived naturally after a Hysterosalpingo-contrast-sonography (HyCoSy) scan in May.

According to Sussex Fertility's website, a HyCoSy scan is a special type of scan using advanced ultrasound to assess the fallopian tubes. It can also be used to check for abnormalities in the uterus and ovaries. 

'I've had my fun'

Bianca, 36, took to Instagram stories that she is already 15 weeks pregnant and is fully immersed in studying pregnancy, childbirth, and motherhood. She even answered questions from her followers about her journey. You can read back on it in her Highlights.

When asked at what point in her life did she decide that it was the right time to have a baby, she said, "I've had my fun. I'm 36. I've experienced the world as a grown woman. I wasn't ever really sure in the past if I would be a mom, especially when I was single. But being married at 36, it just all falls into place at the right time."

Bianca said she's happy and couldn't believe that she and her sister-in-law, Iza Calzado, are pregnant at the same time. "Iza and I will eventually put together a little story for everyone of how it unfolded for the Wintles. It's pretty amazing (to us at least)."

On trying hard to conceive

She said, pregnancy can be isolating but trying hard to conceive is even more. "It's an emotional roller coaster every 2 weeks of testing for ovulation and testing for pregnancy. It's not easy to be open. Sometimes all you want to do is talk about it or not talk about it at all."

ADVERTISEMENT - CONTINUE READING BELOW

She added, "And sometimes you get the frustrating response "relax, just have sex every day."

Bianca shared what worked for her, based on what she learned and from her fertility doctor's advice. She said, "This is my journey and in no way am I suggesting it's right for you. Your journey is unique."

1. Clue is the best period/ovulation tracker I've used.

2. Use the Clearblue ovulation test. (Buy it in Lazada here)

3. Avoid fasting too long. Fasting affects hormones.

4. Minimise toxins like smoking and alcohol.

5. Minimise food with chemical preservatives, deli meats, fast food, and packaged junk food. Eat from nature. It's ok to cheat but try to eat clean and promote cell renewal.

6. Minimise simple sugars from baked goods/ice cream.

7. Get vitamin D from the sun and exercise.

8. This we didn't get to do but I was planning - Go on holiday during your fertile week and no screen time.

9. Rest in bed for 9 hours - so you get 8 hours of sleep.

10. Eliminate toxic people and stressors - if you can.

11. Taper off work to relax your nervous system. Or quit altogether - IF you can.

She encourages women who are having difficulties in conceiving, "If you find out you have something going on in your reproductive system, don't lose hope. Believe and have faith. You don't have to feel alone. My uterus isn't perfect either. Follow your heart, if you want IVF, do it. If you have time to wait, give nature a chance."

'We will be the best parents'

Bianca and Ralph got married in June last year. "I thank my beautiful husband for setting me on the path to becoming a mama. Ralph is already the best dog dad, being so hands-on with Willow. We both feel confident that we will be the best parents."

ADVERTISEMENT - CONTINUE READING BELOW

She added, "I hope our baby inherits his looks and athleticism, but my personality and creativity, and our shared wit and wisdom."

Congratulations, Bianca and Ralph!

Join the Smart Parenting Village, our Facebook group of over 80,000 parents who are ready to help you navigate your parenting journey.




Trending in Summit Network