Carrying a Baby to Term Can Take Nearly the Same Energy as Running a 120-Day Marathon

Pregnant and breastfeeding women deserve all the special treatment in the world!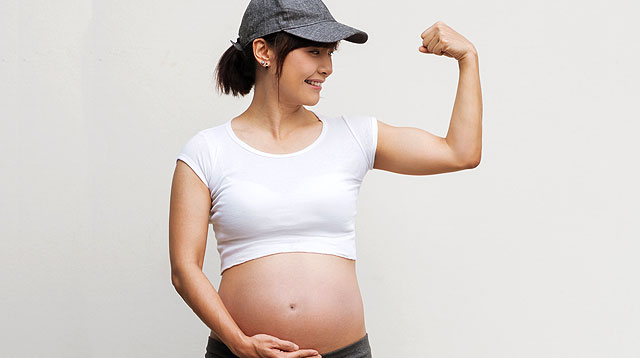 Have you heard this figure of speech: carrying a baby to full term is equal to climbing Mt. Everest! We are not sure how accurate that is, but a paper published in the journal Science Advances explains why there may be a grain of truth in it.

Researchers at Hunter College in New York City studied six runners who competed in a 14-week (98-day) race where participants run about a marathon a day and six out of seven days a week. Three out of the six athletes crossed the finished line. One was injured, and the other two chose the longer route.

Anthropologist and lead study author Caitlin Thurber found that the six athletes were burning fewer calories, and their metabolism slowed down. They were burning only 5,400 calories per day than the expected 6,000, and their metabolism slowed down to about 2.5 times their basic metabolic rates.

What other parents are reading

The findings also showed the longer the endurance challenge took, the fewer calories they burned. However, the maximum metabolism rate stayed at about 2.5 times their typical rates. In the paper, Thurber explained it's because when running a marathon a day, the human body finds a way to save calories.

Humans have a typical metabolic rate or an average number of calories they burn for a particular activity. During athletic competitions — and, as it turns out, pregnancy, as well — the body's metabolic rate increases. When the athlete stops, his metabolic rate returns to normal. For a pregnant woman, it's somewhat prolonged by breastfeeding as it entails about the same amount of energy.

ADVERTISEMENT - CONTINUE READING BELOW

Comparing this study's results to data from a 2005 study on pregnant and lactating women's energy requirements using metabolic rates, it showed most pregnant and breastfeeding women tend to burn twice as many calories than usual. An average metabolic rate of an athlete who runs a long-distance marathon for 120 days is 2.4, while the metabolic rate of a woman going through a normal pregnancy up to full term, or 280 days (40 weeks), is 2.

Researchers showed other endurance sports like Antarctic trekking or Tour de France presented higher metabolic rates (3.8 and 6.6, respectively), so comparing pregnancy to climbing Mount Everest is quite a stretch. But side by side with a long-distance marathon and considering the different factors affecting every pregnancy, well, it's pretty close.

Study co-author Herman Pontzer, an evolutionary anthropologist at Duke Global Health Institute, in Durham, North Carolina, told Quartz humans have the most energy-taxing pregnancies due to the length of gestation and the size of our offspring. He proposes that humans evolved to be capable of endurance feats that we can birth on average, a 7.5-pound baby.

Or, it could also be the other way around: humans evolved to birth large babies so we can survive long-term extreme sports. Maybe?

Preggos and lactating women don't even burn calories to lose weight intentionally. They need to consume more, at least 300 to 500 calories a day, to sustain the pregnancy and produce breast milk. It makes sense that preggos and lactating women burn twice as much energy because their bodies are working extra hard to supply oxygen and nutrients to the baby.

ADVERTISEMENT - CONTINUE READING BELOW

Recommended Videos

It's all an interesting hypothesis, but challenging to prove and support with enough actual scientific data since pregnant women are mostly excluded from trials. Still, apart from pushing the human body's to the limit in terms of energy use and metabolic rate, pregnant women go through a whole lot already with how their body changes and adapt to support a new life, accommodate a growing baby in their womb, and carry it to term — plus, endure and survive childbirth. It's one of the best miracles of all time.

What other parents are reading

Celebrate your pregnancy milestones!


Enter your details below and receive weekly email guides on your baby's weight and height in cute illustration of Filipino fruits. PLUS get helpful tips from experts, freebies and more!

You're almost there! Check your inbox.


We sent a verification email. Can't find it? Check your spam, junk, and promotions folder.

Trending in Summit Network