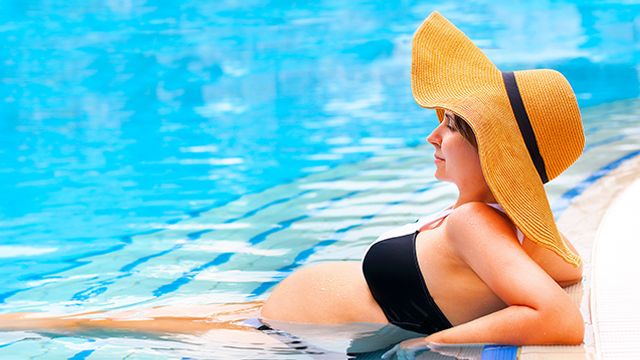 Thank God for the rain. Before this day ended, we got a quick but much appreciated rainfall, a respite from this summer's heat and manna from heaven for our pregnant members of our Facebook group, Smart Parenting Village.
They have been wishing for their own portable snow cloud, like Olaf from Frozen (did you see that Elsa costume change, by the way?) because as one pregnant mom-to-be pointed out, "Summer isn't the best season to be pregnant!" 
"It's too hot to move around the house and do some chores, but then you're too guilty to slouch all day," said the 37-week preggo. "Tired of this pregnancy and I just wanna see my baby."
You're essentially a human incubator when you're pregnant. The mom-to-be acts as a radiator for her baby. Add the hormonal shifts, metabolic changes, and the extra weight, then it becomes a recipe for utter discomfort. So what to do? Members of the Smart Parenting Village share their raw, honest and funny ways to cope. 
One mom had a simple solution.
"Magdalena po ang peg ko — tulog sa umaga, gising sa gabi," said one pregnant mom whose due date is 10 days away. This might work, but keep in mind that sleep is also key to feeling refreshed. 
Sleeveless tops for the win!
"Juskoooo napakainit. Yung kili-kili ko laging baskil," a 35-week preggo mom replied. "Baskil" is a Pinoy street term that means wet, so wearing sleeveless is every preggo's best friend (to hell with dark armpits, which does clear up after birth for most).  

Why bother getting out of the shower?
"Yung tipong kakaligo mo pa lang pero nafe-feel mo na 'yung pawis na pawis ka na naman. Struggle is real," one mom's response read.
"Sarap lang magbabad sa tubig, kaso para kong balyenang nakababad sa tubig," another chimed in.
Malls finally have a better purpose.
"Bahay and 'pag na-bore, punta sa mall. Tagtag na tagtag kakagala!" wrote one 35-week preggo. Hitting two birds with one stone—free airconditioning and exercise to help kickstart labor. But you have to resist the urge to eat and shop! "Magastos naman maglakad sa mall," commented another pregnant mom. 
Being practical works, too. 
"I feel you mommies. Nasa CR ka pa lang pawis ka kaagad, kaya lagi akong my water at towel na dala," a pregnant mom who's 34 weeks along the way writes. 
Staying hydrated is vital when you're pregnant. Dehydration can lead to fatigue, nausea, and dizziness. Plus, it can trigger false labor contractions, too.
What electric bill?
"Water lang tapos pag nakahiga dapat mataas sa bandang ulo tapos aircon. Bahala na sa bill ng kuryente," another 34-week preggo adds. When push comes to shove, you'll definitely value your comfort first. Maybe let hubby worry about paying that electricity bill? 
How do you stay cool while cooking a precious little on in your tummy? Let us know in the comments below!