Pregnancy Symptoms Week 11: Expect to Burp a Lot and Pass Gas at This Stage!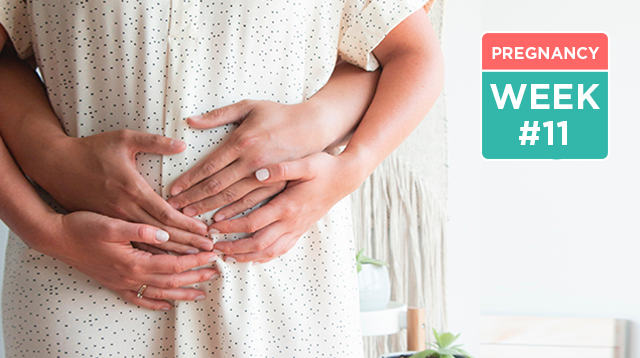 If you're on a regular 28-day cycle, you'd have missed your period twice already, and you're 11 weeks pregnant. In case you haven't confirmed your pregnancy yet (although you should have, by now!), your body knows it for sure.

Pregnancy signs Week 11

While there's no visible bump yet, especially if it's your first pregnancy, you might be having a bit of trouble fitting into your snug pieces of clothing, such as your jeans. If you feel bloated a lot of times, you can blame it on the progesterone. You'll also get more hunger pangs these days as your baby demands more of you nutrition-wise. 

Pregnancy symptoms Week 11

Burping

Expect to burp a lot and pass gas frequently at this stage. This contributes to the feeling of being bloated, which is caused by the progesterone which relaxes the smooth muscle tissue in your body. Avoid aggravating this symptom by limiting beans, root crops, and soda from your diet (you shouldn't be drinking softdrinks anyway!). 

Dizziness

If you're feeling a bit lightheaded, that's because your body is getting less blood to your brain as it rations more blood to your baby. As your body is also generating more heat now, it would do you good if you stay in places that are well-ventilated. Keep hydrated to keep your body temperature controlled.

What other parents are reading

Nausea

We've been saying to expect nausea as part of the pregnancy symptoms. Sorry, but that's not about to let up — at least not in another one or two weeks. If it's any consolation, all that retching isn't in any way harming your baby.

ADVERTISEMENT - CONTINUE READING BELOW

Frequent urination

Because of the hormone hCG, there's an increase in blood flow to your pelvic area, thus you're taking more trips to the toilet. Moreover, expect things to get a bit more crowded down there as your baby continues to grow and develop, adding more pressure to your bladder. A tip: to lessen your trips to the toilet, try to lean forward as you pee. A different position may help empty your bladder completely. And avoid drinking before bedtime so that it won't disrupt your sleep!

Breast tenderness

As mentioned earlier, you'll notice your veins across the chest becoming more visible under your skin. Those are vital to delivering nutrients to your baby. This may be also due to your breasts getting bigger. And while you may be enjoying your deep cleavage, expect a bit of pain along with it, especially in the nipple area which by now would be extra sensitive.

Food cravings

When you're at this stage in your pregnancy, it's normal to have a stronger liking to a particular food. Commonly, there's a preference for sour food (possibly due to the overproduction of saliva, which is also a pregnancy symptom), but really it could be anything. In fact, some women report to looking for food they never liked to eat before. Hormones play a big factor in this symptom, not to mention over-sensitive taste buds (and a heightened sense of smell). Or, it could very well be just a need to feel comforted, which food definitely brings. 

What other parents are reading

Your baby's development on Week 11

By week 11, your baby is more human-like, with hands and feet that already have fingers and toes. The ears would be formed, the tongue and palate would be in place, and hair follicles are starting to form. If your baby is a girl, her ovaries would already be developing. He or she will now measure about one-and-a-half inches, and the torso will continue to lengthen some more. 

Your to-do list on Week 11 of pregnancy

See your doctor

Have tests done as she recommends. A chromosomal anomaly scan may be in the list. 

Stock up on skin moisturizers

A good advice from new moms is to keep your skin moisturized. Some women don't get stretch marks and some do, but if nothing else, taking care of yourself will make you feel good about yourself. Slather that lotion on your tummy, your hips and thighs.

Shop for maternity clothes (if you intend to)

From hereon, your body will change more visibly and your tummy will expand. Look for clothes that will not only accommodate your growing belly, but also which you can reuse after the baby is born. Find pieces that will make you feel good about yourself. 

Go on a babymoon with your husband

After a physically taxing first trimester, you deserve it!

More on your week-by-week pregnancy:

Pregnancy Symptoms Week 10: Your Baby Bump Is Starting to Show!

Pregnancy Symptoms Week 12: Your Baby Is Developing His Reflexes!

Trending in Summit Network