Pregnancy Symptoms Week 14: That Big Appetite's Coming!

Your baby's gender will also be apparent — although you won't probably see it just yet.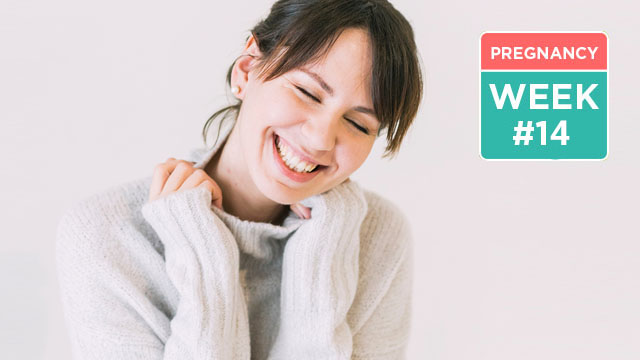 The 14th week of pregnancy is the beginning of your second trimester, and you'll begin to feel more like yourself in this phase. The second trimester does bring its own set of challenges, but if you survived the first trimester and your pregnancy has no complications, you'll breeze through this one. Your raging hormones may even bring a few "gifts"!

Pregnancy signs week 14

Contrary to the pains and aches of the first trimester, you will become more comfortable in your body when you begin your second trimester. Your breasts will continue to increase in size (yey!) but without the tenderness, you'll feel more energized, and there will actually be a bump to speak of!

Pregnancy symptoms week 14

As your baby grows inside you, you will experience a different set of symptoms that are unique to this stage, among them:

Round ligament pain

They will feel like sharp pain or cramps on the sides of your lower abdomen. As your tummy expands, these ligaments stretch to support the baby's weight, and pain ensues. You might feel this more distinctly when you make a sudden change in position or a quick movement. You could find relief by sitting down or putting your feet up to ease the strain. 

ADVERTISEMENT - CONTINUE READING BELOW

What other parents are reading

An increase in appetite

In your second trimester, your morning sickness will be a lot less, or may even disappear altogether. Maybe to compensate for that, you'll find everything you see appetizing. That's okay; you need to eat because your baby will get his sustenance from you.

Remember though that while technically there's two of you (you and your baby), you are not eating for two (he/she is a lot smaller!). Sticking to the "eating for two" mindset may put you well on your way to gaining unnecessary weight. You are allowed an additional 300 calories per day, and your weight gain for the entire pregnancy should only be between 25 and 35 pounds on average.

Varicose veins

As your body produces more blood during pregnancy, it adds pressure on your blood vessels as well, resulting in varicose veins that are usually most visible on your legs and feet. It is possible for varicose veins to appear and become more pronounced as you gain weight, but don't worry — they will also shrink after you've given birth.

To keep varicose veins under control, wear comfortable footwear whenever possible to ease the strain on your legs; stay active (or at least get moving every so often), and watch your weight. Using compression socks or support pantyhose could provide relief.

Healthier-looking tresses

Didn't we say that some pregnancy symptoms are "gifts"? One of them is having shinier and thicker locks, and you have hormones to thank for them. Pregnancy glow is real!

What other parents are reading

Your baby's development on Week 14

At 14 weeks, your baby's gender will be apparent. Your baby boy or baby girl will have fully-developed genitals, but you won't have a clear view of it until weeks later. It will also have functioning liver and spleen and will have grown a thin layer of hair, called lanugo, all over his body. This helps keep the baby warm. Your baby will be up and about, moving freely inside your womb, although it's possible you won't feel it yet. 

ADVERTISEMENT - CONTINUE READING BELOW

Your to-do list on Week 14 of pregnancy

As you had been cautiously taking care of your self in the first three months, you should continue taking necessary precautions as you are midway through your fourth month of pregnancy. Being pregnant makes you prone to colds and cough because your immune system is suppressed, so staying healthy should be on the top of your list. Use a mask when using public transport, load up on vitamins your doctor prescribed, and have enough rest. Also:

Now is the time to get some exercise, since you won't be feeling as sluggish as in the first trimester.
Start exploring the possibility of you and your partner attending birthing classes. Make calls, inquire about rates, and ask friends who have been there for their recommendations.
Have a dental check-up. Pregnancy could take its toll on your oral health, and it would be good for your dentist to check on you so he could give proper advice, or do minor procedures if there is urgency. In any case, don't forget to double-check with your ob-gyn which ones are allowed. 

ADVERTISEMENT - CONTINUE READING BELOW

More on your week-by-week pregnancy:

Pregnancy Symptoms Week 13: You May Catch Your Baby Thumbsucking!

Pregnancy Symptoms Week 15: It's the Perfect Time for a Babymoon!

Trending in Summit Network