Pregnancy Symptoms Week 23: Get Ready for Braxton Hicks Contractions

Watch out also for the pregnancy line that will become visible on your belly.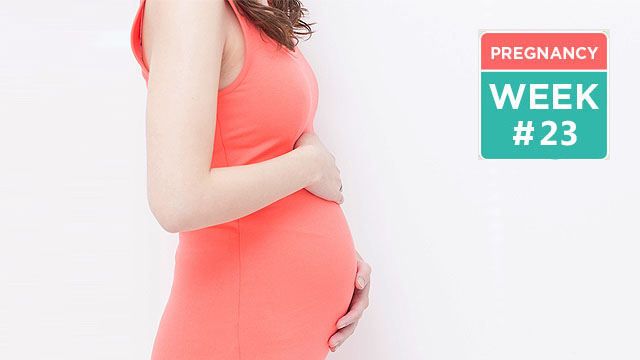 Two significant developments are happening 23 weeks into your pregnancy: the placenta, which is your baby's source of nutrition, is completely developed, and your child's face is also fully formed. Will he look like you or his dad? 

Pregnancy signs Week 23

Skin discoloration

You will notice a dark vertical line starting to form from your belly button and the pubic area. It's called the linea nigra, or pregnancy line, which is caused by fluctuating hormones. Don't stress about it, as it is perfectly normal, and will probably remain visible for a few months after you give birth. There is no need to use any products to lighten the line because it will go away on its own. 

A hearty appetite

Your appetite for food will remain, so you need to find a way to regulate your cravings. Do not over-indulge, and learn to go for healthier options.

What other parents are reading

Swollen feet

Your ankles and feet will get a little bigger, which will look like swelling. This is normal, and there's no need to worry about it. It will go away if you drink ample amounts of water and regularly walk for exercise. Putting your feet up can also help in circulation and lessen the puffiness, as well as wearing compression stockings. However, excessive swelling may be the first sign of a serious condition, preeclampsia, which could endanger both you and your baby. 

Pregnancy symptoms Week 23

Braxton Hicks contractions

If you're a first-time mom, you're probably anticipating the day you'll feel your baby kick and punch from inside. But before that happens, you'll first get acquainted with the sensation of your stomach muscles tightening, or "naninigas ang tyan" in Filipino. You might worry the first time you feel it, but you don't have to as long as it doesn't linger. If it does, you'll need to report it to your doctor.

ADVERTISEMENT - CONTINUE READING BELOW

Swollen gums

Yes, swelling extends not only to your legs and feet but even to your gums! If you see some bleeding, take extra care when brushing your teeth, and seek your dentist's advice.

What other parents are reading

Bloating

The hormone progesterone is responsible for the bloated feeling, as it causes the gastrointestinal tract to relax, thus slowing down digestion. It is this that makes you feel full. To help the process, drink more fluids.

Snoring

If you didn't snore before, it's possible that you might do so during pregnancy because of nasal congestion. It can be temporary and may go away after you give birth.

Backache

The weight of your baby will take a toll on your back as your pregnancy progresses. This will make it especially difficult to find positions you're comfortable with, especially while lying down. A few pregnancy products like maternity pillows and shaped body pillows might alleviate your discomfort. 

Your Baby's development at 23 Weeks

The placenta has formed completely by now and will typically attach to the top, side, or back wall of the uterus. It will deliver nutrients to the fetus, and remove waste products from your baby's blood. 

Your baby's skin will appear to have a red hue as veins and arteries continue to grow underneath. Expect this hue to disappear as your baby packs in more fat and tissue in the coming months.

Not only has your baby grown in size and weight, but his face is also now fully formed, organs and all! His nipples will also have developed. He'll have a well-developed sense of movement and hearing, which will allow him to hear sounds from the outside world. He may even be listening in, for all you know!

CONTINUE READING BELOW

Recommended Videos

What other parents are reading

Your to-do list on Week 23 of your pregnancy

Stay hydrated! Your body temperature is higher than usual, and water helps regulate your body temperature
Considering to bank your baby's cord blood? Start doing your research (and saving up for it), and find out your options
Start planning what your  your room would look like to accommodate the new addition, or if you're having a dedicated nursery for the baby, now's a good time to think up designs. Exciting times! 
Plan your maternity leave (and your husband's paternity leave). See if your due date already coincides with the implementation of the new and expanded Philippine maternity leave law. 
Make sure your life insurance is in place, and the documents are in order. 

More on your week-by-week pregnancy:

Pregnancy Symptoms Week 22: Say Hello to Bigger Feet (and More Hair)!

What other parents are reading

Celebrate your pregnancy milestones!


Enter your details below and receive weekly email guides on your baby's weight and height in cute illustration of Filipino fruits. PLUS get helpful tips from experts, freebies and more!

You're almost there! Check your inbox.


We sent a verification email. Can't find it? Check your spam, junk, and promotions folder.
Trending in Summit Network