Pregnancy Symptoms Week 29: Start Counting Your Baby's Movements Daily

Starting this week, you'll need to monitor your baby's movements daily.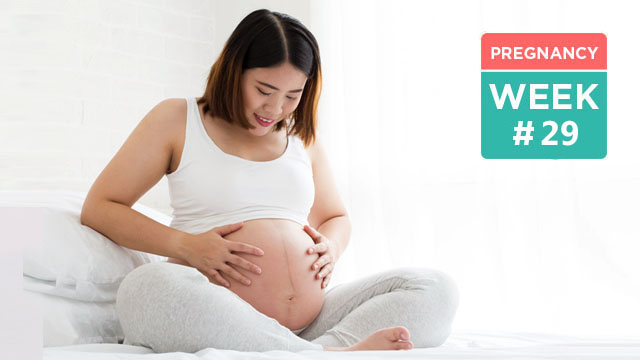 At 29 weeks, you're on your seventh month of pregnancy. The space is getting pretty tight in there, and your baby's movements will be more evident than before. Set aside time to regularly check on your unborn baby's activity for your peace of mind. 

Pregnancy signs Week 29

Itchy tummy

No surprises here — as the skin on your tummy stretches, it becomes dry and itchy. To ease the itch and prevent you from scratching, slather on moisturizing lotion and stay hydrated, especially in this heat!

Nails that grow really fast

You may find yourself having to cut your nails more frequently than usual, which is a temporary effect of pregnancy. Your nails and your hair are getting the benefit of the increase in blood circulation, which would explain the speed at which your nails are growing (and the luscious locks). Progesterone also plays a big role.

What other parents are reading

Pregnancy symptoms Week 29

Hemorrhoids

Hemorrhoids are swollen veins in the lower part of the anus and rectum that may feel itchy and painful at times. This is caused by the pressure the growing fetus puts on the veins in your uterus and is quite common in pregnancy. It usually goes away without any need for treatment after you give birth.

Heartburn

If you've felt a burning sensation going up your chest up to the throat, then you know what heartburn is. Don't worry, it has nothing to do with your heart. What really happens is that the food and stomach acids go back up to the esophagus, causing discomfort. You may ease it by drinking a glass of almond milk or snacking on a slice of papaya. Do not take antacids unless prescribed by your doctor. Prevent heartburn from happening by having dinner two hours before bedtime to allow for proper digestion of food before you lie down.

ADVERTISEMENT - CONTINUE READING BELOW

Back pain

Your body is supporting the weight of another (growing) human being, so it's natural to experience some pain brought about by the pressure. Clothing with good support may help and do take breaks when you're feeling tired.

What other parents are reading

Your baby's development at 29 weeks

Your baby will be about 15 inches long at this point, but will definitely grow longer and bigger (sometimes up to triple her weight) until before delivery. She is accumulating white fat (for energy), and her skin is less wrinkly due to it. 

At 29 weeks, your doctor may ask you to monitor your baby's movement regularly. You'll notice that at this stage, your baby is more responsive to different stimuli like sounds, or light, or even the food you eat. Monitoring your baby's "kicks" and "punches" once in the morning and once at nighttime, at the same time, will give you a good indication that all is well in there.

To do a kick count, lie down and feel the movements your baby makes. You should be able to record about 10 varying movements — even hiccups! — within an hour (if you're unsure what they feel like, check out this guide). Don't worry if you note less than that — drink water or play music to wake up baby, and then try counting again. 

Here's one more thing to smile about: starting this week, your baby may begin to smile.

What other parents are reading

Your to-do list on Week 29 of your pregnancy

Ask human resources about maternity leave

If you haven't inquired yet, now is the time to do so. There will be forms to fill up and documents to submit. You'll also need to decide when you will want to schedule your leave (some go on leave before they give birth, while others wait until they pop to mark the beginning of their leave). Find out what papers you need to secure to avail your maternity benefits in full.

CONTINUE READING BELOW

Recommended Videos

Hire (or find) help

If you're planning to get a caregiver after your baby is born, now is the time to start the search. If it's close kin who will assist you postpartum, it may be a good idea to ease her into the process already to get them acquainted with your living arrangements and so you could give instructions on how you prefer things done. This is something you won't be able to do nearer your due date or when the baby is out, as you'll be occupied with other more pressing matters, so do it now.

Enjoy your last few weeks pre-baby.

See a movie at the cinema, enjoy a pampering session, or meet up with your girlfriends. Very soon, it won't be as easy to leave home without worrying about your little one! 

More on your week-by-week pregnancy:

Pregnancy Symptoms Week 28: It's a Good Time to Get a Prenatal Massage!

What other parents are reading

Celebrate your pregnancy milestones!


Enter your details below and receive weekly email guides on your baby's weight and height in cute illustration of Filipino fruits. PLUS get helpful tips from experts, freebies and more!

You're almost there! Check your inbox.


We sent a verification email. Can't find it? Check your spam, junk, and promotions folder.
Trending in Summit Network