Pregnancy Symptoms Week 33: Baby's Kicks Are Stronger Now!

There's more baby than amniotic fluid in your uterus now, so those kicks feel sharper!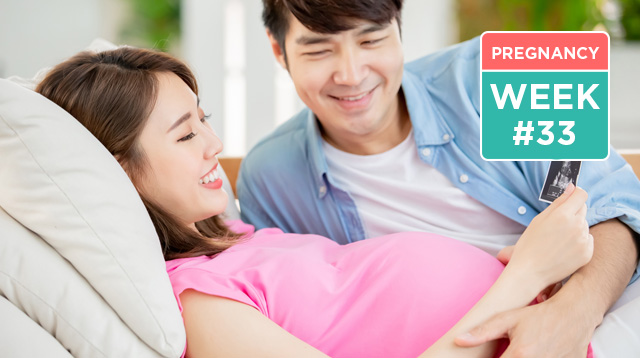 You probably can't wait til you can lie flat on your back again on the bed, or for the time when you can quickly shift positions while you move without feeling pain all over your body. Thankfully, there are only a few more weeks left before you give birth. The upside — you'll be enjoying your new baby in your arms very, very soon.

Pregnancy signs Week 33

Varicose veins

These unsightly veins that appear like spiderwebs on your legs and feet, painful as they may seem like, aren't harmful at all. They're only there as a result of the extra volume of blood during pregnancy, and the pressure your growing baby puts on your blood vessels. After your baby is born, these purplish-green veins will go back to normal. 

Insomnia

You may have had difficulty falling asleep in the past few weeks — it can get worse before it gets better. Not surprising, with your bulging belly making it hard to find a comfortable sleeping position, acid reflux, and cramps everywhere in your body. Do what relaxes you — maybe a warm bath, a glass of warm milk, or a good book will help.

Strong fetal movement

Right now, your baby occupies a bigger space in your uterus than does amniotic fluid, so there's not as much cushion that will shield you from his kicks and punches. This could be why the movements are more easily felt these days, aside from the fact that your baby is getting stronger and bigger by the day.

ADVERTISEMENT - CONTINUE READING BELOW

Brittle nails

A minor detail compared to the other signs, but if your dry nails bother you, lotions and creams are a sure bet. Adding more bananas, nuts, and avocadoes into your diet will also minimize this symptom.

What other parents are reading

Pregnancy symptoms Week 33

Shortness of breath

It's getting very crowded inside your belly, and it's putting pressure on all the other organs, including your lungs. If you're not used to it by now, you should learn a few breathing exercises to help you manage.

Braxton Hicks contractions

They may be called contractions, but know that this is not yet the real thing. They feel like your uterine muscles are flexing — and indeed they are — and may disappear when you change positions. 

Round ligament pain

Feel pain in your belly? It's probably round ligament pain. It feels like a cramp on the sides and the lower part of your abdomen and may last for a few minutes to an hour.

What other parents are reading

Your baby's development at 33 weeks

His immune system has developed

Here's proof that the little one in your tummy is ready to grow into his own: he now has his own developed immune system. Where before he depended on you, he has reached an important milestone by being able to fight off bacteria and germs, which he will need once he's out into the world.

Your baby's soft spot

The fontanelle is a space between the bones of the skull on the top of the baby's head — it is so because it is not yet fully developed. Because the baby's skull is still soft and pliable, it will be easier for him to squeeze into the birth canal when you deliver. These bones only close in early adulthood to give way to the brain's development during infancy and childhood.

CONTINUE READING BELOW

Recommended Videos

Your baby will drink more amniotic fluid 

At 33 weeks, your baby is drinking and breathing more amniotic fluid — up to a pint a day. This helps his lungs and gastrointestinal tract develop, in time for his birth.

Your baby knows day from night!

Your uterine walls age getting thinner, thus light from outside is more clearly visible to your child from inside your tummy. Thus, he'll be awake in the day and sleeping during the night!

What other parents are reading

Your to-do list on Week 33 of your pregnancy

Learn about breastfeeding

Now is a good time to learn more about nursing your baby. Get in touch with a lactation consultant or find one through your doula or your network of moms.

Find a sex position you'll be comfortable with

If yours is not a high-risk pregnancy, and your ob-gyn approves, go ahead and have pregnant sex! Get a feel of it with your partner to find a position that is not only comfortable but one that also gives you pleasure.

Get your hospital bags ready

You need three hospital bags! It may be too early, but do it just in case you give birth ahead of your due date. You never really know!

Do a final check with your hospital

Are all the arrangements finalized? Have you checked the best route from your home to the hospital? Plan them now.

Start nesting

Buying baby's things is a joy especially for first-time parents, but it will also be useful to think practical. If you have baby showers planned, it won't hurt to wait until then to buy just what is missing since friends and family usually give baby items as gifts.

ADVERTISEMENT - CONTINUE READING BELOW

More on your week-by-week pregnancy: 

Pregnancy Symptoms Week 32: How to Be Ready in Case Your Baby Arrives Early

What other parents are reading

Celebrate your pregnancy milestones!


Enter your details below and receive weekly email guides on your baby's weight and height in cute illustration of Filipino fruits. PLUS get helpful tips from experts, freebies and more!

You're almost there! Check your inbox.


We sent a verification email. Can't find it? Check your spam, junk, and promotions folder.
Trending in Summit Network