Pregnancy Symptoms Week 8: Your Sense of Smell Is In Overdrive

You're midway through your first trimester, but the symptoms are only just beginning.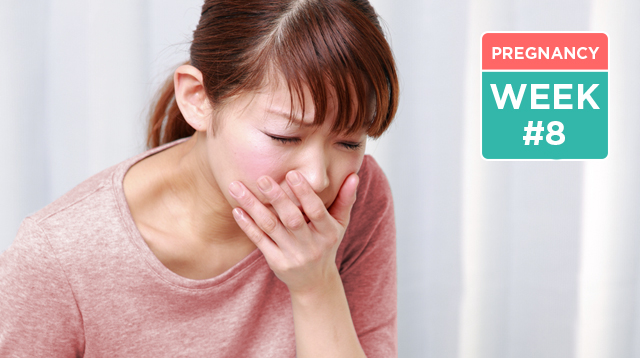 At almost 2 months along the way, your pregnancy will feel more real to you now more than ever! You probably feel a bit bloated at this point, but a bulge usually won't show yet, especially if it's your first pregnancy, but inside you'll know something's brewing! 

Pregnancy signs Week 8

Your wonderfully-made body is hard at work. The fetus now measures more than half an inch, and it's growing by 1 millimeter per day in size. If you notice that your bra feels a bit tighter, the lobules in your breasts, which are responsible for the production of milk, are beginning to expand in preparation for breastfeeding. And although you're not yet sporting a baby bump, your uterus is already growing to accommodate the fetus. 

Pregnancy symptoms Week 8

Being midway into your first trimester is exciting when you think about how rapidly your baby is growing. However, it can take a toll on you as you experience a few of these pregnancy symptoms (although a few women report not having any at all, too):

A heightened sense of smell

You've been experiencing some physical changes since about six weeks ago, but this time you'll feel almost superhuman with your magnified ability to smell. One plausible explanation for this is the increase in blood flow in your body, up by 50% during pregnancy, which causes the transmission of information to your brain faster, according to Mother & Baby. Your senses, including your olfactory receptors, thus become more sensitive, so much that you're very much aware when someone is smoking nearby, and could easily tell someone's sauteeing garlic in the kitchen.

ADVERTISEMENT - CONTINUE READING BELOW

What other parents are reading

Morning sickness

This symptom is strongly tied to your heightened sense of smell. Nausea is triggered by your pregnancy hormones, and contrary to its popular name, morning sickness could go on all day. Some women even suffer from it for months; others up until before they give birth. Remember to hydrate and eat small portions if you're suffering from morning sickness.

Pregnancy dreams

If you've suddenly started having weird dreams when you've never had them before, chalk it up to your pregnancy. Some say it could be attributed to women having a lot to think about at this stage, which spills over in your sleep in the form of dreams. 

Constipation

According to Baby Center, one of the causes of constipation during pregnancy is "an increase in the hormone progesterone, which relaxes smooth muscles throughout the body, including the digestive tract." When that happens, the passing of food through the intestines slows down. To prevent this, remember to drink water, add fiber to your diet, and exercise.

What other parents are reading

Fatigue

As your body begins to produce more blood for your baby, your blood pressure and blood sugar will be lower than usual. As a result, you will feel overly tired (and your morning sickness certainly doesn't help), which is why sleepiness is also a common symptom among expecting women. Take this as a cue and take naps when you can to help your body recover faster. 

Your baby's development at Week 8

At 8 weeks, your baby will start forming taste buds as he prepares to eat. The nerve cells in his brain will continue to form and branch out. He will have almost full eyelids by now. His limbs, fingers, and toes are also starting to develop, so don't be surprised to see him "waving" at you on the screen if you do get an ultrasound.

CONTINUE READING BELOW

Recommended Videos

Your to-do list on Week 8 of pregnancy

If you haven't already done so, your most urgent task at this point is to find an obstetrician-gynecologist who will assist you through your pregnancy journey. See your doctor, get a check-up, and don't be afraid to ask questions. 

Your ob-gyn may also have you undergo several prenatal tests which will sometimes involve blood extraction, sometimes urine sampling, maybe a pap smear, and the whole kit and caboodle. All of these is just to make sure you're off to a healthy pregnancy, and that findings that need immediate attention, should there be any, will be addressed.

More on your week-by-week pregnancy:
Pregnancy Symptoms Week 7: Your Baby Has Started Moving!

Pregnancy Symptoms Week 9: You May Just Hear Your Baby's Heartbeat!

Celebrate your pregnancy milestones!


Enter your details below and receive weekly email guides on your baby's weight and height in cute illustration of Filipino fruits. PLUS get helpful tips from experts, freebies and more!

You're almost there! Check your inbox.


We sent a verification email. Can't find it? Check your spam, junk, and promotions folder.
Trending in Summit Network