This IVF Calculator Estimates a Couple's Chances of Having a Baby

Plus, two other healthcare innovations that can help prevent SIDS and increase preemie babies' survival rate.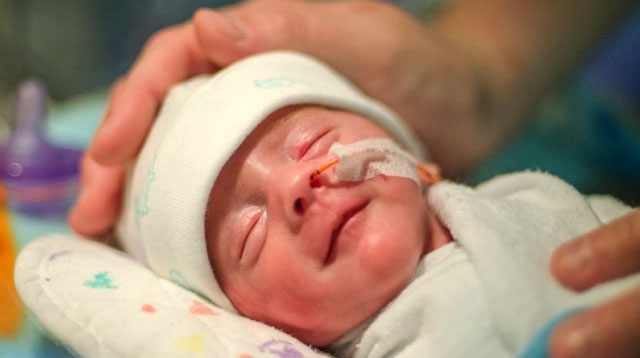 There are more parenting- and baby care-related products in the market today than, say, 10 years ago. In fact, it's a booming industry, and the most wonderful part is every day we hear of new healthcare innovations for mom and baby. Here's two that sounds promising, and one that, well, we are not exactly sure how to feel about it. Read on!

THE GOOD: A calculator that can predict your pregnancy chances with IVF
Couples who turn to in-vitro fertilization (IVF) make a big leap that comes with a not-so-modest price tag, without knowing how well the treatment would work for them. Doctors can only gauge a couple's success rate after they have their first IVF cycle, which will give him more information to work on. The good news? There may now be a way for couples to figure out their IVF success rate before their first cycle.

Researchers led by David McLernon at University of Aberdeen analyzed data from the Human Fertilization and Embryology Authority, the largest database of IVF clinics in the U.K., developed a calculator that can predict the chances of a successful pregnancy for couples, before the first IVF cycle and subsequent cycles. The calculator (available here), which can help influence a couple's decision-making and manage their expectations, was designed based on factors that affected successful pregnancies, including the woman's age, the number of eggs retrieved from the cycle, whether the eggs used were frozen, and the stage at which the embryos were transferred -- all taken from data of more than 110,000 women who had IVF in the U.K.

ADVERTISEMENT - CONTINUE READING BELOW

McLernon notes that the calculator is far from perfect -- no IVF predictor is -- but they are already working with IVF experts in the U.S. to expand its scope, see if it can be applied to U.S. IVF cycles as well, and hopefully improve it. (time.com)

What other parents are reading

THE GREAT: A test that can identify a baby's risk for SIDS
Babies most at risk for Sudden Infant Death Syndrome (SIDS) are below six months of age, but it's still a threat to babies up to age one. While there are ways to prevent it, doctors have never been able to pinpoint a cause. Now a new research may hold a key to discovering its cause and, even better, a way to screen for it.

Researchers in Australia found that babies who suffered from SIDS had up to 21 percent less of orexin, a "waking up protein," in the brains than babies of the same age who died from other causes. The reduced levels of orexin put babies more at risk when they roll over on their tummies while asleep. They're more vulnerable because instead of being roused to turn over and gasp for air when their body senses it's being deprived of oxygen, these babies with reduced "waking up protein" are less likely to wake up. Dr. Rita Machaalani, manager of the sleep unit of the Children's Hospital at Westmead in Sydney, says that the study's findings could also pave the way to developing a nasal spray that would increase orexin levels in infants.

CONTINUE READING BELOW

Recommended Videos

The researchers, however, admit they have a lot more work to do. The long-term 11-year study was only based on a limited amount of data -- only 27 of the 49 babies involved in the study died of SIDS. They are already working on the blood-screening test for orexin. (dailymail.co.uk)

What other parents are reading

SOUNDS LIKE SCI-FI: An artificial womb that can help increase preemies' survival rate
Being pregnant is a blessing, but it can still throw you a curve ball. No preggy wants to deliver her baby prematurely, but doctors sometimes make this urgent decision with the mother's and the baby's health in mind. But what if there is an "artificial womb" that can help save a preemie's life?

Researchers from the University of Michigan and the University of Pennsylvania, along with Japan and Australia, have made significant steps towards recreating the uterus' environment. We know what you're thinking, that incubators are made for that purpose. However, in a scientific paper, they claim that artificial placenta can extend a fetus's life by several weeks, giving extremely low gestational age newborns (ELGANs) or infants born before 24 weeks gestation higher chances of survival. The key organ to develop is a preemie's lung and using ventilators on ELGANs can be more destructive. The artificial placenta would help sustain the preemies until they reach 26 or 27 weeks, the time when their premature lungs are strong enough for ventilators. The artificial wombs could potentially also buy parents and doctors some time if they have to make a difficult decision. 

ADVERTISEMENT - CONTINUE READING BELOW

The findings were based on a study on baby lambs, whose lungs develop similar to humans. Dr. George Mychaliska, one of the study's authors, says the technology could be available for humans within the next five years. Whoa! Scientists, though, cite ethical differences as barriers to this technology. (ozy.com)

What other parents are reading

Celebrate your pregnancy milestones!


Enter your details below and receive weekly email guides on your baby's weight and height in cute illustration of Filipino fruits. PLUS get helpful tips from experts, freebies and more!

You're almost there! Check your inbox.


We sent a verification email. Can't find it? Check your spam, junk, and promotions folder.

Trending in Summit Network