Having Miscarriages When You're Already A Mom is Awkward

This mom's story proves that secondary infertility and the struggle of dealing with recurring miscarriages are all real.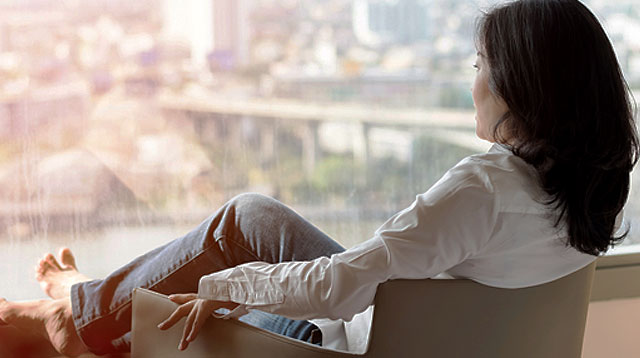 You never think it could happen to you: You already have one child, and carrying him to term was uneventful, which is a good thing. But it hits you blindly and unexpectedly. Your age, health, reproductive history don't matter. Alas, having a miscarriage is like a curveball. And I had two only six months apart.

Looking back, I wasn't exactly living a healthy life the first time I got pregnant. I was fresh out of college, smoked, drank, and partied. I stopped all of those, of course, when I had an inkling I was expecting. That continued throughout the nine months and even beyond when I was breastfeeding.

About 13 years after, I'm still not living a healthy lifestyle like I did during my pregnancy. But I've always thought my lifestyle was not worse than it was before conceiving the first time around. If anything, the vices were more occasional than norm. Coffee and sleep were more essential for my tita age.

I was 24 when I welcomed my first child. I was a single mom for years. I took extra precautions to not get knocked up again, careful not to give my very conservative father a heart attack. There wasn't really a lot of activity in that department until maybe when you find someone with whom you could dream of forever again.

When I got married, I started to entertain the idea of getting pregnant again, along with breastfeeding, sleepless nights, terrible two's, and all that. While my husband was more of a father to my son than the boy's biological dad was, he wanted a child of our own—twins, even. He wanted to go through the whole experience of becoming a father. I wanted to be able to give him that, but I couldn't even get past that point where he can proudly announce that he's going to be a dad.

ADVERTISEMENT - CONTINUE READING BELOW

I had to ask my doctor, while the transvaginal ultrasound inducer was still inside me, if it's already considered a miscarriage. Many women miscarry without knowing it; maybe it's just that. We were just over-eager in taking the pregnancy test too early. My doctor confirmed that I miscarried, but since the baby's heartbeat wasn't strong, to begin with, it's probably for the best.

Naturally, I was more cautious after I tested positive again six months after my first miscarriage. The baby's heartbeat was strong, and everything was looking good. My husband and I decided to tell a few people and not strictly keep it to ourselves like the first time. We wanted to claim it! Speaking out loud wields some kind of power.

But in my next ultrasound just a week after, the baby's heartbeat was gone, and the sac looked deflated, as if there never was life in it in the first place. I took a weekend to compose myself in the arms of my husband. "I lost another baby," I said, letting the fact sink in. I had to undergo a second dilation and curettage procedure, but I thought not to avail of another maternity leave. I just wanted to get it over and done with, so I could get back to my life.

What other parents are reading

Having two miscarriages is considered "recurring," and my doctor ordered me to have some tests done, i.e.,  thyroid test and APAS (one of the five reproductive immunological disorders or RID). The latter is more likely my case. No one knows what causes them; it could be lifestyle, diet, or stress. People really need to learn that silence is sometimes so precious and enough.

CONTINUE READING BELOW

Recommended Videos

Going through a miscarriage is awkward, for starters, and that's just half of the battle. You're faced with doctors, nurses, perhaps your partner, family, and friends who don't exactly know how to react. I didn't want talk about my miscarriages more than necessary (my mom announced it at a couple of family reunions). But when I do, I try to do so matter-of-factly just to avoid the awkward silences and phrases.

The other half of the battle is within. Yes, it's not my fault, but I found out that the thought was hard to shake off my mind. Was I psychologically preventing a pregnancy? My diet and lifestyle are almost surely a factor. Was it the coffee or the pregnant sex? I was definitely sure it's not. Perhaps it was my age, or I wasn't cautious enough—my mom and my in-law reminded and stressed that I had to be extra careful the second time. Maybe I am such an unfit mother that the forces that be decided I don't deserve another one.

After my first miscarriage, I sought comfort with the fact that maybe it just wasn't meant to be yet. My husband and I had a few issues to fix in our union. It's a blessing in disguise, I thought, because we're not ready for a game-changing factor in our lives. The second one was a harder punch in the gut, a bigger hole in my heart, even if I sound so nonchalant about it. I've... we've managed.

ADVERTISEMENT - CONTINUE READING BELOW

It is different for every woman and even for each would-be dad. Grief from losing a child you've never even seen or met or held can be devastating and depressing—or not. I only know the things that my husband shares with me about our ordeal. I guess you just need to carve your own path and go at your own pace. Hope and pray, but make sure to prepare for the possibility that it may never come.

What other parents are reading

More than six months after my second miscarriage, my husband and I are just starting to try to conceive again. He's so confident that eliminating the stress we were under the year I miscarried twice will do the trick. But still, a part of me fears that I might have a third miscarriage. I never want to have to go through any of it: Seeing how the pharmacists look at me when I buy the prescribed medicine to help me bleed. Having to tell your reproductive history while you wait for the dilation and curettage procedure. Sending documents that prove you were pregnant and needing of that maternity leave. Explaining to people and convincing myself that everything is okay.

My truth is, I do want to get pregnant, not just because I want to bear my husband a child and please him or prove that I could perhaps do better the second time around. The hope is there, but then I also dread the times I've had to tell my husband that I've gotten my period—and it always comes with a sliver of despair.

ADVERTISEMENT - CONTINUE READING BELOW

For now, though, I've done one test that my doctor ordered but we're still prepping a budget for the other one, which I found out is expensive. I probably need to switch and add doctors, spend a lot, and make more sacrifices. No rush and no pressure. That's my mantra.

What other parents are reading

Celebrate your pregnancy milestones!


Enter your details below and receive weekly email guides on your baby's weight and height in cute illustration of Filipino fruits. PLUS get helpful tips from experts, freebies and more!

You're almost there! Check your inbox.


We sent a verification email. Can't find it? Check your spam, junk, and promotions folder.
Trending in Summit Network