3 People You Didn't Know You Needed After Giving Birth

During the first year of baby's life, there's no shame in getting extra help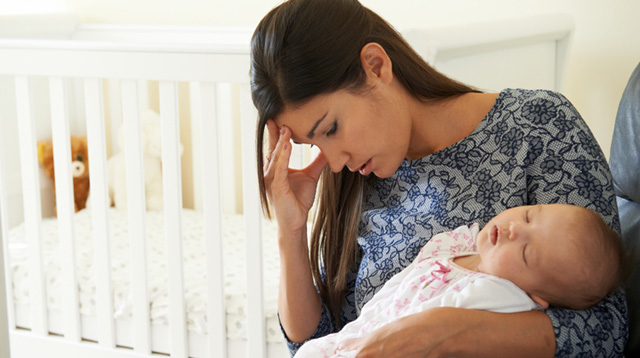 Aside from your pediatrician, OB-gyne, and mother (or mother-in-law), here are other people who can make your post-partum life easier:

1. A mental health professional
It is not uncommon for new parents to feel a myriad of emotions in the course of caring for a newborn. But when these emotions take a downward turn, it's best to see a psychiatrist, psychologist, or counsellor. "New parents who are experiencing emotional problems should seek help, because how they deal with their situation can affect how the baby develops," says Dr. Mary Agnes Busuego, a clinical psychiatrist at St. Luke's Medical Center in Quezon City. "A mother who has depression, for example, might not be able to care for her baby properly," she adds.

Psychiatrists like Dr. Busuego provide counselling, psychotherapy, and can prescribe medications if necessary. "Most people think that a session with us is just 'kwentuhan,'" Dr. Busuego explains. "While it does feel like that because the patient is expected to do lots of talking and sharing, it's not inane conversation. There is an objective to the kwentuhan. Patients are encouraged to be honest so that the doctor can understand what is going on and what his or her needs are."

The first session usually takes one to two hours because the doctor needs to take a thorough history; subsequent visits may take 30 minutes to one hour, and the number of sessions will depend on the patient's concerns and how he or she responds to treatment. "Some patients have been coming to me for years, while I've 'discharged' others after a few weeks or months. Sometimes, I have patients who I see only once or twice, since they  only come to me because they just need to talk to someone about a particular issue," Dr. Busuego says. 

ADVERTISEMENT - CONTINUE READING BELOW

What other parents are reading

Thanks to increasing awareness about the importance of mental health, there is not much stigma today attached to those who seek psychological or psychiatric help. However, Dr. Busuego would like to emphasize to people—including new parents and soon-to-be-parents—that it's okay to ask for help. Mothers, especially, are under enormous pressure to be strong, capable, responsible—in other words, "perfect"—and are judged negatively if they feel sad, anxious, or overwhelmed.

"Don't suffer in silence if there are people who can help you," Dr. Busuego advises. "Think of psychiatrists as uninvolved observers of your life.  We are not your mother, father, brother, sister, or friend.  Ideally, we should remain as objective as we can and help you get through your problems, not by telling you how to solve it, but by being with you step by step as you go through the process of getting better."

2. A breastfeeding counsellor
"First of all, getting a breastfeeding consultant is not a requirement for all mothers," clarifies Iris Chiu, who has been a lactation consultant for LATCH Philippines since 2010. "There are many women who have successfully breastfed without seeing a counsellor." However, if you do experience breastfeeding difficulties, are pregnant and would like to know about breastfeeding, or are breastfeeding successfully and would like to expand your knowledge, then it won't hurt to get in touch with organizations like LATCH. 

"LATCH is a non-profit organization that offers quality lactation education and peer counseling services to breastfeeding mothers," says Chiu. "We are composed of volunteer moms who have experienced the joys and challenges of breastfeeding, and want to help other moms succeed. We conduct regular breastfeeding classes every other month at The Medical City in Ortigas, covering a wide range of topics, from 'Benefits of Breastfeeding,' 'What to do in the First Week,' and 'Going Back to Work.' We end the class with a session about 'Busting Common Myths on Breastfeeding.'"

ADVERTISEMENT - CONTINUE READING BELOW

Recommended Videos

What other parents are reading

These same LATCH volunteers are also available for personalized assistance. "When a 'case' is passed on to us, we first speak to the mom on the phone. We try to answer her questions and give suggestions to her concerns. In other instances, we also speak to the caregivers (dads, yayas, lolas) to extend additional help to the breastfeeding mom. Then we follow-up a few days after with a text or another phone call. Should the need arise, we schedule a visit for one-on-one counselling," relates Chiu. During home visits, volunteers teach the mother about alternative latch positions, expressing breast milk by hand, cup feeding, storage and handling of expressed milk, and other ways to make breastfeeding better.

"Moms today are fortunate because thanks to the Internet and social media, there are now many virtual places where they can educate themselves about breastfeeding, or get help for their breastfeeding concerns," says Chiu. "Most of these websites and organizations are facilitated and managed by well-meaning women who are more than happy to help fellow moms."

3) A sleep trainer
"Many parents choose to suffer through sleepless nights and nap-less days when caring for their baby because they think puyatan is part of mothering," says Gabrielle Weil, the country's only certified baby sleep coach. But tiredness leads to stress, which can affect the entire household's well-being. In addition, if the mom is breastfeeding, lack of sleep can lead to inadequate milk supply, which leads to baby lacking nutrition, which leads to even more problems in the long run.

ADVERTISEMENT - CONTINUE READING BELOW

This is where a sleep trainer like Weil (babesofbliss@gmail.com) can be helpful. Parents can get in touch with her anytime—from the pre-natal stage to when the child is older—although she generally works with babies from 4 months to 23 months of age. "I don't guarantee that a newborn baby can sleep through the night because it is not in their nature to do so," she clarifies. "But with the right foundation, a baby who is 4 months old can already be sleeping through the night."

What other parents are reading

Believe it or not, these sleep training sessions do not even require house calls. "I meet with parents once at the beginning of the course, and then communicate daily by phone during the coaching. Parents learn how to transition from helping their baby fall to asleep to helping them learn to fall asleep by themselves," says Weil. Course length varies between two to three weeks, depending on the child's age. "But if the parents consistently follow my guidelines, I can have a baby sleeping for 11-12 hours straight at night in under four days," she says.

Weil stresses that tired, under-slept moms should not feel ashamed about seeking help. "Sleeping can be taught," she assures. "And it's really for the child's own good. There have been many researches done abroad that have linked sufficient sleep with a baby's well-being. In addition, if a person did not have healthy sleep habits as a child, he will have sleep problems like insomnia once he reaches adulthood." 

ADVERTISEMENT - CONTINUE READING BELOW

What other parents are reading

Celebrate your pregnancy milestones!


Enter your details below and receive weekly email guides on your baby's weight and height in cute illustration of Filipino fruits. PLUS get helpful tips from experts, freebies and more!

You're almost there! Check your inbox.


We sent a verification email. Can't find it? Check your spam, junk, and promotions folder.

Trending in Summit Network