8 Physical Changes Every Pregnant Woman Goes Through

... and how to deal with them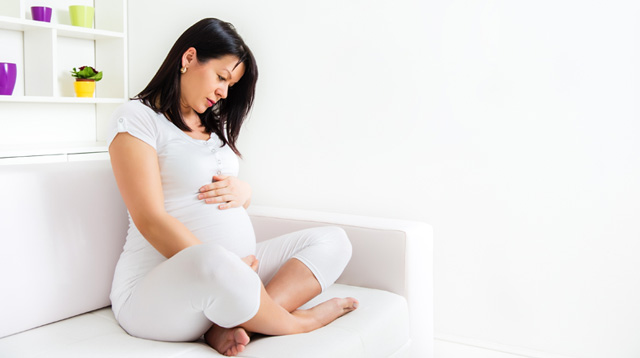 How can some pregnant women put on about 20 pounds and still look positively radiant? They glow and exude bubbly happiness. Even the way they waddle around is cute.

If you're pregnant and feel fat, clumsy, uneasy, and generally just uncomfortable -- relax. You're probably among the larger group of womanity who get these symptoms once the pregnancy hormones kick in.

Several women share their own experiences, and Marge dela Rosa, an OB-Gynecologist at the Makati Medical Center, gives tips on how to handle them. The good news is that while some of these will just have to be endured, a lot more can be dealt with through a cheerful disposition, self-confidence, and creativity.

1. Weight gain
Cause: The reality is, you will gain anywhere from 15 to 25 pounds during the 30-plus weeks that you will be carrying your baby.

Real-life drama: Ella Valdez, a mother of 2 boys aged 4 and 2, says, "I have always been on the thin side, but putting on about 25 pounds when I was pregnant really made my self-confidence nosedive. People telling me that I looked better with a fuller figure didn't help. But then I thought 'Deadma! Buntis ako, eh, bakit ba?' I would wear plunging necklines —- taking advantage of my enlarged breasts -— and short skirts with boots. The unconventional outfits made me feel less losyang and more proud of being pregnant."

One difficulty with being plump was that it clashed with the increased libido that comes with pregnancy. Ella adds, "You start off really craving for sex and then when you're actually there, your sexual appetite really deflates. It's impossible to feel sexy when you're as big as a blimp. But it helped that my partner shared my enthusiasm about my wanting to still be active even though I was so huge. It somehow strengthened our bond knowing that he was still attracted to me, no matter what shape my body took on."

Expert advice: While you are eating for two, eating should still be done in moderation. Monitor your weight gain and food intake. Avoid food high in sugar.

While sex during pregnancy is safe, refrain from it from 36 weeks onwards. Orgasm after 32 weeks of pregnancy may induce premature labor. If you have a low-lying placenta, placenta previa, a history of miscarriage or premature labor, consult your OB about sexual relations.
 

2. Dark underarms
Cause: Pigmentation of the skin due to increased production of estrogen and progesterone.  

Real-life drama: Jenny Castro, mother of one-year-old Yao, says, "I had dark lines on my neck and my armpits. I thought that the best way to deal with this was to literally cover them up. I unearthed my 'winter collection' and took out my scarves and turtlenecks. During the latter part of the pregnancy when I became really hot, I [switched] to my 'summer collection' of tube tops, strategically covering problem areas with shawls or cardigans."

Expert advice: Wait it out. Putting bleaching creams on darkened areas is not advised. When absorbed by the skin, the chemicals in these bleaching creams may be harmful to baby's development.  


3. Stretch marks
Cause: Rupture of muscle fibers due to fluctuations in weight. Stretch marks are initially reddish/purplish, but will later turn silvery white.

Real-life drama: "At first I thought that I wasn't getting stretch marks despite my huge belly. Little did I know that I just didn't notice the marks that were forming under my belly as I could no longer see that part of my body," says Cecille Carlos, mother of two-month-old Kayle. "Since I couldn't do anything about them, I just ignored them."

Expert advice: Try stretch mark creams and lotions to lessen these lines. A lot of my patients say that products with cocoa butter help a great deal.

ADVERTISEMENT - CONTINUE READING BELOW

What other parents are reading

4. Flatulence
Cause: An enlarged uterus compresses the intestines and causes gas or air to accumulate in them. The condition can be aggravated by excessive talking, laughing, and other activities that increase intake of air into your body, like munching on chips.  

Real-life drama: May Joaquin, seven months pregnant, says, "My job as a public relations manager requires me to talk a lot and entertain clients. Keeping my OB's warning in mind, instead of a loud guffaw, I would talk slower and try a more demure and subdued laughter."

Expert advice: Avoid gas inducing foods like spicy foods and broccoli, especially if entertaining company.


5. Bloating
Cause: Water retention in pregnancy due to hormonal changes, which impairs the ability to excrete sodium.

Real-life drama: Cecille shares, "I put on about 50 pounds when I was pregnant and about 10 of those pounds went directly to my nose. I looked like a nose that a face just happened to be attached to. When my manas spread to my legs, I stopped wearing dresses or skirts and wore bootleg pants to disguise them."

Expert advice: Avoid salty food and drink lots of fluids. Wear support stockings to lessen manas and elevate your feet at night. Avoid staying in one position for more than an hour. Exercises like walking to increase blood flow to your body are also recommended.


6. Pimples
Cause: Hormonal changes which make you prone to acne.

Real-life drama: Jenny Castro, a businesswoman, relates: "My pimple outbreak during my pregnancy became the butt of jokes, with people telling me that I was a case of teen pregnancy. I just had to make do with the situation. I used light powder to lessen the oily appearance of my skin. To draw attention away from my face, I would wear pretty colorful outfits with bold prints."   

Expert advice: Unfortunately, applying topical ointments with strong chemicals, such as tretinoin, on your face may harm fetal development. Consult your dermatologist about alternative treatments.

CONTINUE READING BELOW

Recommended Videos

What other parents are reading

7. Heavy discharge
Cause: Leucorrhea or vaginal discharge is common due to heightened estrogen levels that cause increased mucus formation by the cervical glands.

Real-life drama: Cecille shares, "I thought I had accidentally wet my pants because of my bladder control problems, but as it turned out, I just had heavy discharge. It wasn't my habit to wear panty shields, but there was nothing else I could do to handle the uncomfortable, sudden wet feeling."

Expert advice: While increased vaginal discharge is quite common during pregnancy, consult your OB-gyne and get a Pap smear to check for bacterial or yeast infection. If your discharge is bloodstained, consult your OB-gyne immediately. As a last resort, if the wet feeling is really uncomfortable, wear panty shields. But remember to change pads every two hours or so to avoid build-up of bacteria and subsequent odor.


8. Frequent urination
Cause: The enlarged uterus pushes down on the bladder, making it difficult for the bladder to hold urine for long periods of time.

Real-life drama: Josie Cruz, an administrative assistant and a mother of two boys, narrates, "My youngest son was 9.5lbs when I gave birth to him. I was huge! I changed sleeping places with my husband so that I wouldn't have to wake him up in the middle of the night to go to the bathroom. At work, it was a bit more challenging. I felt like I spent more time in the bathroom than at my cubicle. To avoid any embarrassing accidents, at the slightest hint of a bladder break, I would get up and go."  

Expert advice: Avoid fluid intake when you are going to be in one place for a long period of time, like to a movie, or when expecting to be caught up in traffic on your way home.



ADVERTISEMENT - CONTINUE READING BELOW

Celebrate your pregnancy milestones!


Enter your details below and receive weekly email guides on your baby's weight and height in cute illustration of Filipino fruits. PLUS get helpful tips from experts, freebies and more!

You're almost there! Check your inbox.


We sent a verification email. Can't find it? Check your spam, junk, and promotions folder.

Trending in Summit Network