8 Signs You've Gotten Too Big For Your Pregnancy

Gaining too much weight while pregnant is not your ideal scenario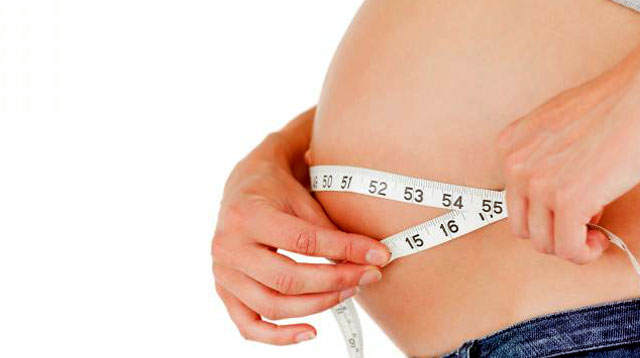 Photo from womenshealthmag.co.uk

Doctors are now discouraging pregnant women from "eating for two", as it gives moms the wrong notion that quantity trumps quality. This usually results in moms eating and gaining too much weight for their pregnancy, which could lead to birth complications. It's better to eat healthy and in moderation, making sure that you and your child get the nutrients needed to develop just right. Add to that some exercise, and you should be good all throughout the home stretch.

Sometimes however, even if preggos eat right and exercise, they find themselves getting bigger and bigger. It's in the genes, some people would say, why some women get too big while pregnant. Other times, especially if you're a first-time preggo, you may feel that you're too heavy too soon. You could be unsure as to how much weight you should gain, or just not used to see yourself that big.

What other parents are reading

How can you tell if you've gotten too big? Real moms tell us when they knew:

1. You can't see—nay, can't reach for your toes anymore.
It's one thing to not be able to see your toes anymore, but it's another when you can't bend down to touch them. But that's okay -- almost all pregnant women go through this in the third trimester. Soon, you might need help standing up from a normal sitting position, too.


2. You need to sit down to be able to wear your underwear.
Since you can't really bend down with your big baby bump in the way, you need to sit before putting your feet into your panty's legholes, raise them to your hips, and then stand up to put them squarely in place. Note: It's the same routine even when putting on shorts, leggings, pants, or any type of bottoms. Don't just wing it; ask for help if you need it.

ADVERTISEMENT - CONTINUE READING BELOW


3. You now walk like a penguin—or a duck.
Since you are now heavier in your middle section, you need to adjust your center of gravity to be able to move about without tumbling out of balance. This is also why wearing heels is not advisable for preggos. Plus, walking -- or should we say, waddling -- properly to get to and from one area of the house to another also takes time. You want to take it easy and be careful; plus, it's really tiring to move with a heavy belly.

What other parents are reading

4. You'd want more room when riding a vehicle.
Mainly because you need more room to be comfy, that's why. If you're riding your car, you might be more comfy in the back seat, where you can put up your legs and stretch them. If you're a commuter, you can opt to pay for two seats. Luckily, preggos who commute don't have to pay to ask for a chair to sit on while waiting in line, as they are prioritized (if not, speak up; at least ask for a chair!)


5. You already have dressing woes.
Most pregnant women don't automatically buy maternity wear, as fashion trends today allow for more loose clothes, empire or box-type cuts, and jersey fabrics, all of which are baby-bump-friendly. But when your bump really starts to show, you just have to invest in good maternity pants or dresses, or attachments such as belly bands to extend your bottom's waist lines. Invest in good underwear, too, or your panties and bras could end up bacon-stretched after giving birth.

ADVERTISEMENT - CONTINUE READING BELOW

Recommended Videos

6. You get the "Are you going to give birth anytime now?" question a lot.
Ultimately, the one who dictates if you've gotten too big is your doctor. They can measure your baby via ultrasound and can advise you regarding your weight. As Pinoys are, we have a lot of (unsolicited) things to say to preggos, and one of our favorite topics is weight. If you know you're still on track, then just ignore, ignore, ignore!

What other parents are reading

7. You're bordering on getting diagnosed with gestational diabetes.
Now this is a serious issue. If your doctor advises you to see a nutritionist, it means you already need one to control your food intake. Gestational diabetes is a condition where you have too much sugar in your blood, which could lead to a host of complications at birth for you and your baby. If this happens, it's time to ease up on the sweets and carbs and start following your doctor's orders.


8. Your doctor has scheduled you for an elective CS.
One of the reasons docs opt to schedule an elective CS is because your baby has gotten too big inside your womb and you'd certainly have trouble pushing it out normally. Your doctor will try to prevent this early on, so listen to her advice and don't be stubborn. Getting too big for a pregnancy is not the most ideal scenario, but your doctor will help you the best way she can to make sure you and your baby are healthy. 

ADVERTISEMENT - CONTINUE READING BELOW

What other parents are reading

Celebrate your pregnancy milestones!


Enter your details below and receive weekly email guides on your baby's weight and height in cute illustration of Filipino fruits. PLUS get helpful tips from experts, freebies and more!

You're almost there! Check your inbox.


We sent a verification email. Can't find it? Check your spam, junk, and promotions folder.

Trending in Summit Network