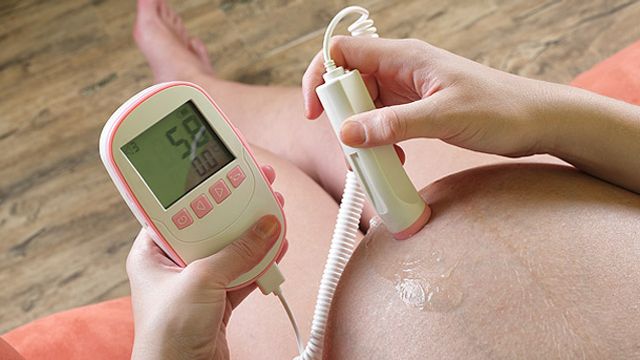 Moms in our Smart Parenting Village Facebook group have been asking members for their brands of handheld fetal doppler (or if anyone is selling a pre-loved one), which pregnant women use to check for their unborn baby's heartbeat at home. A quick search in Lazada or Shoppee turns up several options, with a price range of Php800 to Php2,000 and higher. 
One question, though, that elicited the most answers came from an SP Viillage mom who asked for advice how to properly use a fetal doppler, which also begs the following questions: are fetal dopplers necessary? Are they safe?
A fetal doppler is a hand-held ultrasound transducer used to detect an unborn baby's heartbeat. Maternal-fetal medicine specialist Thomas Moore explains how it works: the device sends out high-frequency sound waves that pass through your skin and tissue and into your uterus. When the waves sense movement, such as your baby's beating heart, the waves bounce back to the device, which the doppler then translates into sound and amplifies it so you can hear it clearly.
Since 2014, the U.S. Food and Drug Administration (FDA), however, has been asking pregnant women to be cautious when it comes to the use of at-home fetal dopplers. "These devices, which are used for listening to the heartbeat of a fetus, are legally marketed as 'prescription devices,' and should only be used by, or under the supervision of, a health care professional," the agency wrote.
Fetal dopplers are not necessary for home and personal use unless your doctor asks you to have one. Some doctors require it for certain high-risk pregnancies, but it should come with proper instruction and close supervision. 
Th problem with personal fetal doppler is it's marketed as a device to reduce a pregnant mom's anxiety, but it can actually do the opposite.
At-home fetal dopplers can increase your anxiety
It takes training and a lot of practice to use doppler correctly. Even trained professionals may find it hard to catch a fetus' heartbeat due to many reasons: it may be too early into the pregnancy to hear the baby's heartbeat. The baby's position in the womb may be making it difficult for the doppler to pick up the sound. Not finding or hearing the baby's heartbeat is a common complaint by moms who use fetal dopplers at home. It becomes another cause of worry or unnecessary panic.
Personal fetal dopplers can give you a sense of false reassurance
A fetal doppler may pick up other movements in your uterus and different sounds such as your heartbeat. Even trained professionals may sometimes find it difficult to distinguish one from the other. And there have been cases
In the U.K., a 34-year-old first-time pregnant woman who had a low-risk pregnancy was nearly full-term when she felt her baby wasn't moving. She used an at-home fetal heartbeat monitor and was assured that everything was fine after hearing what she thought was her baby's heartbeat. At her scheduled prenatal checkup three days later, an ultrasound showed her baby had died. 
A similar case happened in the U.S. when a woman who was one week past her due date ignored her instincts and reached for a fetal doppler to check on her baby in the middle of the night. She thought she heard her baby's heartbeat and went to bed. In the morning, she couldn't detect any movement and headed to the hospital where she learned she lost the baby. 
Personal fetal dopplers should not be used whenever you feel like it
The FDA, in its statement, also cautioned about the number of times and the length of time fetal dopplers are used because "that increases the potential for harm to the fetus and eventually the mother." While exposure to ultrasound technology has not shown any adverse effects on the pregnant woman or unborn baby, the American Congress of Obstetricians and Gynecologists (ACOG) stresses that it should be used only when there's a need for it. 
While many moms, especially those who have suffered a miscarriage, thinks having fetal doppler at home helps their peace of mind, it's still best to leave using it to doctors who are trained to handle these kinds of devices. If you're on your second trimester and beyond, your doctor will probably clue you in on how to monitor your baby's movements instead of relying on devices you are not trained to use or interpret its results.