Pregnancy Basics: Your Third Trimester (Week 28 to 40)

You'll be cradling your bundle of joy soon.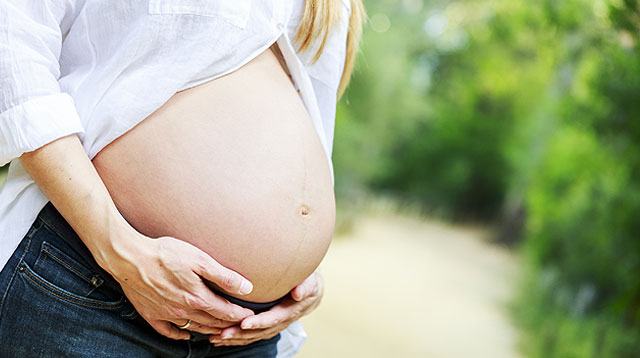 You are at your biggest and heaviest when you are seven months pregnant. For many preggos, the third trimester is also the hardest even though it feels shorter than the other two. It will be more challenging for you in next few weeks, but hang in there -- you'll be cradling your baby soon enough. 

Your baby's senses are now fully developed. He or she already recognizes light from dark, tastes what you eat, and loves listening to your voice. Your little bundle of joy will continue "cooking" inside you until the 38th to 42nd week, which is the around the time most women go into labor. At 34 weeks, your baby's head should be pointing south, getting ready to make his way into this world. 

If the pregnancy symptoms that you've been experiencing since the first trimester, save for the morning sickness (hopefully!), seem to be getting worse, that's normal. Your uterus is much bigger now, and the extra weight is putting more pressure on your internal organs. So, yes, you'll still pee frequently, feel more exhausted, experience heart burn, constipation, breathlessness, fatigue, and backaches. 

What other parents are reading

You may also notice more stretch marks on your belly area, thighs, and even your breasts. Your skin discoloration is getting darker, and the varicose or spider veins and the swelling in your ankle and feet are getting more pronounced. Here are more notable body changes and when it's necessary to call your doctor:

Weight gain
During the third trimester, weight gain is recommended to be at a rate of about 450 grams per week. Your total weight gain for the whole pregnancy is ideally around 25 pounds, depending on your pre-pregnant weight. 

ADVERTISEMENT - CONTINUE READING BELOW

Breast milk leaks
You may need to switch to a bigger-sized bra (better get a nursing bra so you can still use it after giving birth) as you near the end of your pregnancy. Your breasts may also start to leak colostrum, the first onset of breast milk, near your due date. Don't worry, it's normal. 

Baby kicks
Your doctor may ask you to monitor how often your baby kicks. Ob-gyn Dr. Marie Victoria Cruz-Javier says you need to alert your doctor if you notice any decrease in your baby's movements inside the womb. Do the same thing when you have a severe headache, blurred vision, and pain in the upper part of the belly that's radiating from the back. 

What other parents are reading

Braxton Hicks contractions
These are mild contractions that prepare your uterus for delivering your baby. They're less intense than real labor contractions. Braxton Hicks contractions do not seem to progress (read: they don't get stronger or happen in smaller time intervals). If contractions appear to get stronger and you feel out of breath after each one, call your doctor. 

Lightening
According to What To Expect, at around the 36th week, you may be waddling more than walking now. It's because your unborn baby would have already "dropped" into your pelvis. Dropping or "lightening" usually happens during the first pregnancy, but not all first-time moms notice this. It depends on how you're carrying the baby. 

Discharge
You might have more vaginal discharge during your third trimester. Closer to your delivery date, you might see a thick pink-tinged discharge -- this is your mucus plug detaching. It's one of the signs that your cervix has begun dilating. 

ADVERTISEMENT - CONTINUE READING BELOW

Recommended Videos

If you get a sudden gush of watery discharge, it could mean your water bag broke already. Then again, not all preggos experience this. Vaginal bleeding or spotting, on the other hand, is a sign of a serious problem that warrants an urgent call to your doctor.

What other parents are reading

It's vital you discuss with your doctor about the signs and stages of labor. You should already have admission orders from your doctor. Your due date is just an estimate, so try to finish preparing your three hospital bags early in the third trimester. Settle your birth plan, choose a pediatrician for your baby and prepare your maternity leave papers, if you haven't already done that. 

While you're quickly tired, continue to exercise (walk, walk, walk!). Try to keep your emotions and the worrying in check (hormones!) and use the waiting to nest, have a maternity photo shoot, and learn about breastfeeding and baby newborn care.

Read more on labor and childbirth here.  Additional sources: WebMD, Parenting, and American Pregnancy. 

What other parents are reading

Celebrate your pregnancy milestones!


Enter your details below and receive weekly email guides on your baby's weight and height in cute illustration of Filipino fruits. PLUS get helpful tips from experts, freebies and more!

You're almost there! Check your inbox.


We sent a verification email. Can't find it? Check your spam, junk, and promotions folder.

Trending in Summit Network