Buntis? Here's What You Can Expect When You Get Your First Ultrasound

Will getting an ultrasound hurt? Here's a walk-through of this simple procedure.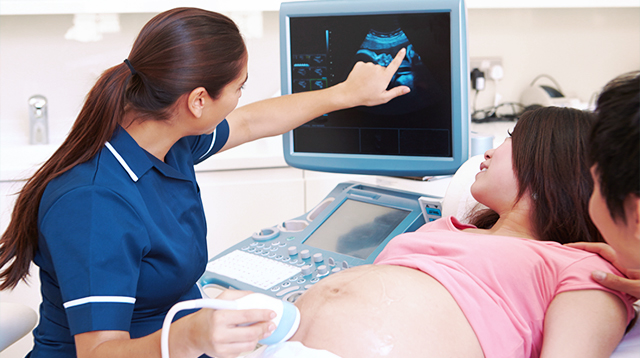 Ultrasound has helped doctors save the lives of countless pregnant women and babies. It's one of the routine tests all pregnant women need to go through at least once every trimester. It is useful in confirming a pregnancy, monitoring the health of the unborn baby and the whole womb environment, plus it catches or helps diagnose abnormalities and other conditions as the baby grows.

The experience, of course, varies from one pregnant woman to another expecting lady. In our Smart Parenting Village Facebook group, expecting women often ask others' experiences and tips, from which clinic to get it done, how it goes, how much it costs, and more! Here we shed some light on some of these ultrasound concerns:

Two types of ultrasound scans

Pregnant women go through either a transvaginal or standard abdomen ultrasound.

A standard ultrasound has a handheld transducer (or probe), which is placed over the abdomen to produce the images. The routine congenital anomaly scan (CAS) typically done between the 18th and 22nd weeks uses the standard abdomen scan. A 3D or 4D ultrasound also uses the standard scan but with a specially-designed transducer that creates more than just a flat dimensional picture.

The standard ultrasound is how most first-time preggos imagine they will see their unborn baby for the first time. But it is likely that a pregnant woman's first "introduction" to her little one will be a transvaginal scan, which is often used to confirm the pregnancy in its early stages. Most women see transvaginal scan as invasive because the specially designed probe or transducer, the device that transmits high-frequency waves to produce a black and white two-dimensional image, has to be inserted in the vagina to generate images.

ADVERTISEMENT - CONTINUE READING BELOW

What other parents are reading

Who is qualified to perform an ultrasound?

You often have your ultrasound at the hospital affiliation of your doctor's, mainly for convenience. After an ultrasound, you can go straight to your ob-gyn to interpret the results. Your ob-gyn may also be the sonologist.

If you want to cut down on costs, there are ultrasound clinics you can look into as well, but consider who performs the scan. Only board-certified medical professionals are qualified to do so, shares Dr. Sheila Jane Labrador-Illescas, M.D., an ob-gynecologist and certified sonologist.

These healthcare professionals are the following:

Sonographers or sonologists

Also known as ultrasound technicians or diagnostic medical sonographers, they are highly trained to operate sonography machines, which use high-frequency sound waves to create images.

Radiologists

They are physicians who are trained in interpreting images from radiographs, magnetic resonance, tomography, and ultrasound scans.

Obstetrician-gynecologist sonologists

Obstetricians are doctors for pregnancy and childbirth. While they can also deliver babies, gynecologists deal with health issues concerning the female reproductive system. Your doctor can specialize in both with another subspecialty such as sonology.

Perinatologists

These are obstetricians who specialize in maternal-fetal medicine or high-risk pregnancy care. They are highly trained to conduct ultrasounds scans, make prenatal diagnoses, and care for complicated pregnancies.

What happens when you go for an ultrasound

When you go for a transvaginal ultrasound, you will need to take off your pants and underwear and change into a hospital gown. You will lie down on a bed. If you have a standard ultrasound, you may be asked to lie on the bed and lift your top and pull down your pants a little bit to expose your abdomen.

ADVERTISEMENT - CONTINUE READING BELOW

Recommended Videos

When you're ready, the sonographer will ask you to put up your legs on a stirrup. She will put a lubricant or gel on the probe before inserting it into your vagina. The sonographer will maneuver the probe inside to see, measure, and analyze your womb and the fetus.

For a standard ultrasound exam, the sonologist will apply the gel on your abdomen before using the transducer to gently move it over your tummy until she can better see the image clearly on the ultrasound machine screen.

After the scan, you can dress up as the sonographer prints the image and results of the ultrasound.

Is it okay to talk to the sonographer as she performs the scan?

Unless your sonographer is an obstetrician-gynecologist or perinatologist, she will refrain from talking to you about the image she sees. A sonographer or sonologist is trained to get the best picture using the machine, but he or she is not a doctor — he is not qualified to interpret the images. (So he's not masungit. He is just not allowed to answer you).

Your ob-gyn can correctly describe the image the ultrasound has generated. He will point out the baby's heartbeat, extremities, or the position of the baby. Your scan can also help you and doctor see if there any health issues.

If the sonographer is an obstetrician-gynecologist or perinatologist but is not your doctor, he may discuss what he sees in the scan. But it will be best to bring the image and results to your doctor who knows your history and has been monitoring your pregnancy.

ADVERTISEMENT - CONTINUE READING BELOW

What other parents are reading

Will an ultrasound scan hurt?

Standard ultrasound scans don't hurt at all. As for transvaginal ultrasounds, it will cause discomfort, and for some women, it can even hurt. If it is causing you immense pain, speak up immediately.

"Except for isolated cases of hypersensitivity to latex material from the condom used during a transvaginal scan and mild allergic rash for mothers with sensitive skin on the application of ultrasonic gel, there are hardly any risks involved," said obstetrician-gynecologist Dr. Maria Lalaine Cartago-Garcia, M.D.

Can an ultrasound scan predict the sex of my baby?

Around your fifth month of pregnancy, it is possible for your doctor to predict the sex of your baby using standard ultrasound. However, this is not an exact science as it's only based on the position of the baby in the womb when the image was taken and the quality of the image itself. You may want to determine the sex of your baby earlier and through a more accurate means, which is genetic screening tests.

Can an ultrasound scan predict when I will give birth?

Doctors predict a pregnant woman's due date based on the woman's last menstruation period. They can also calculate this based on the size and development of the fetus, which doctors can check via an ultrasound. These predicted due dates may be the same or just days or a week apart.

Obstetrician-gynecologist and sonologist Dr. Maria Carla Esquivias-Chua, M.D., of the MCEC Mother and Child Ob-Gyn Ultrasound and Pedia Clinic, explained these are estimated due dates. They are not set in stone. A pregnant woman can go into labor three weeks before her due date or two weeks after, and first-time pregnant women typically go to labor nearer their due date.

ADVERTISEMENT - CONTINUE READING BELOW

What other parents are reading

Celebrate your pregnancy milestones!


Enter your details below and receive weekly email guides on your baby's weight and height in cute illustration of Filipino fruits. PLUS get helpful tips from experts, freebies and more!

You're almost there! Check your inbox.


We sent a verification email. Can't find it? Check your spam, junk, and promotions folder.

Trending in Summit Network