10 Reasons Why Doctors Perform Emergency C-Section

Even though you have high hopes of having a normal delivery, it is better to know the reasons your doctor might opt for a cesarean section instead.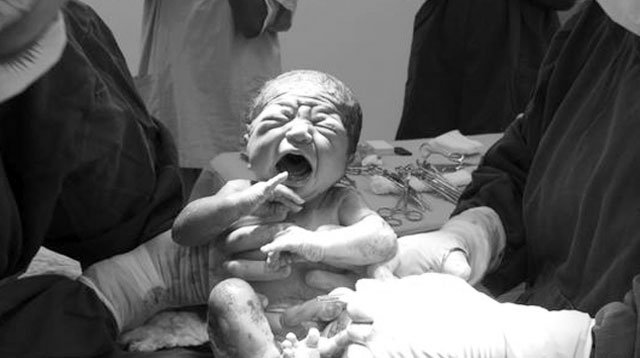 As you approach the third trimester of your pregnancy, you know that having a cesarean section or C-section (CS) is far from ideal. But thanks to medical advancement it continues to save lives of both new moms and newborns. 

Every mom-to-be has this perfect idea of how she wants to welcome her little angel into this world. That's why she makes detailed birth plans to help guide doctors, nurses, doulas, and other members of her birth team in fulfilling her requests.

However, a birth plan cannot be set in stone. Yes, doctors can monitor your baby in your womb via a nonstress test or ultrasound to assess the baby's condition. But what's good on paper may not be applicable in real life once factors outside of your control happen. Some situations may force your birth team to change plans to prioritize your health and the health of your unborn child. This is when an emergency CS may come up. 

Therese Guinto, M.D., chief resident obstetrician-gynecologist at the Our Lady of Lourdes Hospital takes us through some of the most common reasons why you may need a C-section:

1. When your cervix is not opening enough

"Even when the mother is induced, her uterine contractions may not be powerful enough to dilate the cervix," Dr. Guinto says. Ideally, when the mom-to-be is in the active phase of labor, the cervix should dilate 1.2 centimeters every hour for women delivering their first baby, and 1.5 centimeters every hour for those delivering their second or third baby. "If they do not follow the normal curve in two hours or so, CS may be called for." 

ADVERTISEMENT - CONTINUE READING BELOW

What other parents are reading

2. When your baby's head is not descending into the pelvis

Your doctor will check if your baby has "dropped," or your baby has moved to the lower part of your abdomen. It can happen within two to four weeks prior to delivery or even during labor. If you don't sense your baby's head resting just beneath the middle of your pelvic bone, then that may require a C-section, according to Dr. Guinto.  

3. When your cervix is too small

"Sometimes the mother's pelvis is not adequate enough to let a baby pass through. For example, if the mother is petite and the baby is big, there are bigger chances the mother may undergo CS," says Dr. Guinto. The same goes when a mom's cervix is normal in size, but the baby is just too big for a normal delivery.

4. When your baby is in breech position

Dr. Guinto says babies in breech position during delivery doesn't automatically call for a CS. However, she emphasizes that CS is the safest way to deliver the baby. "We always want to prevent harm," she emphasizes, as there can be risks in breech vaginal deliveries, such as fractures and nerve injuries. Experienced doctors can also turn the babies in the correct position, but there is a risk of cord coil (the umbilical cord becomes looped around the baby's neck).

What other parents are reading

5. When your baby has cord prolapse

A cord prolapse happens when your baby's umbilical cord slips through the cervix before your baby has come out. It is a rare instance, but it is an automatic C-section, as advised by the American Pregnancy Association (APA). The umbilical cord can be trapped against your baby's body inside the womb, putting stress on the cord. When this happens, it can result in loss of oxygen and cause fetal distress. 

ADVERTISEMENT - CONTINUE READING BELOW

Recommended Videos

6. When you have placenta issues

Another pregnancy complication is placenta praevia or low-lying placenta. If the placenta is attached to the lower part of the womb near to or covering the cervix, partially or totally blocking your baby's passageway, "it is a good option to do an outright CS as the mother would be at high risk of hemorrhage," says Dr. Guinto. An emergency CS is also performed if the placenta has separated from the uterus, which, aside from bleeding, can affect the oxygen supply of your baby.

7. When you have preeclampsia

"If the pregnant woman shows symptoms of preeclampsia with uncontrolled blood pressure elevations despite exhausting all the medications to control it, the only option is to deliver the baby via CS despite the age of gestation of the baby," says Dr. Guinto.

What other parents are reading

8. When you have gestational diabetes 

Developing diabetes during pregnancy makes you a likely candidate for a CS. According to Dr. Guinto, a C-section is also usually performed for pregnant women who have gestational diabetes because their babies become too large to pass through the cervix. 

9. When you have genital herpes

The APA advises doctors to perform CS to prevent the baby from being exposed to the virus while passing through the birth canal. This is most crucial if the pregnant woman has active herpes or has lesions or sores in her genitals.

10. When you suddenly have twins

Ever heard of the surprise twin? It's when ultrasounds only detect one baby, but actually you're having two! Twins can still be delivered vaginally depending on their position, weight, and age. However, a doctor will likely perform CS if it turns out you're having more than two babies.

ADVERTISEMENT - CONTINUE READING BELOW

"In obstetrics, we always have two patients, the mother and the baby. We cannot let any harm come to both," Dr. Guinto stresses.

The key here is to take your pregnancy checkups seriously. Discuss your birth plan with your doctor as he or she should be able to tell you if signs point to a normal vaginal delivery and your chances for a C-section. Remember to be flexible. As long as you and your baby are safe and healthy, it's all well and good.  

What other parents are reading

Celebrate your pregnancy milestones!


Enter your details below and receive weekly email guides on your baby's weight and height in cute illustration of Filipino fruits. PLUS get helpful tips from experts, freebies and more!

You're almost there! Check your inbox.


We sent a verification email. Can't find it? Check your spam, junk, and promotions folder.

Trending in Summit Network