Bettina Carlos Talks About Her Unexpected Pregnancy for the First Time

The actress also opens up about why she chose to let go of her relationship with her daughter's father.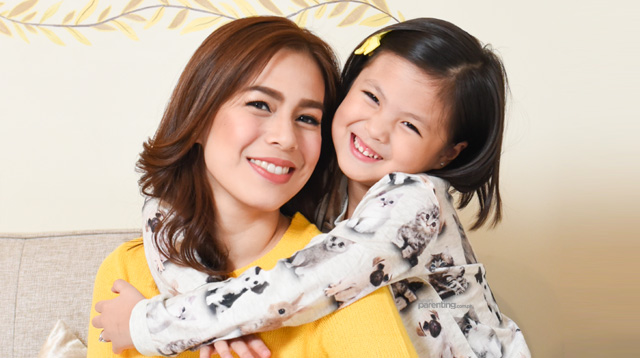 If you met Bettina Carlos eight years ago, you probably would not have recognized her. Not that she looked different — the actress is as youthful today as she was back then — but she admits to having been "pasaway." "I was a regular teenager enjoying life, smoking and drinking here and there."

She did have a fervent wish to be a mom someday. "Once in my life, I prayed to be a mom early, pero hindi ko naman in-expect na ganun kaaga, Lord," she shares, jokingly.

She was 23, just fresh out of college, and single when she got pregnant unexpectedly "with a man who was not my boyfriend at that time," she reveals. "But, looking back now, ang galing ni Lord kasi even if you're not ready, He gives you nine months to prepare."

For the first time in seven years, Bettina shares to the public her coming to terms with an unexpected pregnancy while she was an up-and-coming actress (she hid her baby bump well under her gown while attending the Star Magic Ball in 2010), parting with her child's father, and finding her strength as a single mom along the way.

Smart Parenting (SP): What was your first reaction upon finding out you were pregnant?
Bettina: I was in denial. I called someone I haven't spoken to in a really long time to ask her, "How would I know if a pregnancy test kit is positive or negative?" She said there's supposed to be two lines, and I said, "Parang malabo yung isa." "Hindi, yan yun. Basta may guhit, yan yun."

ADVERTISEMENT - CONTINUE READING BELOW

So I was in a state of disbelief, primarily because I got pregnant unexpectedly, with a man who was not my boyfriend at that time. It was a year after graduating from college. Is this really happening? So many thoughts and so many anxieties in my head. Dalawa na yung test kit ko, parehong may guhit. Parang gusto ko pang pumangatlo, pero parang ito na talaga. Ang aga nyang dumating.  

What other parents are reading

Q: What led you to take the test?
Bettina: I was delayed, pero I wasn't feeling anything weird yet at that time. In fact, I had vices — I was smoking, I was drinking. I was a regular teenager enjoying life, drinking here and there. But the day I found out I was pregnant, I stopped smoking, cold turkey. I didn't have the urge to smoke a single cigarette. When we went to the doctor, it was too early for the ultrasound to reveal anything. However, there were signs, like my temperature [was higher than normal], my uterus lining was thick, etc. We were asked to go back after a week to check if there's probably already a sac.

And because this is an unexpected pregnancy, I prayed. I didn't pray in my whole life until that time. Sabi ko, Lord, baka pinaparusahan mo lang ako. I'm not ready. Pero kung talagang binibigay mo ito sa akin, tatanggapin ko na sya ng buong-buo. When we went to the ob-gyn one week later, there was already a heartbeat. Parang sinasabi sa akin ni Lord, may buhay na dyan sa loob ng tyan mo, may pintig na ng puso.

ADVERTISEMENT - CONTINUE READING BELOW

Recommended Videos




SP: What was the most challenging part of your pregnancy?
Bettina: It was the first three months. I did not tell anyone from my family so it was a secret. I even attended the Star Magic Ball in a gown, wearing high-panty Spanx, sabi ko sa tyan ko, wag ka munang bumukol, wag ka munang magpakita. Wala akong morning sickness. I'm just hilo, but when I eat something sour, which is practically everyday, it goes away. So I would eat sinigang, isang kilo ng suha, isang kilo ng mangosteen, isang kilo ng lanzones. I would eat sour food and then I'd be okay. Yun din ang dahilan kaya maputi ang anak ko.

I'm not very white, and the biological father is neither. Pero ang puti ng anak ko. Sabi ko, paano to nangyari? And the derma said it's from all the vitamin C in my food. 

SP: How did you tell your family about your pregnancy?
Bettina: We planned on telling my family, pero ang pagkakataon talaga minsan mapagbiro. We were seconds away from telling my mom, and then her phone rang, and someone else broke the news. But she was defending me, and that's one of the most painful things I've done to her. It was painful to hear my mom defend me from that person because I was betraying her.

ADVERTISEMENT - CONTINUE READING BELOW

When she put down the phone she just said, "Is it true?" And then she just looked down, and she cried. It crushed her so much to hear it from someone else and to hear it as gossip. It was hard, but eventually they accepted. It was harder for my dad though — he didn't talk to me for a while. When I gave birth, they went to the hospital, and my dad visited me. There was forgiveness. So although it was emotionally difficult for me, I had my support. I had my lola, and she would comfort me and tell me, "Apo, pag umiiyak ka, umiiyak ang anak mo. Kung anong nararamdaman mo, nararamdaman ng anak mo." So it's very important that when you're carrying life, that you bring life to it. You bring it joy, be happy, because it feels what you feel.

SP: What was your worst fear about parenthood?
Bettina: That I didn't know what to teach my child. Kasi when I was pregnant, I would read parenting books, but they were primarily about preparing for the baby's needs: how to feed, what to do when they cry, how to change diapers, how to deal with a colic baby. Puro physical needs. Pero yung ano yung ituturo ko sa anak ko, napaisip lang ako when she was four months old, and my relationship with the father was not good. We would fight. We would fight in front of our baby. And something in my heart did not feel right. I was thinking, I'm not exactly a good person, so what good can I teach my child? Pasaway nga ako e, so anong ituturo ko sa anak ko? That's when I started seeking. And God is very good with timing. He sent one good friend from college, and she and I talked about faith. 

ADVERTISEMENT - CONTINUE READING BELOW




SP: Did you consider getting married to your child's father?
Bettina: Someone suggested to get married in the States because [at least] they have divorce. Pero hindi ako magpapakasal having divorce in mind! Also, having a baby is one thing, but jumping into marriage just because you have a baby is something that you need to pray for and really think thoroughly. I will be stuck with this person my whole life. Eh, as it is we can't agree on things.

I didn't want to give in to the idea that I have to marry you just because we have a child. I felt that I had the power to choose to be single, to be a solo parent. So I went to church, and the first message I heard was about heart parenting. I felt that it was God telling me, "Okay you got your answer!"

ADVERTISEMENT - CONTINUE READING BELOW

I realized that the relationship I was in was wrong. And if our relationship is not conducive to the growth of my child, I don't need to stay with you. So I chose to let go of that relationship.  

SP: Describe to us the hours leading to the birth.  
Bettina: I was due to give birth in March. During the first week of the month, I suddenly had fever out of nowhere, and it was escalating every four hours. I would take paracetamol, so the fever would go down, but  it would go up again, higher than the previous temperature. When we went to the hospital, I was hooked on a baby monitor immediately to check how the baby is responding to my fever. May contractions na daw, pero wala akong nararamdaman. So I was admitted for observation kasi I was full-term already. They did some tests, and I was diagnosed with pneumonia. They told me that I could not give birth yet, because if I do na normal, mabibinat ako. If I give birth naman na cesarean section, hindi daw kaya ng katawan ko. Sabi ko, ano'ng gagawin natin? I cannot hold the baby in if it wants to go out. The doctors said I had to undergo an ultrasound.

The next day, they checked my amniotic fluid, and it was below 2 cm already (learn about the normal levels here). They told me that in five hours, they will cut me open. They asked me, "Gusto mo bang gising o tulog?" Sabi ko gusto ko gising, gusto kong makita yung anak ko, kasi baka magkapalit, parang sa pelikula na naman.

My doctors were very detailed. There's a cover, and there's light, so you can't see anything [on the other side of the curtain], but they would tell me everything that was happening. "We'll inject you, masakit lang yung needle, but you count to ten and you'll feel a tingling sensation from your toes going up." My instructions to my child's father was, i-video mo, mag-picture ka, gusto kong makita ano'ng nangyayari habang nanganganak ako. Isang moment lang yon. Kaso hindi nya kaya.

ADVERTISEMENT - CONTINUE READING BELOW

What other parents are reading

The doctor said, "We'll cut you open now." Tapos may naamoy ako na nasusunog. Yung laser pala yun, hindi na pala scalpel ang gamit. And then the table started moving, iniisip ko, anong nangyayari? Binubuksan na pala nila ako. There are so many layers apparently.

And then the doctor said, "Teka ha, ang laki ng ulo ng anak mo. We'll cut you open some more." Hindi ko ma-imagine yung "more," so I just trusted my doctor. And then I heard the cry. Then I passed out. Then I'd wake up and pass out again. When I saw my baby, she was covered with poo because the effect of my fever was that she pooped inside already. 

Yung giving birth, mabilis lang; ang matagal yung stitching. I heard my doctor fighting with someone. Apparently, the sutures given were not her sutures; it's another kind or another brand. And the effect on me was I got keloid, even if I'm not keloidal. This is not to scare moms but know that it happens. Buti my incision was bikini cut, and it's very low. 

What other parents are reading

ADVERTISEMENT - CONTINUE READING BELOW

I gave birth to my daughter Amanda Lucia Carlos on March 7, 2011. She weighed 8.1 pounds at birth. 

I picked the name because it sounded nice without really checking what it means. Apparently, "Amanda Lucia" means "giver of joy, bringer of light." And that's exactly what she is in my life.

SP: Where did her nickname "Gummy" come from? 
Bettina: During pre-natal visits, 'di ba the doctor checks the size of the baby. In one of the check-ups, she said, "Your baby is something-millimeter." Siguro nakita nya nahihirapan ako [to visualize], so sabi nya, "Oh, she's the size of a gummy bear." Simula noon it stuck na. To this day, she's called Gummy. 




SP: Were you able to breastfeed Gummy?
Bettina: I breastfed Gummy for three and a half years. When she was 3 months old, I said I'll stop when she turns 6 months. Her 6th month came and I said, kawawa naman, one [more] year. When she turned 1 I said, "Ayoko na, pero gusto nya pa." I felt that I was selfish because I was just thinking of my own convenience. But when you think about it, it's for her. So I breastfed her until she didn't want anymore.  But I tried all the weaning methods: Vicks, sili, pero ang anak ko, persistent. Gusto nya talaga. 

ADVERTISEMENT - CONTINUE READING BELOW

SP: What tips would you share to expectant parents?
Bettina: If you're preparing for a baby, it's really important that you get the right nutrition even before conceiving. Take care of yourself. That's a very good foundation for your body as a vessel to carry that baby. The first 1,000 days of a child's life, including the nine months, is important to their growth. So what you eat, you feed your child.

Second, based on my observation, your body right before [getting pregnant] will be your body right after giving birth. You lose the blood, the fluids, and a month or two later, you'll go back to that weight. So magpaganda na kayo ng katawan. Because when they cut me open, sabi ng doctor, "Wow Bettina, may abs ka pala." Sabi ko, dok, dati lang po yun. "No it's still here, natabunan lang sya."

Third, think positive. When it comes to breastfeeding, kesa isipin nyo yung eyebags nyo, isipin nyo na ikapapayat nyo yan. Breastfeeding is not only good for your baby but also for you because it helps your uterus contract and shrink. 

Fourth, do not fear the pain. Ako, the more they tell me that it's painful, the more I want to feel it because I believe the pain is supposed to make you "eject" the baby. It's supposed to be painful enough na talagang iiiri mo para lumabas yung bata, so don't skip it [if possible].

Fifth, if you could have your delivery recorded, please do. It's something that you'd want to see to complete the journey.

ADVERTISEMENT - CONTINUE READING BELOW

Lastly, focus on what you have. Focus on the joy that's in front of you. Focus on the blessing that God gave you.

What other parents are reading

Celebrate your pregnancy milestones!


Enter your details below and receive weekly email guides on your baby's weight and height in cute illustration of Filipino fruits. PLUS get helpful tips from experts, freebies and more!

You're almost there! Check your inbox.


We sent a verification email. Can't find it? Check your spam, junk, and promotions folder.

Trending in Summit Network