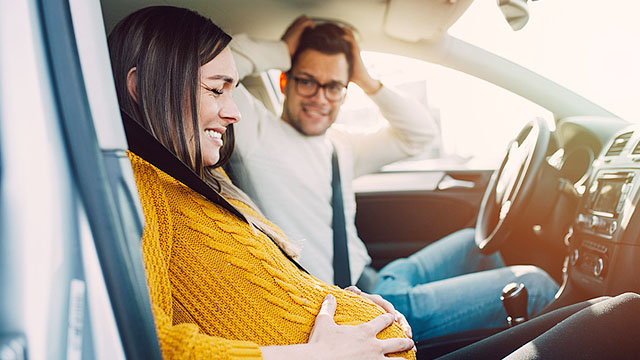 If you're a first-time parent in this age of information, congratulations! You probably know a lot already about your impending childbirth, from the time of your first contractions to the time you'll be wheeled into the delivery room. You are possibly more prepared to become a parent than the average mom or dad was 20 years ago.

The availability of information these days is more than enough for us to learn what we should expect when we welcome our child into this world. However, not even the best books or the most well-researched articles online could prepare anyone for "the real thing" — or the reality of childbirth when it happens. And if you, mom, feel ill-prepared for the arrival of your baby despite all the readings you have done, the classes you took, and subscription to a weekly newsletter about pregnancy, what more your partner, your child's father?

The effect of the husband's presence during childbirth cannot be underestimated. The World Health Organization, in fact, encourages women to have a birth companion present during these crucial times, and many women choose their husbands to be that companion. It's not surprising — they are partners, after all, and their partnership in this new role as parents should be done in the same way as they welcome their baby into the world — together, in the delivery room.

However, if we are to talk about scenes from real-life childbirth, it's not as moving as you imagine it to be if your only basis is the movies. We asked dads from the Smart Parenting Village what came to mind when their wives were giving birth to their first child, and here are some of the best answers (many moms answered for their hubbies).

ADVERTISEMENT - CONTINUE READING BELOW

What other parents are reading

What dads didn't expect about labor and childbirth

"It can be the longest wait."

Dad of two Rizal Pinlac remembers the time his wife Brenda gave birth to their first child. "Waiting for the baby to come out, while in the waiting area...ang tagal pala talaga ng hintayan, especially for a first-time father. It felt like forever!" In reality, he says he waited for about 12 hours, but that it felt much, much longer.

"There will be a lot of emotions."

Louise Abiba recalls that when they were advised she would need an emergency Cesarean procedure, her husband couldn't hold back his tears. "Naiyak siya. Ako tinawanan ko lang." Later on, when their baby was born, her husband felt yet another emotion: fear. "Nung lumabas na si baby sabi niya pinapahawak daw sa kanya nung nurse, kaso ayaw niya [kasi] takot siya."

"He didn't realize the vagina could open so wide."

Another member of the Smart Parenting Village says her husband was so amazed by what he witnessed. "Sabi [nya], 'Ganoon pala kalaki naibubuka ang labasan ni baby, kinaya mo.' Inalog ba naman ako after ko mailabas. Sa sobrang pagod ko hindi ako nakapagsalita o gumalaw, sabi [nya] sa akin, 'Buhay ka pa ba? Tell me, magsalita ka, kumilos ka.' But hello, I just gave birth!"

What other parents are reading

"The umbilical cord was hard to cut."

Dad John Mark Bordeos says his wife was in labor for almost half a day, and when time came for her to give birth, he was the one who cut their baby's umbilical cord. He must have thought it would be as easy as cutting a piece of string, but he said it felt different. He said, "The umbilical cord was harder to cut — it felt like cutting squid with a dull pair of scissors."

"Babies aren't as cute at birth as we think."

Chai Timbungco was looking forward to the perfect moment with her partner and their newborn child. She got it, except the reality didn't match some of the expectations. Her funny anecdote included her partner's observation about babies: "He realized that babies aren't as cute [when they are] newborns. He compared them to naked mole rats that get cuter over time."

"The moment can leave you speechless."

Like we've always said, witnessing the birth of a child is life-changing, moreso if you are the parent of that child. Mommy Xz Gabuan Desamero says her husband was speechless the moment he first laid eyes on their baby.

"The newborn baby's head could be the shape of a cone."

Here's my story. I was in labor for 24 hours, and they tried to deliver my son normally until it became apparent that it was not possible because the baby was already getting distressed. I had to go under the knife after enduring labor for a really long time. Because I attempted to push him out vaginally in the beginning, his head was the shape of a cone for the first few hours after birth, which elicited gasps from my family the first time they saw him. However, this is quite common, and the shape of his head returned to normal in no time.

 

What other parents are reading
Here, a few celebrities share the realities of childbirth.
"Pushing the baby out is not as easy as it looks like in the movies."
ADVERTISEMENT - CONTINUE READING BELOW
Many dads have so much more respect for their wives after seeing them in labor for hours. Actor and dad of two John Prats wrote about his experience after his wife Isabel gave birth to their second child. In an Instagram post, he captioned a photo of them in the delivery room, "Hindi madaling manganak, kaya pag nakita nyo ang hirap ng mga asawa nyo habang nanganganak, sobra ang pagmamahal at respeto na ibibigay nyo sa kanila."
"You might feel weak during the delivery process."
TV host Pauleen Luna-Sotto revealed during an interview with SmartParenting.com.ph that her husband Vic, who already has four other children, begged not to stay inside the delivery room while she was giving birth to their first child Tali. "Vic really didn't want to go inside the delivery room. Takot na takot sya talaga, sabi nya, 'Babe, mahina ako dyan.' Pero nagulat ako, pumasok lang sya. He took a video of everything," she recalls.
"Things won't always go as planned, and it's possible you might panic."
New mom Divine Lee-Go shared with Smart Parenting that her husband Blake was a bit rattled when their son Baz was born with a cord coil. "Nacho-choke na pala si Baz inside. When they took him out, I heard the doctor say, 'cord coil, cord coil!' Si Blake was panicking because apparently yung baby paglabas hindi pala maputi. Super itim, parang wala pang blood."
What other parents are reading

Trending in Summit Network