More Americans Are Choosing Laughing Gas for Labor Pain Relief

Available in Europe for decades, pregnant Americans are now slowly embracing it. Do you think it should be an option for Filipino preggos, too?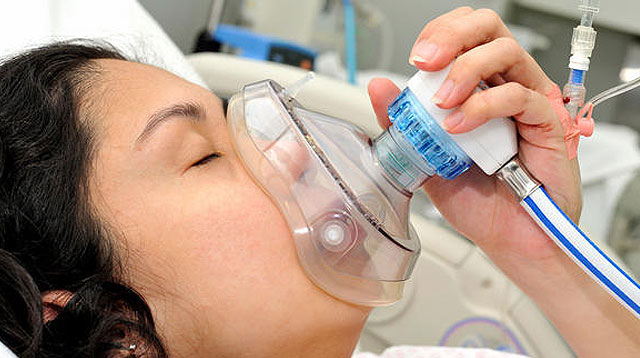 After the euphoria of finding out you have a bun in the oven, panic sets in especially if you're a first-time mom-to-be. Inevitably, moms who mean well but cannot help themselves talk to you about labor pain especially the extremely painful kind. It's why you (and everyone else) know the word 'epidural' first.  

We hate to break it to you, but, yes, it is painful, but the intensity varies for every woman in the same way that pain tolerance varies for each person. Plus, there are many pain management options available now and you can choose from natural (different positions or breathing techniques) to more invasive (e.g. epidural). There's even one pain management option you are probably familiar with: laughing gas or nitrous oxide, which has been widely used in Europe for decades, and now more U.S. hospitals are adopting it.

What is it?
Laughing gas used in labor is actually 50-percent nitrous oxide and 50-percent oxygen. Despite the nickname, it does not actually make you laugh out loud. It helps address both anxiety and pain; when you breathe it in, "it gives you this euphoria that helps you sort of forget about the pain for a little bit," nurse-midwife Cynthia Voytas tells NPR. As an anesthetic, it's not that strong so you could still feel some pain, but it can be enough to take the edge off when the contractions come in.

How is it administered?
If you're afraid of needles, this might be right up your alley. Nitrous oxide is self-administered via a breathing mask and at intermittent periods. It means you can take it only when the pain is too much to bear. You don't have to be hooked on it the entire time you are in labor. And you can choose to stop taking it anytime and switch to a different pain relief option.

ADVERTISEMENT - CONTINUE READING BELOW

Is it safe?
Yes, technically it's the same anesthetic used in many dental procedures. In 2011, the American College of Nurse-Midwives said via a position paper that it has to be a "reasonable efficacy, safety, and unique and beneficial qualities." Laughing gas also does not interfere with the release of endogenous oxytocin which triggers contractions and helps progress labor, according to the online Journal of Midwifery & Women's Health.

What other parents are reading

Epidemiologist Judith Rooks also told NPR that, compared to other options, laughing gas is safe and does not linger in the mom's or the baby's system. "It does pass the placenta and go into the fetal circulation, but as soon as the baby takes a breath or two, it's gone," she explained.  It also does not affect or endanger your baby's health nor hinder the bonding between mom and child immediately after birth, as its effects wear off easy which leaves you alert after pushing the baby out.

Are there side effects?
It is known to cause side effects such as nausea, dizziness, and drowsiness, but these were only present in some women. There's no way to tell beforehand if you'll get them. Experts unanimously agree that more research needs to be done to fully understand how it works.

More of a safety issue than side effect, there is a risk for gas to escape and affect the people in the delivery room, but nothing good handling can't fix. That's also the reason why only the patient can hold the mask. 

CONTINUE READING BELOW

Recommended Videos

How much does it cost?
Way cheaper than an epidural, that's for sure. In the U.S., an epidural costs about USD$1,000, while opting for nitrous oxide gas would only cost USD$100 or even less. That's less than P5,000 if we use the current conversion rates. Not bad, right?

If laughing gas finds its way to our local hospitals, it could be a good middle-ground option for women who don't want to feel pain, but also don't want to take pain medication or pregnant women who are already drained from long labor hours to apply natural childbirth pain alleviation techniques.

"For some women, the epidural is going to be their number one choice. For other women, they want to be unmedicated and have nothing, and that's their choice. For other women, nitrous oxide is a viable choice," Michelle Collins, a professor and director of nurse midwifery at Vanderbilt University School of Nursing who advocates more childbirth options for pregnant women, tells NPR. "Now women are more informed, and they're demanding that their voices be heard, which is really great in my book," she adds.

Would you consider laughing gas a a childbirth pain management option? Tell us in the comments below or send us a message via our Facebook.

What other parents are reading

Celebrate your pregnancy milestones!


Enter your details below and receive weekly email guides on your baby's weight and height in cute illustration of Filipino fruits. PLUS get helpful tips from experts, freebies and more!

You're almost there! Check your inbox.


We sent a verification email. Can't find it? Check your spam, junk, and promotions folder.

Trending in Summit Network