'Parang Kuryenteng Dumadaloy': Moms Share Effects Of CS Even After Incision Wound Heals

Don't discriminate against moms who gave birth via C-section.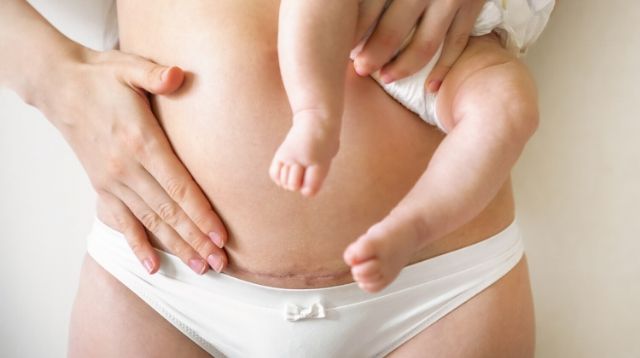 Giving birth in itself is a huge achievement. And just because some moms gave birth via C-section surgery doesn't mean they have it easier or better.

Having a surgical scar in the belly is no joke — and we're not just talking about treating the incision wound. (Read how to care for your wound here and here.) Moms who deliver via CS live with the effects of having gone through surgery for a long time, if not a lifetime. 

What CS moms feel post-delivery, after their incision heals

One mom from the Smart Parenting Village gave a shoutout to moms who have stitches, giving an example of what kinds of feels CS moms get post-delivery. Other moms chimed it, giving us a peek into life post-CS. 

It still hurts every time you cough, sneeze, or even laugh!

"Naubo lang ako, sumakit na ung tahi ko!! Hello stitch, 2 years old na anak ko." — Mommy Crystal

ADVERTISEMENT - CONTINUE READING BELOW

"Hindi naman sa ubo, minsan nga bahing lang eh, kumikirot talaga momsh tapos makati pa. Eighteen months old na si LO." — Mommy Antonette

"Yes! Ako nga natawa lang eh. Sobrang sakit, ayoko na tuloy tumawa." — Mommy Badeth

"Our nurse helped me by saying that I can press on my tummy a pillow whenever I cough. It helped a bit but very, very painful pa din." — Mommy Maru Katz

You will feel it ache a little when you put any weight on it.

"'Di ko pinapadantayan 'yung part ng tahi kasi masakit. Ingat na ingat ako kapag nakahiga na kami at ang likot ni LO at baka matalunan, Diyos ko po!" — Mommy Jin

"Masakit pa rin 'yung tahi ko lalo na 'pag nadadaganan ng baby ko at makirot minsan. Kaya iniiwas ko 'yung tiyan ko, baka bumuka. Eight months old na si LO." — Mommy Situs 

What other parents are reading
In extreme weather, cold or hot, the stitches will itch or ache. 
Turning 3 years old na ang daughter ko, humahapdi pa rin ang tahi ko lalo na kapag super lamig. Keloid pa siya so minsan parang anytime mapupunit." — Mommy Agatha 
"Nakakaramdam lang ako ng konting kirot sa tahi ko kapag sobrang lamig. Five years old na twins ko." — Mommy Lhynn
"Makati lang if super mainit." — Mommy Marianne
Fatigue can trigger your pain in your incision area.
"Ako mag-aapat na taon na na-CS pero may time pa rin na makirot 'pag sobra pagod ko." — Mommy Cristina 
"Minsan 'pag malamig or kapag pagod sa gawaing bahay sumasakit din tahi ko." — Mommy Gracie
Even your back and hips can feel sore.
"'Yung likod ko 'pag malamig, nakirot, biglang nasakit, saglit lang nawawala din. Three years old na anak ko." — Mommy Abby
"Four months na si LO pero 'yung balakang ko, mabilis mangalay tapos kapag natagalan sa posisyon na may pressure sa may balakang, masakit siya." — Mommy Aron
ADVERTISEMENT - CONTINUE READING BELOW
It feels like your scar has a life of its own.
"Minsan para siyang pulso. Tumitibok yung pakiramdam nung area na sumasakit. Narramdaman ko na yan simula nung 1st CS ko till now naka 2nd CS na ako. Pinapahinga ko lang hanggang sa magsubside. — Mommy Che
The fear that the incision will pull apart is always there. 
"Nine years old na bunso ko pero kumikirot pa rin or sumasakit 'pag mabigat ang binubuhat." — Mommy Tin
"Two years old na rin ang LO ko. Kapag nagkamali ka ng baluktot ng katawan either nakahiga or nakaupo, makakaramdam na naman ng kirot." — Mommy LJ
"'Pag nag-uunat ako parang may kuryenteng dumadaloy." — Mommy Jonalyn 
"N'ung after mga first 6 months, feeling ko may natatastas sa loob ng tiyan ko tapos biglang kikirot lalo na pag buhat ko si baby nang matagal minsan." — Mommy Dianne 
"Makati, and 'pag dinaganan na ni baby, napa-paranoid na ako kasi feeling ko bubuka. — Mommy Sarah
ADVERTISEMENT - CONTINUE READING BELOW
The next time you think CS mommies took the easy way out, stop. Every mom is a mom no matter how they gave birth to their kids. Each of us has our own journey and challenges.

Trending in Summit Network