On My Mind: "We Lost Our Baby At Birth"

How one couple overcame the trauma of a miscarriage and where they drew the courage to try again.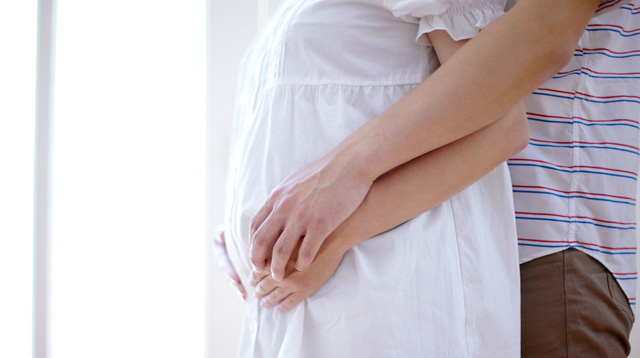 It seemed just another ordinary day for myself and my wife Nette. As was the custom, I dropped by the University of the East in Caloocan in October 2003, to check on her. This was our regular routine as I went off to work the night shift at a call center and Nette, a Communication Arts professor at the university, prepared to call it a day.

We tied the knot on April 12, 2003, and a month later, found out to our delight that she was pregnant. For the next few months, we went through the whole pregnancy routine -- going to regular checkups with the doctor, arming ourselves with information on raising a child, lining up prospective ninongs and ninangs, and looking up baby names. This was one of the few things in life that excited me. As a future dad, I had imagined the possible scenarios in my mind and how I was going to go through it.

'Something went terribly wrong'
But that night, Nette, who was already five months along, felt a throbbing pain in her tummy, upsetting her usually perky appetite. She didn't give it much thought, though, considering it a normal part of pregnancy. At five in the morning, our nightmare began.

What other parents are reading

Nette woke up thinking that she just peed in her sleep. When she went to the bathroom, she saw blood and instantly knew something was terribly wrong. A few minutes after making short, hurried calls, she was on her way to the hospital with her parents, and I left my shift to rush to her side.

At the hospital, a nurse inserted an IV drip into Nette's veins while another advised her not to eat anything in case she needed to deliver. In her mind, she was thinking, "How can I deliver a five-month-old baby??" We waited for her attending physician to arrive, fear growing by the minute. Her belly seemed to have deflated greatly in a mere few hours.

After an ultrasound test was performed, we heard the news straight from the doctor: "The baby has succumbed." Minutes later, Nette had an induced delivery. She was awake the whole time, and says she felt it when the baby came out.

ADVERTISEMENT - CONTINUE READING BELOW

What other parents are reading

When I got hold of the news, I felt numb for quite some time. But the numbness was replaced by the pain of seeing my lifeless firstborn in a bottle. I still remember seeing her tiny little fingers and small toes, and until now I choke with sadness when I remember. We named her Maria Isabella. It would have been Jose Nicolas if it had been a boy.

Empty-handed
Nette had been so afraid of giving birth because she knew it was painful, but what happened was worse, because she gave birth and went home empty-handed. But I know God saw us through the experience.

The doctor diagnosed Nette's failed pregnancy as a stillbirth, explaining that the baby had a hole in the heart and that it had died 72 hours prior to the delivery. She said it was a weak baby from the start. During the last two checkups, Nette's obstetrician was concerned that the baby was hardly moving, and its gestational weight didn't match the age. They even advised her to eat cake, saying that maybe the baby needed a sugar rush.

What other parents are reading

When Nette was discharged from the hospital, we didn't sleep in our room for quite some time. We just slept in the living room. We seldom went up to our room because it reminded us of what happened.

In His own time
We coped with the tragedy by holding on to the belief that there is a reason for everything.

We convinced ourselves that it was God's decision, na baka kaya hindi pa binigay kasi baka hindi pa kami prepared, that God wanted to see how we would handle such an emotional crisis, how we would weather the storm.

CONTINUE READING BELOW

Recommended Videos

What other parents are reading

We also took comfort in what the doctor told us, that since it was a congenital disease, it was possible that the baby may not have reached her 13th birthday, or that she may have just dropped dead at any time. So with that thought, we tried to be thankful just the same.

We also drew strength from one another. We became closer as a couple. Parang na fast-forward 'yung relationship namin. Wala pa kaming one year na mag-asawa pero parang ang tagal na namin dahil sa pinagdaanan namin."

Our immediate families were also a source of strength. Without really saying anything, they knew how to support us, like bringing a television set to the house so that we could focus our attention and thoughts on something else, dropping by and just having meals with us often. Those little things helped us get back on our feet faster.

What other parents are reading

Gift of life
The doctor told us that we need at least six months to recover, but we felt we were ready for another baby just four months later.

But we were more careful than before. Nette was in bed around 75% of the time. Relatives and friends again gave full support. Nette's mother would treat her to breakfast in bed; friends would call up and check on her condition. Upon taking her leave of absence, Nette's colleagues readily adopted the five class sections she orphaned. I took over every household chore.

Admittedly, natakot kami na baka mangyari ulit. The fear completely disappeared only when we decided to leave their baby's fate in the hands of God.

ADVERTISEMENT - CONTINUE READING BELOW

What other parents are reading

Thirty-seven weeks later and still three weeks short of her due date, Nette gave birth to a 5.7-pound baby girl we named Zoe, which means "God's gift of life".

Zoe was quite a handful as a child. But I took Zoe's playfulness as a welcome surprise every time and not as a challenge. Everything she did endeared her to me.

As for Nette, she realized how precious life and motherhood can be. She realized, pregnancies don't always end happily, not everyone gives birth to a living baby. But by God's grace, our Zoe is now grown up. Parenthood means not only sacrifices, but also being thankful for every big and small blessings you get.


Got a personal story you'd like to share? Email us at lei.smartparenting@gmail.com.







Trending in Summit Network