A Pinay Mom Proudly Shares Her Newborn Daughter's 'Lotus Birth'

What exactly is a lotus birth and why do some pregnant women choose to do it?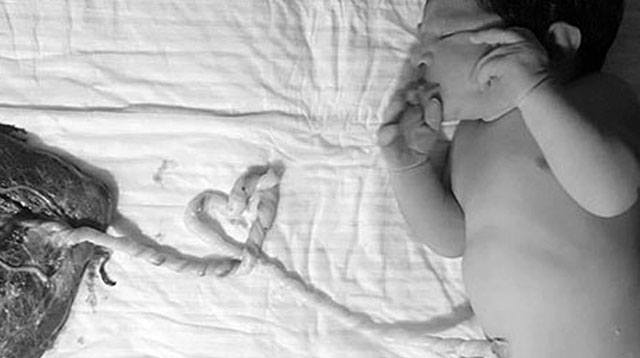 As a Montessori teacher and a yogi, Mia Tiongson has always been an advocate for all things natural. So, on September 15, 2017, she welcomed her daughter Laurel Marianna into this world via an unmedicated gentle water birth. After Mia delivered her baby, she waited patiently to birth the placenta, the umbilical cord is still attached to her baby. And, for about four hours, Laurel remained attached to the placenta as she and her mom had the required immediate skin-to-skin contact after birth, and Laurel latched to breastfeed for the first time. 

Mia had what is known as a lotus birth, and she shared with us the photo — and her story — after she saw the story and photo below on our Facebook. 

It was three years ago when Mia first learned about lotus birth. She feigned disgust over the practice among her friends, but she secretly wanted it for herself.

"This is the birth I've always dreamed of," she told SmartParenting.com.ph via Facebook Messenger. "This 'lotus birth' practice honors the connection the baby had with the placenta that has nourished her for nine months. It values the transition stage between the womb and the world. It is also said to lower risk of anemia and iron deficiency in infants," the Davao-based mom said. 

ADVERTISEMENT - CONTINUE READING BELOW

The new mom confessed she didn't consult anyone about having a lotus birth; her midwife and her mom were more concerned that she wanted a water birth. "It took me quite a while to convince my midwife. Finally, on my 39th week, she was confident that I was healthy and agreed to be the 'emergency doctor' in case I needed any medical intervention," she shared. Thankfully, her water birth went without complication, and she was able to fulfill her birth plan to the letter.

What other parents are reading

It's not every day that you hear about a newborn still attached to the placenta through her umbilical cord, long after the expert-recommended one to three (sometimes five) minutes of waiting time before cord clamping or cutting. However, if you want a lotus birth, you have two options: a full lotus birth and a semi-lotus birth, which is what Mia had.

"It is important to note that if the placenta is birthed with the cord still attached to the baby, then that is already a lotus birth," Noelle Polack, a birth and postpartum doula and breastfeeding counselor with Pinoy Doulas Collective told SmartParenting.com.ph via email. 

Polack explained that in a semi-lotus birth, the umbilical cord would be clamped and cut eventually. "This usually takes anywhere between 15 minutes to any period less than an hour in a hospital setting, often because certain hospital procedures are easier to do without carrying the placenta around," she added.

On the other hand, in a full lotus birth, there is no umbilical cord clamping at all, and the cord is allowed to fall off on its own, assuming, of course, that the cord and placenta are cared for appropriately.

ADVERTISEMENT - CONTINUE READING BELOW

Recommended Videos

What other parents are reading

The main reason women do a lotus birth is to ensure all of the blood still in the placenta is given the time to move into the baby's body. Polack cites studies that affirm the benefit of transferring, not just cord blood but placental blood as well.

It's the same reason for Mia. "I just waited for the cord to stop pulsating, normally just around five minutes, but I prefer to cut it around four hours...the longer you wait to cut the cord, the more benefits baby receives," she said.  




Apart from the transfer of blood, a lotus birth is also said to allow for more mom and baby bonding. "The baby stays attached to the mother for a longer period, so there is lots of time for skin-to-skin contact, which is so beneficial for the baby!" Polack adds.

For other moms, having a full lotus birth is a spiritual, cultural, or emotional choice. "These facets are often forgotten or given less weight, but they are very important as well, and respecting these can make a huge impact on the growing family," she said. 

ADVERTISEMENT - CONTINUE READING BELOW

What other parents are reading

Probably the most obvious disadvantage of having a full lotus birth is the logistics of carrying your baby and the placenta for days and sometimes more than a week, which may restrict movement. Polack shares that among her friends, the earliest day that the umbilical cord detaches is on day 3, while some waited a week. 

Mia pointed out it was why of she opted out of a full lotus birth, though she's considering it for her next baby. "It takes too long to dry out, so you need to take care of both [your baby and the placenta and] carry your baby with it all the time. As a new mom, I wanted to just focus on taking care of my baby and give my full attention to her." 

"Those familiar with the practice first wash the placenta very thoroughly so that there is no blood left, and then it is dried and salted thoroughly," Polack shares. The placenta is placed in a bowl or basket lined with a towel and carried wherever the baby goes until the umbilical cord detaches itself.

Some people choose to sprinkle flowers or herbs over the placenta, too. Polack warns, however, that the towel should be replaced every so often since it absorbs moisture. "If there are any signs of infection, the baby should be taken to a medical professional immediately," she stresses. 

Not all women can have a lotus birth. It is more likely to happen to women who have healthy and normal pregnancies. It should also be said that many medical practitioners are unfamiliar with the practice or if they know of it, they are  still waiting for more research before fully accepting it.

ADVERTISEMENT - CONTINUE READING BELOW

What other parents are reading

Celebrate your pregnancy milestones!


Enter your details below and receive weekly email guides on your baby's weight and height in cute illustration of Filipino fruits. PLUS get helpful tips from experts, freebies and more!

You're almost there! Check your inbox.


We sent a verification email. Can't find it? Check your spam, junk, and promotions folder.

Trending in Summit Network