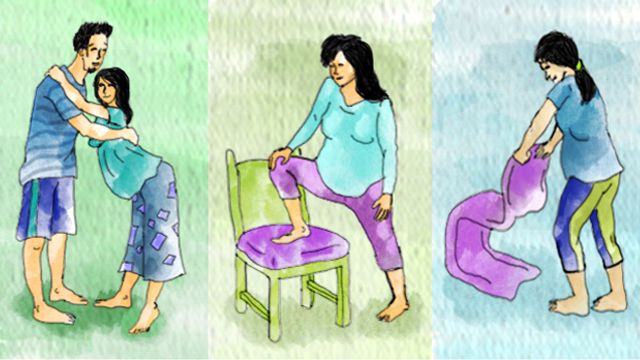 If you're pregnant, it's only natural to worry about the pain during childbirth. And we hate to break it to you, but the pain is inevitable. (Dads-to-be who question the pain should read this.) However, there are some positions to ease labor pain.

"It's your uterus that's working, contracting, because it is doing its job, so that you can push your baby out and welcome the newest member of your family," says Aurelin Fernando, a certified doula from Gentle Hands Birthing Clinic, who spoke at our Smart Moms Birth & Baby Workshop last October.

Fernando adds if you don't feel anything, that's actually a reason for concern. But, you can do something about easing the pain.
Through his research that delved into the root of the pain in childbirth, Ferdinand Lamaze says the cause of the pain is tension, the contraction of your uterine muscles, but a mom-to-be's fear of the pain also contributes to it. Fernando explains, "'Pag naumpisahan ng takot, kung ano man yung biological, physiological na response ng katawan sa fear, nape-perceive ng brain natin as pain. When you feel pain, you become more afraid. And then you feel more tension, and you think there's more pain."
How can you ease labor pain?
You can ease the tension in your body through relaxation techniques. But, first, you have to turn fear into excitement. That means you have to know more about the birthing process. Ask your doctor and be prepared. The way you perceive the situation can also be a factor. It's a common mindset that one only goes to the hospital if you're sick. "You're not sick — you're pregnant, and you're just going to the hospital," Fernando says.
Then, think of the tension as your power as a woman. Fernando stresses, "Our body is beautifully and perfectly designed by God to do the function it should do. So many millions of women have been able to give birth without any problems...So why not you?" Relaxation techniques such as talking with your partner, playing music, etc., can be helpful. But, again, it's about how you see the situation.
Lastly, see pain as a sign that your body is working properly (read: have a decent amount of exercise while pregnant) and take the contractions one at a time. "Contractions have a rhythm to it, it comes and it goes. When it's out, relax and prep for the next one," Fernando suggests.
5 positions to ease labor pain
One of the ways you can cope with pain is through different body positions during labor. When you keep upright, gravity helps your baby descend. Leaning forward will help ease the tension on your back muscles and reduces the pressure on your back and pelvic area. These positions can help to make your cervix dilate more quickly. 

For each position, we provided different variations.  
STANDING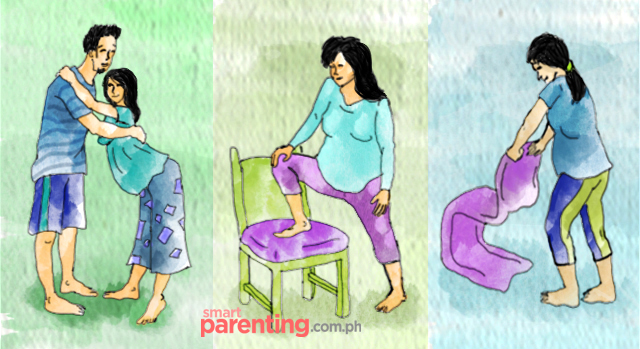 Try wrapping your arms around your partner's neck or waist for support (this is also a good time to for him to give you a back rub massage) as you lean on him and sway. You can also try lounging, wherein you raise one foot onto a chair or foot stool and then lean forward. Or stand and lean onto a chair for support. 
SQUATTING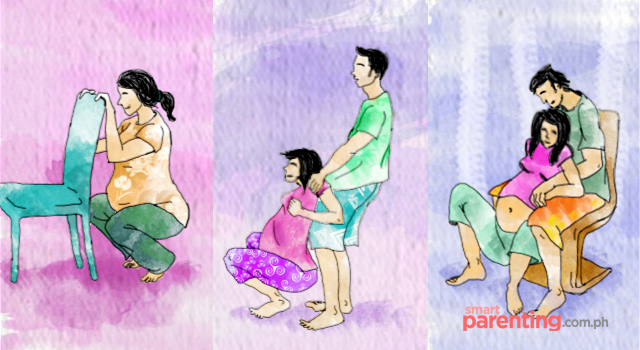 These positions can open up your pelvis to give your baby more room. Facing outward, do a squat while holding on to the back of a sturdy chair, the edge of the bed, or your partner (either he's sitting or standing up).
SITTING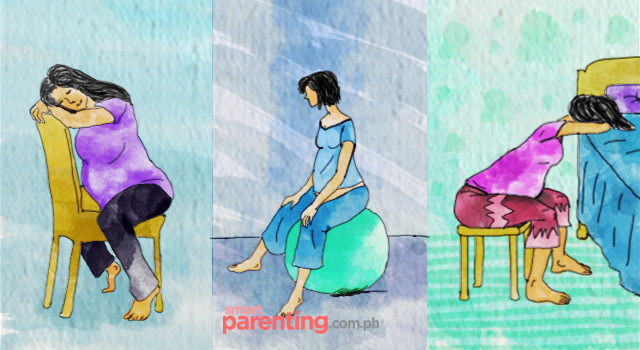 These positions allow you to rest in between contractions. Gently rock while sitting on a chair, a gym or birthing ball, or the edge of the bed. You can also straddle a chair and lean on its back. Putting your feet up while sitting can also be helpful.
KNEELING
Get on all fours on the bed, a yoga mat, or on the floor. You can also rest your upper body on a pillow or chair. 
LYING DOWN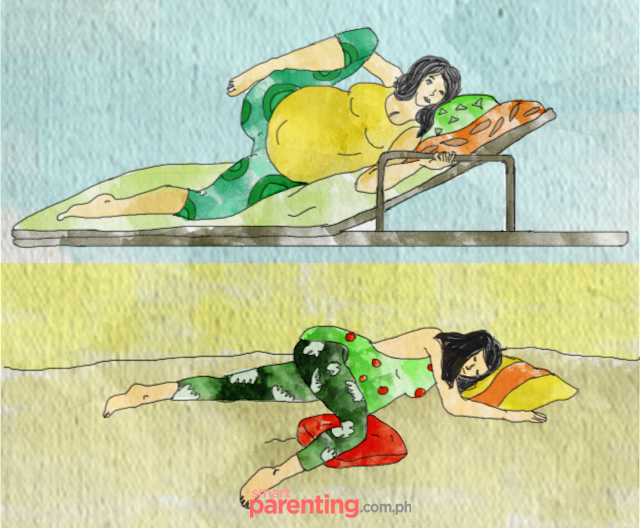 If you prefer to lie down, do so on your left side (it has fewer nerve endings), so you'll be more comfortable. You can also put up one leg to open up your pelvis area.
Which position to ease labor pain worked for you when you gave birth? Share with us your story below in the comments!
This article was updated on May 21, 2019 at 5:53 p.m.