This Mom Got To See Her Baby Being Born Via C-Section

Clear surgical drapes are helping moms who give birth via C-section to feel more connected to their babies.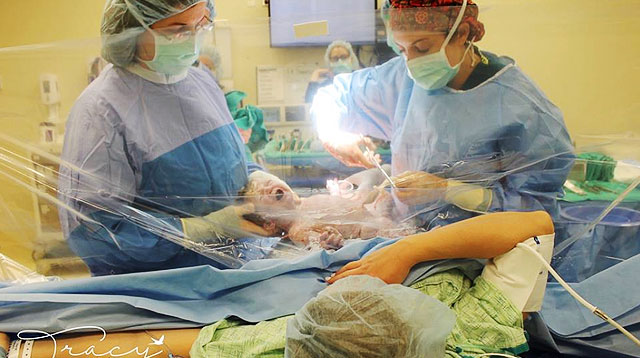 For most moms, whether you deliver your child naturally or via C-section is not an issue. Still, however, a few feel like they deprive their babies if they don't give birth vaginally. That way of thinking should be a thing of the past, though, as C-section moms are now also taking control of their belly births by having a gentle C-section.

A gentle C-section allows the new mom immediate skin-to-skin contact with her newborn to stimulate bonding and breastfeeding, and in some cases, they use clear surgical drapes so the mom can see her baby being born. Pregnant ladies can even request to dim the lights, have their choice of songs be played in the background, and more, as long as their birth hospital allows them.

Using clear surgical drapes is not an entirely new idea, but not all hospitals have them, and it's only recently that their use has been documented in birth photography. (One of these C-section birth photos with clear drapes even won an award.) Birth photographer and doula Tracey Abney shared a couple's gentle C-section story and photos with Buzzfeed News. 

Allison and Bennet, of Madison, Alabama, had their first child three years ago via natural vaginal delivery. They hoped for their next baby to be delivered in a similar way, but at 20 weeks, Allison was diagnosed with placenta previa, a condition wherein the placenta is too close to or blocks the cervix. Ergo, the baby couldn't pass through.  The couple had hoped their circumstances would change, but researched on family-friendly C-Section births just the same.

ADVERTISEMENT - CONTINUE READING BELOW

When it was certain Allison would undergo a C-section, they made a birth plan with the help of their doula Tracey, herself a mom, knows how moms could feel helpless and powerless not being "involved" in their own birth experience because she is the last person in the room to see her baby. 

Included in Allison and Brent's gentle C-section and family-friendly birth plan are immediate skin-to-skin contact and the use of clear surgical drapes which their birth hospital offers; they simply had to request it beforehand to make sure a clear surgical drape is available on the date of Allison's scheduled C-section. 

What other parents are reading

Before the C-section, hospital staff set up the standard blue with the clear drapes behind it. Abney clarified that the surgery part of the procedure is done with blue drapes up—you don't actually watch doctors do the incision or stitch you up. When it's time for the doctors to "deliver" the baby, that's the only time they would pull the blue drapes down so the mom could see her baby being born. Doctors cut the baby's umbilical cord, too, with the blue drapes down before putting it up again to finish the procedure, while letting the mom and baby have their skin-to-skin time.

That's exactly what happened during Allison's gentle C-section. She had Brent and her doula by her side, and all of them witnessed the birth of her son (Brent is a little squeamish so the doctors and nurses were careful to cover up the bloody parts and the medical instruments used before pulling down the blue drapes). 

ADVERTISEMENT - CONTINUE READING BELOW

Recommended Videos

"Just like with our first child, seeing our baby for the first time will be cherished forever," Allison wrote on Love What Matters. "Our goal was to not miss out on any part of the beautiful birth experience just because we were scheduled to have a C-Section. And thanks to our amazing doctors, nurses, and doula, we had an amazing and beautiful birth experience," she added. 

ADVERTISEMENT - CONTINUE READING BELOW

"The clear drape allowed Allison to be an active participant in their baby's birth," Abney wrote in Love What Matters. "She was able to see him the moment he was out of the womb. She was able to watch the moment her son was born, and the moment he took his first breath. She was able to see his features, his hair, his chubby little cheeks, and legs. [She was] able to not only hear him cry but [also] watch his lip quiver with the sound. She got to watch the umbilical cord being cut," she added.

Allison told Buzzfeed News, "I believe every woman who wants a clear drape, wants that skin-to-skin immediately after, wants an extra person in the O.R. for that comfort for mom and dad, that they should receive that. As long as everyone is healthy and safe I believe that a cesarean birth can be just and beautiful and special as a vaginal birth."



What other parents are reading
Celebrate your pregnancy milestones!

Enter your details below and receive weekly email guides on your baby's weight and height in cute illustration of Filipino fruits. PLUS get helpful tips from experts, freebies and more!
You're almost there! Check your inbox.

We sent a verification email. Can't find it? Check your spam, junk, and promotions folder.

Trending in Summit Network