Twice Is Nice: A Mom of Twins Shares Her Story

Twins are double the joy and double the blessing, as this mom discovered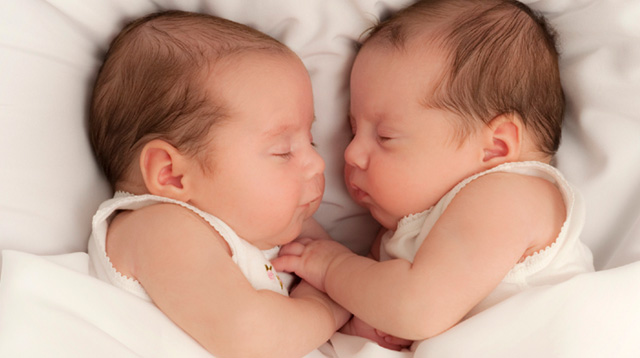 Photo from dontpokthebear.com

Every mom knows that giving birth to — and raising — a child has its fair share of trials and triumphs. Having just one child can already leave you with lots of stories to tell, so what more if you have twins? It's a whole different ballgame altogether, we're sure!

To give us a glimpse into a mom's life with twins, Raquel Borja-Chua, the owner of Mama Chows Gourmet Ge-lai Meals and Homemade Lactation Pastries, shares her story with us. Raquel's twins, Madeleine Claire and Noah Benedict (or "Brie" and "Bleu" for short) are now seven months old.

Finding out the great news
Raquel recalls that exciting moment when she found out that she and her husband were expecting twins. "I found out on my first ultrasound. I knew it even before the OB told me," she shares. "How? I saw two eggs. Then I asked her, 'Why are there 2 eggs?' She said we should wait for the OB head. Then the OB head came and said we were having twins."

What other parents are reading

Raquel's husband, Jon, wasn't in the ultrasound room at the time, so she asked for him to be called inside so that he could hear the news too.

"Our first reaction was like… 'is this for real? How are we going to fit into our Innova?'" Raquel candidly shares. "Since we believe in and advocate the use of car seats, this would mean we'd need to get two more car seats (in addition to their first child's car seat). How were we all going to fit inside?"

Jon's personal reaction was unique, too. Raquel laughingly remarks, "He felt he was the king of the world! He was so proud of himself... and then he got scared." Their eldest child, Saffron Matthew, who is now three years old, was also happy when he learned that he would be a kuya.

When it came to breaking the news to other family members though, Raquel became a bit somber. "We had to keep it a secret because we've heard of cases of a vanishing twin (where one of the twins mysteriously disappear during gestation)," she shares. "We only told my father-in-law and told him not to tell anybody else, but he couldn't keep it to himself so he told his friend."

ADVERTISEMENT - CONTINUE READING BELOW

What other parents are reading

Eventually though, Raquel and Jon shared their exciting news to the rest of their family, and their friends, too, who shared in the couple's joy.

Facing the challenges of carrying twins
Raquel says that her twin pregnancy was very challenging. "I had impaired glucose tolerance and then diabetes, and I was growing so big that my back started to hurt," she shares. "At 4 months, my tummy looked like I was on my sixth month."

"I had morning sickness until my fifth month of pregnancy," Raquel continues. "Backaches, dressing up by myself, always having to go to the bathroom to pee, having to ask someone to help me put on my pajamas, walking like a penguin because my tummy felt really heavy," she adds all of these to her pregnancy challenges.

"I was also on a lot of medication," Raquel continues. "I was on progesterone, on calciblock, and hypertension meds to keep my uterus 'calm' and to avoid contractions."

What other parents are reading

Pre-labor and delivery
Later on in the pregnancy, Raquel and Jon found out that their twins "were already too big to rotate," or be in the optimal position for birth. "So we accepted the fact that I had to undergo a C-section," Raquel says.

"We had the C-section date determined by feng shui (a Chinese practice), and the best date given was May 23, 5pm onwards not before 5 pm," she adds.

Because she was at risk of going into premature labor, Raquel was given more medicines. "We were able to reach 38 weeks with prayers and lots of meds," she shares.

After birth: More challenges
Raquel and her twins' trials did not end after her C-section though.

"After giving birth, our pediatrician, Dr. Joy Ty-Sy, said to me: 'You lost a lot of blood. You need to rest. I know you're determined to breastfeed the twins but I suggest that you ask your friends for extra breast milk so you can also rest,'" Raquel shares.

ADVERTISEMENT - CONTINUE READING BELOW

What other parents are reading

Heeding their doctor's advice, Raquel got in touch with two of her friends. "Dianna Dy-Cua and Jaydee Cheng were my breastmilk donors — thank God for them!" she says.

"While we were at the hospital, everything was ok," Raquel continues. "I was getting help with breastfeeding, getting enough sleep (well, not really!). I was getting ready to do my ge-lai. I was expecting that would be the worst."

But it wasn't.

Raquel recalls how she noticed that there was something wrong with her a few days after coming home from the hospital.

"I accidentally hit my leg on a corner but I did not feel anything until I saw that it was bleeding," she shares. "Then I noticed that my legs were numb due to manas (swelling). I got worried and decided to check my blood pressure (BP). My usual BP is just 110/70 to 100/60, but when I checked it then, it was at 150/90 to 160/95!"

ADVERTISEMENT - CONTINUE READING BELOW

What other parents are reading

Worried that she could be having postpartum preeclampsia, Raquel called her doctor, who asked her to check her BP. When Raquel told her about her unusually high BP reading, her doctor advised her to go back to the hospital.

"Those words she said caused me to panic," Raquel shares. "Crying, I called my husband, and then my mom. I was so worried — I even kissed my kids goodbye. I was worried that that would be the last time I would see them. In short, I was praning!"

On the way to the hospital, Raquel couldn't help but think of the worst. "Jon was trying to be strong for me but couldn't keep his worries either," she says. "He was crying, too, and very worried."

When the couple got to the hospital and doctors started checking Raquel, all she could think of were her kids. "At the back of my mind, I felt relatively okay since it was I and not the twins who were rushed to the hospital," she explains.

All the while, Raquel says Jon was by her side, helping boost her spirits. "He told me, 'Don't worry; I will do everything to make sure the twins drink breastmilk. We will skip the ge-lai if it will cause you your life' (ge-lai is a high-cholesterol diet, so it's not ideal for those with hypertension)," she recalls. "He said, 'I don't care if you can't practice ge lai practice — I just want you alive.'"

ADVERTISEMENT - CONTINUE READING BELOW

What other parents are reading

Overcoming everything with faith, family and friends
Thankfully, Raquel's health improved, "with the support of family and friends, plus lots of prayers," she says.

"I came to terms with the fact that I needed to stay healthy for the kids. I followed all our doctors' advice to a T. I went for an eye check-up, cardio check-up and drank meds to make me feel well," Raquel shares. "Good thing I called in my symptoms early, or it could have developed into postpartum preeclampsia."

Life with twins: One blessed journey

ADVERTISEMENT - CONTINUE READING BELOW

Despite all the challenges, Raquel and Jon consider themselves "doubly blessed."

"When people found out we were having twins, they'd say 'Ang swerte mo naman.' When they'd discover that the twins are a boy and a girl, they'd say, 'Wow, sobrang blessing na naman yan," Raquel divulges. "We are really blessed."

The twins, Bleu and Brie, are now 8 months old. They each have their own endearing qualities, and the Chuas are very grateful that they can be hands-on parents to both of them and their eldest child, Saffron.

"The twins are totally different — Brie is so demure, while Bleu is so pang-harabas," Raquel shares. "When you hand something to Bleu, he immediately puts it inside his mouth. With Brie, she checks it first before she puts it inside her mouth. So cute!"

What other parents are reading

For Raquel, the best moments with her twins are when she tandem feeds and bathes them. "They amaze me with their antics," she says fondly.

Mom-to-mom advice for caring for twins
To end, we asked Raquel to share her tips for moms who may have twins of their own, and this is what she had to say:

1. "Tandem feed."
"Do whatever you can to make sure they get the best nourishment they require. The best food for them is your own breastmilk. I know it could be overwhelming for new moms to breastfeed but I assure you that it's worth it."

To get support as a breastfeeding mom of twins, Raquel even joined support groups for moms with multiples, like the "Seeing Doubles" support group* that has regular meet-ups in New Manila, Quezon City. The group is the first of its kind, and was started by Beng Feliciano, co-owner of MedelaMoms Inc., and a mom of twins herself.

*Moms of multiples who want to attend the "Seeing Doubles" support group sessions — for free — may register via 09178110821. The next session is on February 7, 1-3p.m.

ADVERTISEMENT - CONTINUE READING BELOW

 

What other parents are reading
2. "Let go, let God."
"You need to let go of things you can't control." In Raquel's case, she had to accept the fact that she had to get well first before she could take care of her kids.

"I really have to thank my husband for being the next 'mom' to my kids at the time," she adds. "I also had to let go of managing the house. I couldn't care less if the maids were not doing their jobs properly. I just wanted to take care of the kids."

3. "Get everyone's support."
"I was ready with the thought of getting breastmilk donations but wasn't ready with the thought that I would be needing it that early. I told all our help that there should be no mentioning of lack of breastmilk to me."

Rally your family members and friends to give you the support you need before, during and after birth by explaining your parenting choices with them. This will help make things easier for you in the long run.


So if you're a mom who is expecting twins, you're not alone. Like Raquel, you'll learn that the joys of having multiples far outweigh the challenges. And in case you find yourself in doubt of this, here's a quote to encourage you:

"Hearts entwined
Twenty fingers, twenty toes,
two sweet babies with cheeks of rose.
Born on the same day, two gifts from above,
lives entwined, two babies to love."
— Author Unknown

Are you or anyone you know a mom of twins too? Share your experiences with us by leaving a comment below or posting in our forums.
ADVERTISEMENT - CONTINUE READING BELOW
What other parents are reading

Trending in Summit Network