You Need To Pack Three D-Day Hospital Bags -- Yes, Three!

A doula says the three separate bags are for the mom-to-be, baby, and dad (or your labor support!)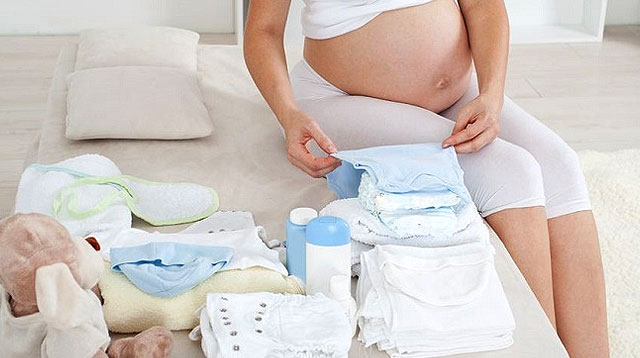 When you hit the sixth month of your pregnancy, that's when it starts to sink in that you'll soon meet your little angel and cradle him or her in your arms. But before that, you need to prepare your things for the big day -- and for that, you'll need three bags, according to Aurelin Fernando, a certified doula from Gentle Hands Birthing Clinic, who spoke at our Smart Moms Birth & Baby Workshop, co-sponsored by Pampers and held last October 23 at Discovery Suites in Pasig City. 

Yes, three bags instead of one -- baby's bag, your bag or the mother's bag, and daddy's bag or the labor support's bag. You need just the labor support's bag when you arrive at the hospital. Only when you've been transferred to your private room from the delivery room, then your husband can get the other two bags for you and the baby. (If you have a birthing suite, then labor, delivery, and recovery will all be done here.)   

Prepare your bags as you enter your third trimestier. Here's the detailed list of what should be in your bags:

The Daddy's Bag or The Labor Support's Bag

1. Notes or manual from childbirth class including childbirth class certificate of attendance 
The notes will come in handy for the one with you in the labor room, like your hubby. He can refer to these while the mom-to-be is in labor or in case the mom gets a panic attack. 

2. Doctor's orders or admission orders
Sometimes not knowing what will happen when you get to the hospital can be distressing. So arm yourself with the necessary information by asking for your doctor's orders, or the list of things the hospital staff will do to you when you come in for labor, so you can negotiate items. "For example, shaving of the perineum, uutomatic 'yan kadalasan sa doctors. But if you're not comfortable, you can actually skip but with the okay of your doctor," she said. 

4. Stopwatch
The one on your mobile phone will do. What is important you have a time that can count in seconds. This is really to help the coach (most likely your husband) to monitor the contractions and give you an idea where you are in the contractions. 

5. Eyeglasses
Bring your glasses especially if you usually wear contact lenses, which the hospital staff will ask you to remove. Leave your jewelry at home as well, even your wedding ring (or give it to your husband for safekeeping) because the hospital staff will ask you to remove it. 

ADVERTISEMENT - CONTINUE READING BELOW

6. Lip balm, lip gloss, lipstick with moisturizer
Fernando explains that the air inside the labor room is so dry. It can cause chapped lips, which can be painful. A lip balm will help.

7. Hair clips or head bands to keep you self neat and tidy while in labor.

What other parents are reading

8. Back labor aids such as hot water bags or massage tools. Check also with your hospital if you can borrow such items (and if it comes with added cost).

9. Diversions
"A lot of time spent in the labor room is waiting for the next contraction," Fernando says. So bring things that amuse or entertain you such as magazines, books, or gadgets.

10. Camera or any video equipment

11. Food for labor partner in case labor gets extended

12. Gelatin or lollipops and a cup or mug
There are hospitals who have a "no eating or drinking" policy. They will only allow candy and ice chips, which is what the cup is for, but we recommend negotiating with your doctor about this. 

13. Information sheets.
There will be residents who will ask you the same questions, from medical and menstrual history to last meal intake. So if you don't want to keep repeating yourself, ask your doctor to inform you of the questions ahead of time and make 10 to 12 copies of your answers. "Some women, however, welcome the interview para may kausap sa labor room, so it's up to you," she adds.

14. Papers and essential documents.
Fill them up in advance if needed, from your medical insurance sheet to accomplished PhilHealth forms. Bring also a copy of your marriage certificate, if any.

ADVERTISEMENT - CONTINUE READING BELOW

Recommended Videos

What other parents are reading

The Mommy's Bag

1. Bathrobe
2. Breastfeeding-friendly tops or nightgowns. Get one that opens at the front since your baby will likely room-in you after birth to breastfeed.  
3. Slippers
4. Toiletries including a simple makeup kit if you plan to receive visitors in the hospital. Fernando advises, however, that you shouldn't feel obligated to accept visitors right away. In fact, you should control the number of people who will visit you in the hospital (or at home) for your baby's health and safety. 
5. Sanitary napkins. The hospital will give you diaper-like undies at first, but you'll need extra normal heavy duty napkins for changing. 
6. Breast pump and milk bottles. There is also no need to bring formula milk. "Breastfeeding is best for you baby," Fernando said.
7. Sleeping eye-patch to help you sleep when the baby sleeps. "When the baby comes, follow the baby's sleep rhythym," Fernando said. 
8. Going home outfit

The Baby's Bag

1. Tie-shirts. Prepare at least one to two sets per day.
2. Diapers, disposable or cloth, and diaper pins, if needed
3. Booties and mittens. You won't be able to cut your newborn fingernails yet, so cover them to protect his or her face from scratches.
4. Receiving blankets. Prepare at least two to three pieces per day.
5. Cotton balls for cleaning your nipple for breastfeeding and cleaning your baby in between diaper changes.
6. Bath soap. Choose a mild soap and liquid variant so it's easier to use. 

Fernando discourages new moms from bringing a pacifier. "Let yourself get used to your baby's cues. If in the beginning, nag-pacifier ka na agad, it diminishes the chances of you and your baby communicating with each another. When you learn to pick up the baby signals earlier, you'll have a less fussy and happier baby," she stressed. 

ADVERTISEMENT - CONTINUE READING BELOW

What other parents are reading

Celebrate your pregnancy milestones!


Enter your details below and receive weekly email guides on your baby's weight and height in cute illustration of Filipino fruits. PLUS get helpful tips from experts, freebies and more!

You're almost there! Check your inbox.


We sent a verification email. Can't find it? Check your spam, junk, and promotions folder.

Trending in Summit Network