Parents Share What To Pack For Your Little One's First Beach Trip

Add these items to your packing list (and to cart).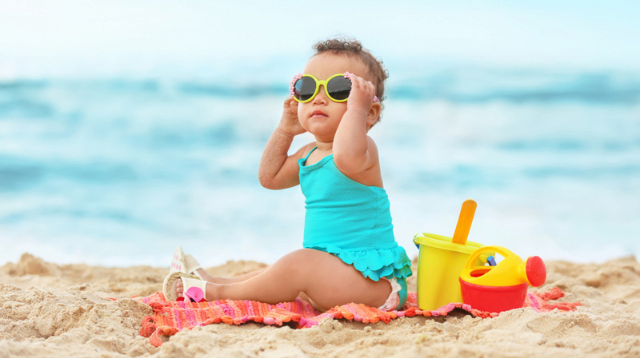 With pandemic restrictions easing, families are making travel plans again—and with these come challenges.

Mom and member Bhett Dada calls for help in the Smart Parenting Village (SPV): "Help naman, mga ka-SPV. May biglaang swimming sa dagat and I have only five days to prep. I have a 25-month-old little boy and a five-month-old baby girl. Never pa kami nakapag-outdoor since ipinanganak sila. Any suggestions na dapat kong dalhin at paghandaan?"

The Village has got your back, mom.

Here's a checklist for your kids' first ever beach trip:

Clothes and accessories

• Swimwear in colors that won't blend with the environment, so you can easily spot your kids

• Rash guards for both kids and moms: Protect yourself not just from sunburn but also from wardrobe mishaps when dealing with squirmy tots.

• Sunglasses

• Water shoes to shield those tiny feet from sharp rocks and shells

• Beach sandals, which are more secure than slippers

• Swim nappies (Here are some locally available brands of reusable swim diapers.)

• Swim floaties such as life vests and inflatable armbands

Skincare supplies

• Enough broad-spectrum, water-resistant sunscreen that's at least SPF 30, so you can reapply it at least every two hours (Check out this list of mom-approved picks.)

• Aloe vera gel to soothe the skin after sun exposure

• Insect repellent, since you'll be outdoors. It can be in the form of lotions or patches. (Moms share the repellents they trust here.)

Additions to your med kit

Take the time to talk to your kids' pedia about the meds you'll be packing. The following suggestions are shared for informational purposes only:

ADVERTISEMENT - CONTINUE READING BELOW

• Rehydration drink such as Pedialyte, so you'll be ready to address dehydration

• Paracetamol (Editor's note: Seek the advice of your child's pedia to avoid overdose.)

• Probiotics: One mom in the Village gives her kids GI Pro Tec 1+ before they go swimming to avoid tummy aches if they ingest the water.

• Ointment such as Calmoseptine to soothe rashes and itching

• Vitamins for children such as vitamin C with zinc

• Antihistamine such as cetirizine (Note: This is a generic name.)

Beachside essentials

• Beach mat or towel, where your kids can sit

• Small tent or beach umbrella to shield them from sunrays

• Blanket to wrap your little ones in when they're taking naps (It's extra protection from the sun.) 

• Beach toys such as sand scoops, pails, water guns, trucks (excavators and dump trucks), and beach balls

• Distilled water and water bottles to prevent dehydration

• Snacks for your little ones because stores are likely not readily accessible

• Plastic bags for wet clothes (and in case of motion sickness on the way to the beach)

• Baby wipes for quick cleanup

Other items

• Portable tub for bathing babies back in your room

• Waterproof camera or a waterproof case for your phone, so you can capture those precious memories

• Selfie stick or tripod

• Stroller

Bonus tips

Because it's their first time on the beach, ease your little ones into it. Zaire M. Lequigan-Catungal advises: "May possibility kasi na matakot [sila] at 'di na ma-enjoy yung experience. Much better na mag-play muna sa shore, [then] unti-untiin na mag-play sa water."

CONTINUE READING BELOW

Recommended Videos

Lastly, always keep an eye on the kids. Take turns watching over them with other adults on the trip, so you, too, can have fun under the sun.

Got more tips for first beach trips? Share them in the comments section.

Trending in Summit Network