How to Fight Your Armpit's Worst Enemies: 6 Ways to Flawless Underarms

Uncover your underarms' worst enemies. Here are products to keep them looking flawless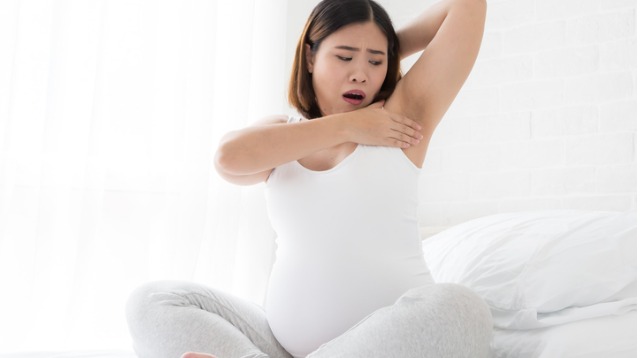 Want to turn your armpits from fifty shades of gray to brighter than sunshine? Uncover your underarms' worst enemies and arm yourself with the right products to keep them looking pretty and pristine.

1. Hormones
Moms-to-be, don't be shocked if certain parts of your body have gone astoundingly ashy. Ninety percent of pregnant women may find darker coloration in underarms and other skin folds during pregnancy because of hyperpigmentation. The increase in melanocyte, estrogen, and progesterone causes the pronounced darkness in some regions of the skin like the neck, nipples, and armpits. 

The skin color will eventually go back to normal for most women. For the time being, make sure to amp up your hygiene and try not to obsess about it too much. You're growing a tiny human, and you're amazing!

What other parents are reading

What you can do: right diet and vitamins
Try: Folart, Php10.00 (5 mg)
Stay healthy as a general rule during pregnancy and make sure you take folic acid as prescribed by your doctor. Experts say that folic acid deficiency can worsen effects of hyperpigmentation among other complications. Never skip your prenatal and amp up your intake of fruits and veggies.

Availabe at Rose Pharmacy

2. Friction
Friction from tight clothing can cause darkness due to constant contact with the sensitive skin surface in our underarms. Those who experience sudden weight gain may experience this if they continue to wear clothes that are a tad smaller than their current size.

Our body's excess fat may also cause the skin to chafe, especially when sweat is in the mix. While perspiration in itself does not cause underarm discoloration, it may lead to bacterial growth in the deeper layers of the skin, which is another huge cause of dark pits. Bacteria can make it very itchy (leading to frequent scratching) and even give you that unwanted pit funk.

ADVERTISEMENT - CONTINUE READING BELOW

What other parents are reading

What you can do: chill out
Try: Tiny Buds Rice Powder, Php118
Some say using rice powder after taking a bath helps to absorb sweat during the day to keep you feeling fresh. It's hypoallergenic and is also gentle enough for baby skin. Hydrate frequently and wear light, loose, and breathable fabrics to keep you comfortable throughout the day.

Available here 

3. Products you are using
Time to double check if your go-to antiperspirant or that disposable shaver in your bathroom is contributing to your armpit woes. Some products have too strong chemicals that may cause an adverse reaction to your skin. Each person's skin reacts differently to products, so while it may take a few tries before you discover what's hiyang, just choose the one that's right for you. 

Another critical thing: make sure the FDA has approved the products you use. Fly-by-night resellers are trafficking imported products with high concentrations of mercury that is not only unsafe but can also be toxic.

What other parents are reading

What to do: shelf the shaver
Try: Tweezerman On-the-Go Mini Slant Tweezer, Php650
My mom has the whitest, most hairless armpits in the world and her secret? She has never put a razor to her pits in her entire life. What she did when puberty hit was plucked very carefully, preferably after a warm shower so that the hair follicles are more pliable. When using a tweezer, ensure the tip has the hair firmly at the roots, before pulling it purposefully in the direction of the hair growth.

ADVERTISEMENT - CONTINUE READING BELOW

Recommended Videos

Available at Beauty Bar (see store locations here)

What to do: diode laser technology
Try: Belo Medical Group's Motif Laser Hair Removal, price upon request
But if plucking pains are not your thing and you have extra cash saved up, try diode laser technology. This one from Belo is a virtually painless option with a contact cooling feature for those with a lower threshold for pain.

Available at Belo Medical Group (see clinic locations here)

What other parents are reading




What to do: use whitening deodorant
Try: Nivea Extra White and Firm Q10 Serum Roll-On, Php138 (40 mL)
Some claim that deodorants further aggravate underarm discoloration, but when you live in a tropical climate like ours, it's hard to skip the stick and risk the stink. Plus, there are many options for deodorants that do not contain alcohol but have plenty of other active ingredients to speed up brightening. 

Available at Lazada

4. Products You Are NOT Using
Giving your underarms some extra love in the shower can pay off in dividends. Regular bar soap is not enough to thoroughly cleanse the sensitive area of the underarms, especially for people who use thick, long-wearing antiperspirants. Product build-up can be a factor for darkening pits and may cause underlying skin illnesses in the future.

What to do: exfoliate lightly
Try: Skin Genie Pit Perfect Underarm Whitening Scrub, Php200
While too much scrubbing can cause more harm than good, a good exfoliation session once or twice a week can help dodge dead skin and debris. Skin Genie's scrub delicately removes surface dirt and impurities, while restoring skin's natural pH balance. It contains natural ingredients such as organic rolled oats, apricot kernels, and apple cider vinegar, so you're not using any scary chemicals to smoothen out those chicken skin bumps. 

ADVERTISEMENT - CONTINUE READING BELOW

Available at BeautyMNL

Karla Magno Suguitan, who used to manage various brands from a Spanish high street fashion house to an American cosmetics line, is now a stay-at-home mom to Sophie Ella and wifezilla to John. In her free time, she enjoys watching vlogs, reading books, making grocery lists, and consulting Dr. Google for all things baby. She blogs at thebunnybunchblog.wordpress.com.


What other parents are reading




Celebrate your pregnancy milestones!


Enter your details below and receive weekly email guides on your baby's weight and height in cute illustration of Filipino fruits. PLUS get helpful tips from experts, freebies and more!

You're almost there! Check your inbox.


We sent a verification email. Can't find it? Check your spam, junk, and promotions folder.

Trending in Summit Network