8 Party Games With a Twist

Fun, timeless games to play at your child's next party - or playdate.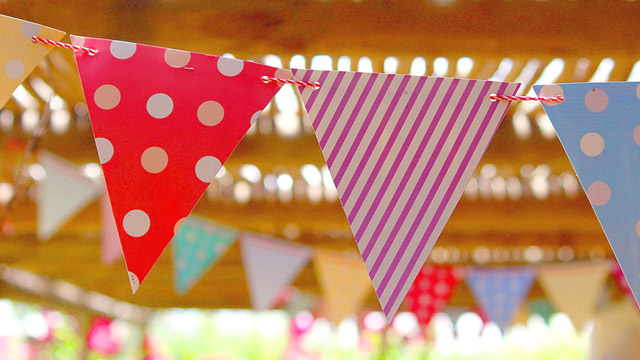 Kung gusto mong basahin ang nakasulat dito sa Tagalog, mag-click lamang dito.

With the price of food and utilities skyrocketing these days, it's no surprise that parents have resorted to celebrating their children's birthdays through low-cost means. From cutting down the guest list in half to buying prizes by the bulk in Divisoria, couples are going back to basics and entertaining their young guests through classic party games.

Directress Irene Dy of the Learning Jungle Preschool in Pasig believes that with the right selection of games, your child's birthday party will be a big hit. "Classic games allow kids to be involved, to think, and to decide. These fast and fun games allow children to release their energies and experience things while keeping them entertained."

What other parents are reading

Be sure to mix in a couple of individual and team games to build instant camaraderie among the guests. "Group games are most popular in parties because they encourage children to interact with one another. Plus, they keep shy kids from feeling singled out," says Philippatrisse Party Works proprietress Chi Martires who has been in the events planning service for over 15 years.

Take your pick from these exciting old-school diversions and get set to play!

1. The Boat is Sinking

 Best for: Kids who can count.
Number of players required: As many as possible
How to play:
The host makes the contestants form random groupings by completing this line: "The boat is sinking, group yourselves into (say a random number)." Immediately after announcing the magic number, the children have to scramble and form their groups quickly. The group/s with the incorrect number will automatically get eliminated. The host continues to change the numbers needed to fill the boats until two kids remain and win the game.
Add a twist:
Increase the level of difficulty by stating how many girls, boys, or adults should be in a particular boat. You can also give them a three- to five-second time limit.
Seal of approval:
Michelle del Rosario, directress of Lincolnshire Internationale Preschool, points out that this game is "a good icebreaker, especially if the children do not know each other or there is another group present. Children benefit from party games if the games are active rather than passive, if they involve movement, and if there are interactions, teamwork, and critical thinking - all of which tap into the many aspects of development."

ADVERTISEMENT - CONTINUE READING BELOW

What other parents are reading

2. Musical Chairs

 Best for: Kids who have a good sense of balance and can stand/sit at will.
Number of players required: Five to nine children (for 10 or more kids, two sets of circles can be done simultaneously)
What you need: Chairs and a music player
How to play:
Place the chairs in a circle facing outwards. Make sure the number of chairs is one less than the total number of kids playing. Turn up the music, and ask the kids to dance around the chairs in a clockwise manner. When the music stops, everyone must sit down. The child without a seat is eliminated. Repeat until one contestant remains.   
Add a twist:
Throw in a small item (such as a stuffed toy) that gets passed around as the children dance around. When the music stops, two children automatically get eliminated: the one without a chair and the one holding the item.
Seal of approval:
"A movement-and-music game is highly recommended for children of all ages. Most kids like music and are naturally mobile, so they would constantly want to move about," says del Rosario. Martires agrees and adds that this particular game helps children practice paying attention. "It forces them to focus on the task at hand (listen to the music) while another task (walking/passing the object) distracts them."

3. Simon Says

 

Best for: Participants who can follow directions and have control over their fine and gross motor skills.
Number of players required: Six to eight kids
How to play:
Ask an adult to play Simon (preferably someone creative or funny) while two other grownups keep an eye on the children's actions. Let Simon give silly commands such as "Simon says, hop around with one foot" or "Simon says, bark like a dog" which the kids must do. If he gives another instruction but doesn't include the words "Simon says," then the children must NOT do the action. Once they do, they're out of the game.
Add a twist:
Let the celebrant be Simon, and name the game after him. Secretly instruct him to pile on the actions one after the other. (Example: "Simon says, hop around with one foot while scratching your nose and barking like a dog.")
Seal of approval:
Martires believes that this engaging activity will be an amusing way to "test the ability of the children to follow instructions depending on the host or celebrant's creativeness." You can prepare a list of funny instructions in case the celebrant is too young to come up with his own or runs out of ideas.

CONTINUE READING BELOW

Recommended Videos

What other parents are reading

4. Bring Me

Best for: Children who can move around and follow simple instructions.
Number of players required: No limit (anyone can join)
How to play:
The host asks the audience to fetch him random objects by stating, "Bring me a…" The fastest kid who correctly presents the item onstage wins a prize. Bigger prizes can be given for more hard-to-find items.
Add a twist:
Include an interactive element to the list by asking children to bring you a singing Mommy or a dancing Daddy.
Seal of approval:
Dy says, "Games with simple instructions definitely work well with children. In our classes, students like playing the Bring Me game wherein the teacher describes the object being asked for."

5. Pin the Tail on the Donkey


Best for: Older children who are up for a challenge without the sense of sight.
Number of players required: Four to six kids (too many contestants can make this game dragging)
What you need:
A handkerchief (to use as a blindfold), a poster of a donkey (minus its tail), and a tail (with adhesive backing)
How to play:
The children will all attempt to attach the animal's tail. For each participant, blindfold and spin him in place three times before letting him move towards the poster to stick his tail. Write the child's name on the spot where he pinned the tail. The person who places the tail nearest the mark takes home the prize.
Add a twist:
Change the donkey and tail elements and replace them with something related to your party's theme. For instance, you can use an elephant's trunk for a circus-themed bash.
Seal of approval:
Del Rosario advises parents to use Velcro strips instead of pins to prevent cuts or injuries. She says, "I recommend this game for approximation and developing spatial abilities."

ADVERTISEMENT - CONTINUE READING BELOW

What other parents are reading

6. The Longest Line


Best for: Kids who can do things on their own.
Number of players required: At least five members for one line (up to five lines can be formed depending on the open space)
How to play:
Given a short time frame (one to two minutes will do), instruct the groups to form the longest line possible based on the clothes they're wearing and whatever they have on them.
Add a twist:
Remove common items found in all the lines. The host or celebrant can also pick one to three secret objects that will later be taken out of the lines. After all these items are removed, the group with the longest line wins.
Seal of approval:
This activity pushes group mates to come up with innovative ways to stretch their line. Based on the parties she has organized, Martires reveals, "The Longest Line is always a crowd pleaser since it can involve everyone."

7. Charades


Best for: Older participants who can associate words with actions.
Number of players required: Two groups with three to five members each
What you need:
Timer, words or phrases written on folded pieces of paper, and a jar or container
How to play:
Place the folded pieces of paper in the jar. Ask a member of the group to pick one and act out the word on it in 30 seconds or less. He cannot make sounds nor can he mouth the word silently. If his groupmates fail to guess the word correctly within the given time frame, the competing team can take a guess. The first team to reach five points wins!   
Add a twist:
Only one member will guess the word while his other teammates act it out. You can also relate the words to a random topic (such as Disney Princesses or Fun at the Farm) or give more points depending on the level of difficulty.
Seal of approval:
"Children love games that involve a lot of movement like running or jumping," states Dy. Aside from allowing the children to move freely, games like these challenge and improve their non-verbal skills.

ADVERTISEMENT - CONTINUE READING BELOW

What other parents are reading

8. Relay Race


Best for: Older active kids who can do a series of tasks.
Number of players required: Two groups with four to six members each
What you need:
Open space and two sets of obstacles such as costumes, stacking cups, and balloons
How to play:
It's a race to the finish line! Each kid must wear a costume, make a pyramid out of the cups, and pop a balloon then run back to their line to tag the next player. The winning team completes all their tasks first.
Add a twist:
Come up with creative theme relays depending on the gender of the celebrant. Put a girly twist by turning it into a fashion show relay or transform it into a cops and robbers relay for the boys.    
Seal of approval:
Del Rosario explains why relay games work well for older kids. "Bigger children can strategize already, and somebody in the team can act as the leader."

Party Pointers
Chi Martires of Philippatrisse Party Works shares tips and tricks to make your kiddie bash a success.

Food is a big part of children's parties. Try preparing finger foods or snacks to save on catering.
Find a relative or someone close to the celebrant who is capable of hosting the party. A familiar face will always keep people at ease compared to a stranger.
Burn a CD or make a play list with songs people are familiar with.  
Instead of renting expensive sound systems, personal components can be used for smaller venues. Try sourcing out decor at places that sell them at wholesale prices.
Set up an arts and crafts table to keep children entertained throughout the party. You can have a coloring station (supply crayons and photocopied activity sheets), a balloon twisting section (provide balloons and instructions), as well as a crafts corner (buy beads and string for DIY bracelets and necklaces).
Prepare games that involve both young and old. Allow a game to extend if the participants are all having fun.
See to it that everyone goes home a winner. Kids appreciate large prizes regardless of the price, so if you can, get big, inexpensive ones.

ADVERTISEMENT - CONTINUE READING BELOW

What other parents are reading

Celebrate your pregnancy milestones!


Enter your details below and receive weekly email guides on your baby's weight and height in cute illustration of Filipino fruits. PLUS get helpful tips from experts, freebies and more!

You're almost there! Check your inbox.


We sent a verification email. Can't find it? Check your spam, junk, and promotions folder.
Trending in Summit Network