8 Family Planning Methods That Are Not the Pill or Condom

Not ready to have another baby? Consider these natural and artifical birth control methods.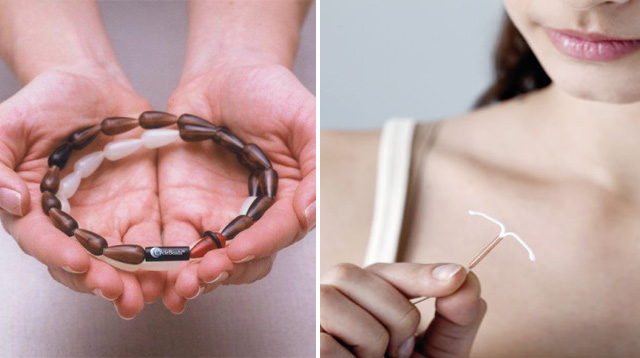 There may be different reasons why a couple would opt to delay adding another member to their brood. "They may have reasons related to employment, desire for a smaller family, previous difficult delivery, or marital problems." Sylvia Estrada Claudio, M.D., Ph.D., professor of Women and Development Studies and director of the University Center for Women's Studies in UP Diliman told SmartParenting.com.ph. 

If you relate to one of these reasons, there are several contraceptive methods you and your partner can choose from other than the condom or pill. Listed below are  natural and artificial family planning methods from the Department of Health. Take note, however, that these methods are only effective when the specified conditions are met and instructions are followed correctly (think of how a pill must be taken regularly or a condom worn and taken off properly). Remember, no birth control method is entirely fool-proof.


Natural
These methods rely on a woman observing her natural monthly body changes and menstrual cycle.  


1. Standard Days Method


With this method, you can track your menstrual cycle with the help of a string of colored beads. You move the black rubber ring to a colored bead daily.  

2. Lactational Amenorrhea Method (LAM)



Did you exclusively breastfeed as a new mom? Did you notice how it took a while before you had your menstruation again? This is because breastfeeding interferes with the release of hormones needed to trigger ovulation. So, the more you breastfeed, the less likely you are to ovulate and get pregnant especially during the first few months after giving birth. That's how LAM works. However, it requires strict conditions to be effective. Miss even one, and you're liable to get pregnant.

Conditions:

Must be a new mom who is exclusively breastfeeding her child
Menstruation hasn't returned since giving birth
Newborn is less than 6 months old


3. Basal Body Temperature (BBT)
Your basal body temperature is your body's temperature when you're at rest. Ovulation causes a slight increase in basal body temperature. "You'll be most fertile during the two to three days before your temperature rises. By tracking your basal body temperature each day, you may be able to predict when you'll ovulate," says Mayo Clinic.


4. Billings Ovulation Method (BOM)



BOM relies on a woman tracking the vaginal discharge--the whitish mucus you see on your underwear--she produces every day. "When the mucus begins to show at the vulva, it is opaque and sticky. Next, it becomes stretchy and slippery, and may look like the raw white of an egg. After that, it becomes sticky again, and then stops altogether," writes Tina Santiago-Rodriguez in an article about BOM. "The woman's most fertile days are those when the mucus is stretchy and slippery, and for a few days afterwards.

5. Sympto-Thermal Method
The Sympto-Thermal Method is a combination of #3 and #4, the Basal Body Temperature method and the Billings Ovulation Method. It tracks a woman's most fertile days by observing her temperature and her vaginal mucus every day, using both to avoid intercourse on days she is most likely to get pregnant.

What other parents are reading

Artificial
Other than condoms and birth control pills, there are also a number of artificial methods of birth control available today. These do not require a woman to avoid intercourse on her fertile days. 

6. Injectables
There are two types on injectables: combined injectable and progestin-only. Both contain hormones that stop the body from releasing eggs and thickens the mucus at the cervix which then greatly reduces the likelihood of pregnancy. Depending on what type you choose, it's either injected once a month or once every three months. 
Where to get them: public health centers, private clinics

7. Intrauterine Device (IUD)



IUDs are shaped like a "T" and are inserted inside a woman's uterus and can last up to 10 years. There are several types of IUDs available for women. Most release hormones into the body that are similar to those in many birth control pills. There are also IUDs made of copper. Copper triggers the immune system in turn greatly reducing the likelihood pregnancy. Once you have it, all you have to do is check if it's in position once a month.
Where to get it: PhilHealth, private clinics

8. Implants



Though not included in the DOH list, contraceptive implants are another method of family planning that's been made recently available through government-run PhilHealth. Birth control implants also release hormones that can prevent pregnancy. Small and matchstick-shaped, one is inserted under the skin of a woman's upper arm. It's a relatively painless procedure requiring no incisions. An implant's effects can last up to three years.  
Where to get it: PhilHealth, private clinics

There are also permanent methods of birth control for couples and individuals who do not want to have any more children. Men can opt for a No Scalpel Vasectomy. A vasectomy prevents the sperm from reaching a man's ejaculation by surgically severing, sealing or tying up a man's vas deferens – where sperm pass through.  

For women, a Bilateral Tubal Ligation (BTL) is done. BTL prevents fertilization by blocking, severing or tying up a woman's fallopian tube preventing the egg from reaching the uterus. This way, the sperm and egg never meet and pregnancy doesn't happen.

Both of these methods are difficult to reverse and is only recommended for persons who are sure they don't want another child.

Source: Department of Health

Celebrate your pregnancy milestones!


Enter your details below and receive weekly email guides on your baby's weight and height in cute illustration of Filipino fruits. PLUS get helpful tips from experts, freebies and more!

You're almost there! Check your inbox.


We sent a verification email. Can't find it? Check your spam, junk, and promotions folder.
Trending in Summit Network