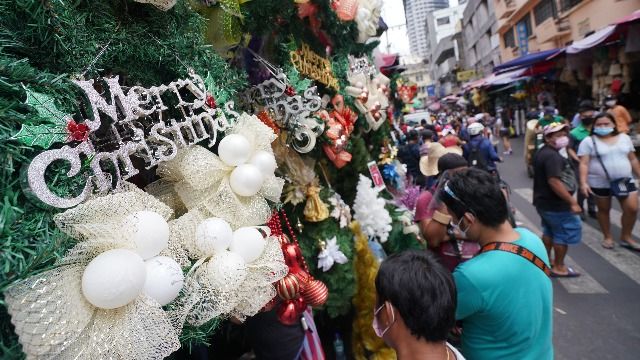 Metro Manila is now under Alert Level 2, which means kids are alowwed outdoors for leisure. We've actually seen people head out of the house to establishments like malls with many parents and their children in tow.
It's easy to let our guard down with the number of COVID-19 infections significantly reduced. However, even the Department of Health (DOH) will be the first to say that everyone should still strictly follow safety protocols, or we might see another surge just before the holidays.
If we practice a little discipline, it is possible to see lesser restrictions when the holidays arrive. In anticipation of the many celebrations that will be happening around the world this Yuletide season, the Center for Disease Control and Prevention (CDC) thought it wise to post "safer ways to celebrate the holidays" on their website.
As a general precaution, CDC makes it clear that "the best way to minimize COVID-19 risk and keep your family and friends safer is to get vaccinated if you're eligible."
How to have a Covid-free holiday
Holiday celebrations, especially in the Philippines, often gather families and entire clans with members ranging from infants to great-grandparents. So remember, the risk level for everyone is not the same.
Here, CDC provides practical tips that could mean a life saved if observed and applied well.
For holiday gatherings and celebrations
Get vaccinated to protect those who are not eligible yet, such as young children and other eligible people around them who are vaccinated.
Wear well-fitting masks over your nose and mouth in public indoor settings if you are not fully vaccinated.
Even if you are fully vaccinated, you should wear a mask in communities with substantial to high transmission in public indoor settings.
Celebrate outdoors as much as possible and avoid crowded, poorly ventilated spaces.
Do not host or entertain if you are sick or are showing COVID-19 symptoms.
Get tested if you are showing symptoms or may have come in contact with someone who has COVID-19.
When you have travel plans
Follow the latest domestic and international travel recommendations set by relevant government agencies, especially if you are still unvaccinated.
If you have unvaccinated kids, it would be best to postpone traveling at this time. However, if it cannot be avoided, always wear a mask as a family (except for children two and below) whether you will be taking the plane, bus, or train.
Avoid crowds and practice social distancing.
Wash your hands or sanitize as often as you can.
For those with health conditions
Continue to take all the precautions recommended for unvaccinated people, such as wearing a well-fitting mask and practicing social distancing.
Wear a mask around family members with health conditions or those with compromised immune systems.
If you plan to celebrate with family members from different parts of the country or abroad, it would be wise to consider additional precautions such as asking everyone to get tested before the gathering and choosing to hold the get-together outdoors.
When you really think about it, these precautions are just small sacrifices considering the challenges brought to many by the disease in the past 22 months. However, by applying them conscientiously and earnestly, we protect ourselves and every member of the family, from the youngest to the oldest.
We all want to end the holidays with good memories as if we are celebrating it for the first time, so let's not botch this up.
If your child is 12 to 17 years of age and has these comorbidities, it is highly recommended they be vaccinated.