Feel A Headache Coming On? Try These 5 Essential Oils for Relief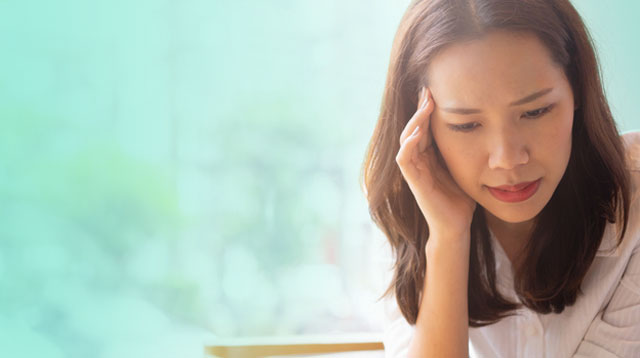 Almost everyone, if not all, has experienced a headache. I had severe migraines since I was 8 years old. It reached a point that I was hitting my head on the wall because the pain was just too much to bear.

The World Health Organization (WHO) says, "Headaches are the most common disorder of the nervous system, and yet, it is highly underestimated under-recognized, and under-treated."

In my case, I didn't feel the need to tell my parents or go to the doctor, but I have been living on paracetamol since. I never really thought that my headaches would go away. It is only now that I realized the cause of my headaches — my lifestyle was the culprit.

When I was younger, I got headaches by reading a book in a dim room or in a moving vehicle. When I was working, it was because I lacked sleep on weekdays and overslept on weekends, lived on coffee, missed meals, and rarely felt the need to drink water.

As I grew older and became a parent, I sought a healthier lifestyle for our family, like many parents probably do. When I started to overhaul my bad habits, my headaches lessened. I hydrated often, allowed my body to rest, minimized my caffeine consumption, and ate my meals on time.

What other parents are reading

How to use essential oils to address headaches

When I do have a headache these days, it is when my hormones go haywire, especially during that time of the month. I do not reach for the paracetamol though but for my essential oil.

ADVERTISEMENT - CONTINUE READING BELOW

There are two ways you can use essential oil via inhalation or topical application. Both methods can be used when addressing tension, stress-related, and cluster headaches. Inhalation via diffusion, steam, or personal inhalers can be used for headaches caused by stress or sinus congestion.

For healthy adults with skin hypersensitivity, start at 3% dilution (6 drops of essential oil to 10mL of carrier oil such as virgin coconut oil or grapeseed oil) up to a maximum of 15% (30 drops of essential oil to 10mL of carrier oil). Start low and just adjust the concentration if the dose not work.

For children older than age 2, it's best to start at 1% dilution (2 drops of essential oil in 10mL carrier oil). Do not use peppermint and eucalyptus for children below 6 years old.

5 essential oils to combat an oncoming headache

It is best to use these essential oils at the onset of the headache. But there may be times when essential oils won't cut it. Please do not beat yourself up if you need to take medication. As I always say, essential oils are complementary products to what Western medicine is offering us, and it will not really hurt us if we try and marry the two.

Here are the essential oils I personally use to try to ward off oncoming headaches:

Lavender

I am personally in love with lavender because it's an excellent analgesic. it is a versatile oil with many therapeutic benefits — the reason it's called the "Swiss Knife of essential oils" or "mother of essential oils." In one placebo-controlled clinical trial, 92 out of 129 headache attacks were totally or partially alleviated when the participants inhaled lavender essential oil for 15 minutes.

ADVERTISEMENT - CONTINUE READING BELOW

Recommended Videos

Peppermint

The menthol component of peppermint makes it useful for headaches. A clinical study showed that 10% peppermint oil applied onto the forehead and temples is as effective as taking acetaminophen for alleviating pain caused by tension-type headaches. Tension-type headaches are the most common type of headache described as feeling like a tight band around your head.

What other parents are reading

German Chamomile

There are two most popular types of chamomile, German chamomile (Matricaria chamomilla or Matricaria recutita) and Roman chamomile (Chamaemelum nobile). The component chamazulene in German chamomile, when applied topically, has been effective as a headache pain reliever for migraines without aura.

Frankincense

While there is no clinical research on the use of Frankincense for headaches, studies that show how Frankincense essential oil has been helpful in stress management. Because I had stress-related headaches, I often used Frankincense oil diluted in a dollop of aloe gel or carrier oil and massaged it on my neck and temples.

Eucalyptus

Eucalyptus is one essential oil that's 1,8 cineole-rich (an aromatic component of many other plants). It's best to use for alleviating headaches caused by sinus congestion. Inhaling these oils via a diffuser or personal inhaler can help clear up airways and increase cerebral blood flow.

Balot Del Rosario is a NAHA-registered, Certified Level 2 professional aromatherapist. She is also the author of the book, Lost but Found, and the mom-of-two behind the blog Chronicles of The Happy APAS Mama (www.callmebalot.com.)

Don't ignore a headache when you're pregnant. It may be a sign of a serious pregnancy complication. Click here to know more.

ADVERTISEMENT - CONTINUE READING BELOW

What other parents are reading

Celebrate your pregnancy milestones!


Enter your details below and receive weekly email guides on your baby's weight and height in cute illustration of Filipino fruits. PLUS get helpful tips from experts, freebies and more!

You're almost there! Check your inbox.


We sent a verification email. Can't find it? Check your spam, junk, and promotions folder.

Trending in Summit Network