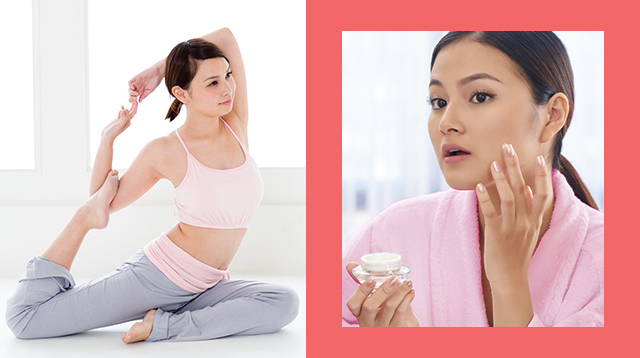 First-time moms would know: Despite all the preparations made before and during pregnancy, experiencing the realities of finally being a mother is a different story altogether.
Even though you may have heard countless stories and received pieces of advice from your doctor and from all the moms in your life, or read many related articles and books, all the changes you will go through are still likely to make you feel surprised and overwhelmed.
One of these changes is barely having the time to sleep because you're up all day and night looking after your baby. Lack of sleep, along with the other stressors that you experience on a daily basis, is likely taking a toll on your health— and yes, even on your skin.
There may be things beyond your control that can leave you and your skin stressed and tired-looking; still, there are practices you can easily incorporate into your daily routine.
Remember: You have to address your own needs, too. And when you take care of yourself, only then will you be able to give your child the best care they deserve.
Here are some simple tips you can follow to care for yourself and your skin.
1. Continue doing your skincare routine
If your skincare regimen used to stretch into five or more steps, cut it down to just the most important steps — cleansing, moisturizing, and applying sunscreen during the day — so you don't have to skip it altogether.
It also pays to have a simple self-care kit where you can store products like facial wipes, a moisturizing spray, and even a lip balm. Make sure to put it somewhere easily accessible, so you can reach for it anytime.
2. Make time for quick, simple exercises
We all know that regular exercise helps promote good health, both physically and mentally. It can ease not only stress itself, but also some of its physical manifestations, including tired-looking skin.
You don't have to commit to a full-blown workout routine so soon after giving birth. Instead, take brisk walks every morning (around the backyard, for now), do stretches for at least 15 minutes three times a week, practice breathing exercises four to six times a day, or meditate.
You can also try massaging your face, too! Whatever you do, consult first with your doctor to make sure the intensity of your chosen activity is adjusted depending on what you can already do.
3. Use a humidifier at home
As a first-time mom, you're likely staying indoors more than usual — pandemic or not. But did you know that being indoors for long periods of time exposes you to uncirculated air, which, in turn, likely plays a role in making your skin look a bit dull?
One way to combat this: Use a humidifier.
According to experts, humidifiers help restore the moisture in the air at home; thus, improving skin quality. According to another research, humidifiers are able to help perk up dry skin, on top of reliving respiratory symptoms and improving the overall climate indoors.
Be sure to do your research before getting a humidifier to make sure it is the perfect fit for your home. Don't forget to clean it regularly, too.
4. Drink lots of water and eat antioxidant-rich food
Research suggests drinking at least two liters of water every day has a significant effect in improving overall skin physiology, especially in terms of hydration.
You should also incorporate foods rich in antioxidants into your diet, as these play a role in improving skin condition. Get your dose of vitamin C when you eat tomatoes, papaya, and strawberries; zinc when you eat lentils and cashews; and vitamin E when you eat avocados and leafy greens.
5. Supplement a balanced diet with vitamins
Eating balanced meals should be one of your top priorities, no matter how busy you get in taking care of your little one. Food nourishes and, according to research, contributes in keeping skin healthy.
According to the Pinggang Pinoy guide by the Department of Science and Technology - Food and Research Institute (DOST-FNRI), a well-balanced meal should consist of rice, a small portion of meat, and a serving of fruits and vegetables.
You can also consider taking vitamins regularly for added support to your immune system, paired with proper diet and regular exercise.
Moms need "lakas" and "ganda" so they can take on all their responsibilities every day. Vitamin E + Vitamin C + Zinc (Fortima) has Fortibella Complex, or the combination of vitamins C and E for skin health, and zinc to help boost immunity. Of course, remember to consult your doctor first before taking any supplements.
Being a first-time mom may be challenging, but remember that taking care of yourself also lies in the small things you do every day. These simple practices allow for little pockets of opportunities to make sure that you're well-taken care of, too. And when things become too overwhelming, don't hesitate to ask for help from your loved ones. Know that doing so is perfectly okay.
Remember: Go all-out for your little ones but don't forget about yourself!
Shop Vitamin E + Vitamin C + Zinc (Fortima) on Lazada or Shopee. For more information, follow Fortima on Facebook and Instagram.
ASC REFERENCE CODE: U188P060221FS