Why Having Breast Cancer Was a Blessing for Me

Pinay cancer survivors share their journey and the lessons they learned from their experiences.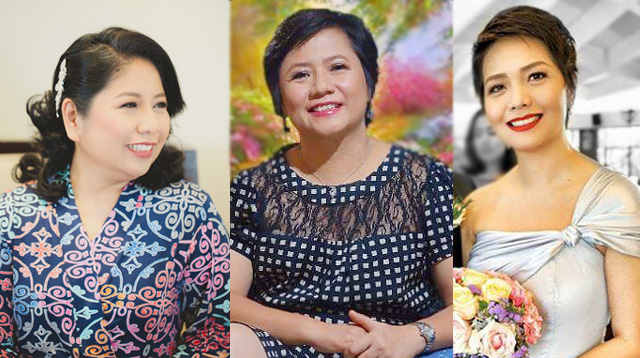 Cancer is the childhood bully who pounces on you from behind when you least expect it. But how you handle it makes all the difference. 

A couple of years ago, I accompanied my mom for her physical check-up, but I didn't have one myself because I was busy at work. When I finally did it and the results came, the doctor spoke to me firmly, "I know you're busy but make time for this. It's very important." She told me to have a follow-up test. So I did. And, lo and behold, I found out I had breast cancer. 

I received the news of my biopsy on the day I was running a huge and important event at work. My friend told me to go home, but I refused to do so. "I am not going to allow cancer to stop me from doing what I want," I told her. 

The good news was my cancer was in its early stage. However, I still went through an operation to take out the tumor, undergo chemotherapy sessions followed by 36 cycles of daily radiation treatments, and a daily oral treatment for the next 10 years. Cancer hit me hard. I spent a lot of time in the hospital, and it became my second home. I was taken to the emergency room twice. I threw up a lot, had excruciating stomach pains, body pains, and migraines. I missed family outings, dinner with friends, watching movies, and Christmas shopping. 

ADVERTISEMENT - CONTINUE READING BELOW

Emilie and family

Losing my hair was the hardest. As I showered, locks of hair fell, and so did my tears. I felt such deep sadness. As I stared in the mirror and saw my bald head, I felt sick and ugly. But I just needed to bite the bullet and get on with it. I bought a wig that resembled my regular hairstyle and whenever I wore it, people didn't realize it was not my real hair. I learned how to create a schedule around my cancer treatments. I would go out with family and friends during the "good days" -- days when my side effects were not too bad. And I would shop during the morning when mall goers were few. Eventually, I got used to this new routine. 

The fact is cancer hits each person differently, but those who survive chose to do so. We decide to face cancer head on. We are determined warriors who choose to win the battle.  

Take Michelle Kim for example. An entrepreneur, wife, and mom of two boys, she went through breast cancer twice! After being diagnosed in 2006, she took the radical route and had a double mastectomy even if the cancer was only at stage 0. She never expected to go through it again, but the devastating news came back to haunt her a few years later. She had to go through chemotherapy and radiation treatments once more. 

CONTINUE READING BELOW

Recommended Videos

Michelle and family

Teri Abad, a single mom and a management consultant, also decided to have a double mastectomy after being diagnosed with cancer four years ago. She felt like a rug had been pulled out from under her when she was told about her diagnosis. She shared, "At first, I bawled like a baby. Then, when the news sunk in, I felt dazed. I did not want to die. I had a 9-year-old daughter who depended on me." Teri had to go through an 18-hour surgery and chemotherapy treatments. 

Teri Abad

Tisha Olarte, a wife, mom, and banker, had to go through chemotherapy and mastectomy. The side effects took a toll on her, especially bad hyperacidity and nausea that caused her to faint. She ended up in the emergency room on her birthday. 

ADVERTISEMENT - CONTINUE READING BELOW

Tisha and family

Judith Sierra, who also works in a bank, didn't realize that the risk of cancer is higher for women who have never given birth. "I had blood discharge from my nipple so I went to the doctor. After six months, the blood discharge returned so I had to go through further tests. When I went back to the doctor for the results and was asked if I had anyone with me, I knew that what she was about to say was not good." Judith had a mastectomy and went through six cycles of chemotherapy, even having to wade through floods one time just to get to the hospital to receive her treatment.

Judith and a fellow survivor 

No one wants to hear the words, "You have cancer." Going through it has been one of the most difficult periods of our lives. But facing the reality also brought lessons that we hope will help other women. 

ADVERTISEMENT - CONTINUE READING BELOW

First, health is wealth. 
No matter how busy you are, make time to have your annual check-up. For cancer and other diseases, early detection is key. I still remember a colleague from work who felt a throbbing pain in her breast yet she did not mind it because she was too busy. When she finally went to see a doctor, it was too late. She passed away at age 29. Take time to have your annual physical check-up. Take time to also move more, eat right and sleep well. 

Because of my cancer, I decided to start exercising and joined Curves, an all-women's gym. I enjoyed it so much that I decided to put up one in Century City Mall in Makati! It's different from other gyms because it gives busy women a complete workout in just 30 minutes 3 times a week. I also liked the supportive community of women members who embody the Curves principle of strengthening women inside and out. 

After their bout with cancer, Tisha and Teri share they are now making healthier choices. Hotdogs and other unhealthy food items that used to be staples in Tisha's grocery list were stricken off. Teri became more conscious about the way she eats. "Taking out the fat from steak and eating smaller portions helped make me healthier." 

What other parents are reading

Michelle disclosed that cancer made her realize she needed to slow down. She used to work long hours handling two jobs, but she focused only on one job and kept to a schedule after her cancer diagnosis. It allowed her to increase her hours of quality sleep and decreased her stress levels. 

Exercise, eating healthier, sleeping more, minimizing stress and having an annual check-up are simple things we can do to increase our chances of living longer through a healthier lifestyle. 

ADVERTISEMENT - CONTINUE READING BELOW

Second, have the right mindset.
Someone told me that if I am able to remain positive, I've already won half the battle. So I put on a happy smile and focused on how blessed I was because there were so many people praying for me and helping me through my ordeal.  

Teri agrees wholeheartedly. She says that you should not allow cancer, or any trial, to have power over you. "When I had cancer, I kept my eye on the prize -- to live. I wanted to live long enough for my daughter so giving up was never an option." 

Judith shared that her positive outlook was strengthened through prayer. "I sought strength from God and prayed a lot." She laughingly shares that cancer made her realize that there were so many saints she could seek for intercession. "Ang dami palang mga saints! I started a lot of devotions -- to St. Peregrine, Padre Pio and many more."

Tisha went through a lot of terrifying moments during her cancer journey. There were initial indications that the cancer had spread, so she had to go through additional tests to confirm that it did not. She also had complications during her treatments. But she was able to go through all these because she remained positive. 

Third, form your A-team. 
There is a popular saying, "A joy shared is a joy doubled, a sorrow shared is a sorrow halved." I am thankful for having so many people supporting me through their prayers, their time, and their little gifts.

Throughout my cancer journey, my mom was my constant companion, my husband was my calming center and anchor, and my kids helped keep my spirits up. Friends and work colleagues visited me often, and I even had a friend who sewed cute face masks. I would wear them during chemotherapy sessions, and the nurse would comment how delightful that my face masks matched my outfits. 

ADVERTISEMENT - CONTINUE READING BELOW

What other parents are reading

Teri's advice to those going through cancer is to form your A-team: your team of Angels. "My doctor was very positive. She helped me get through all the treatments. We can't remove the fear we feel when we find out we have cancer, but there are people who help you face that fear." 

Teri also shares how Carewell, a foundation that provides support to people with cancer, was instrumental in overcoming her illness. "There were people rallying for you, doctors who gave a second opinion for free, and kind volunteers who conducted classes such as yoga and painting to help alleviate the worries that cancer can bring. My daughter tells me that Carewell is our happy place." I can relate to Teri as I joined Carewell's free Zumba classes and wellness talks after I completed my treatments. 

Tisha shared how her husband was there for her throughout her ordeal. "Cancer brought us closer to each other and strengthened our marriage." She also shared that people from work were extremely supportive. This allowed her to continue working and managing her team while battling cancer. 

Michelle proudly tells how her family has been a pillar of strength for her. She said, "I was very grateful to my husband and my mom for taking turns in accompanying me to my cancer treatments and doctor's appointments. My husband was calm and collected all throughout this period and because of this, I was able to hold myself together. I was also so moved when my eldest son made a music video and dedicated it to me."

ADVERTISEMENT - CONTINUE READING BELOW

Judith shared that friends helped pool funds to pay for her medicines and treatments. "Cancer treatments are very expensive. One chemotherapy session could reach about P100,000!"

What other parents are reading

Michelle and Judith are both members of an advocacy group for early breast cancer detection called ICanServe Foundation. It empowers women with breast cancer with information so that they can have a voice in their own health care and make informed decisions. 

Don't face your trials alone. Form your own A-team. There are always people around who can help. 

Finally, remember that each new day is a gift. Don't waste it.
We think we have all the time in the world, but we don't. Going through cancer had reminded me of this and gave me the courage to pursue the life I wanted -- spending more time with family and friends, traveling and doing things I enjoy, pursuing my passion for teaching and being more active in my community.  

Take a moment now to ask yourself the question -- am I really living the life I want? If the answer is no, stop and find your direction. Find the courage to live the life you are meant to live. And make that choice before it's too late.  

According to Teri, she sees cancer as a blessing. It has taught her to be more grateful, to see what her real priorities are and helped her realize that no matter how much she plans, she needed to be flexible and go with the flow. 

ADVERTISEMENT - CONTINUE READING BELOW

Michelle says, "I have so many blessings and in the grand scheme of things, having cancer seemed to be just a small hiccup. I learned that life is too short that I have to prioritize what's really important. After having dodged the cancer bullet twice, I became more appreciative of everything that I have now. Life seemed to be more beautiful and meaningful after having gone through the cancer experience."

Cancer survivors are warriors who proudly wave their pink ribbons. Their unconquerable spirits serve as an inspiration to others, encouraging them to face their own hurdles, to overcome their own trials and to win their own battles. 

Here is an excerpt from a poem by Robert Lynn which inspired me to win my battle with cancer. It's a battlecry that survivors like me proudly proclaim and take to heart: 

"Cancer is so limited. 
It cannot cripple love. 
It cannot shatter hope. 
It cannot corrode faith.
It cannot silence courage. 
It cannot invade the soul. 
It cannot conquer the spirit."

Celebrate your pregnancy milestones!


Enter your details below and receive weekly email guides on your baby's weight and height in cute illustration of Filipino fruits. PLUS get helpful tips from experts, freebies and more!

You're almost there! Check your inbox.


We sent a verification email. Can't find it? Check your spam, junk, and promotions folder.
Trending in Summit Network