Why Traffic Jams Are Bad for Your Health

But what can you do deal with the unavoidable? Here are some tips.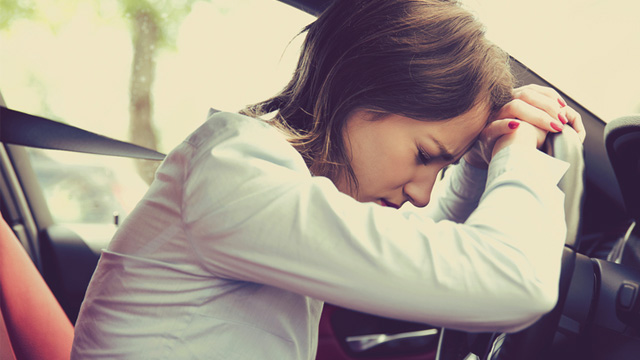 Heavy traffic is nothing new. What's worse is that our harrowing daily commute also has adverse effects on our health. In fact, as early as 2000, the World Health Organization predicted that health concerns related to transportation would only get worse in the future. Here are some of them: 

Your bones, muscles, and overall posture suffer

Spending hours sitting down and doing monotonous work, as we often do behind the steering wheel or in the passenger seat, is just ergonomically unsound. This kind of prolonged inactivity may lead to lower back pain (LBP), which can escalate to other muscle and bone issues. "Prolonged sitting increases the likelihood of developing problems such as poor posture, scoliosis, disc bulge (slip disc), and muscle weakness," says Daniel Su B.Chiro.Sc, M.Chiro, Gonstead Chiropractic Specialist at Spinal Care Chiropractic Inc.

Dealing with it: The good news is that 90 percent of chronic LBP patients recover within a month of conservative treatment. What may also help: exercise therapy such as specific back, abdominal, and even generic aerobic routines. Advises Dr. Su, "[When in traffic], reposition your posture from time to time, use a cushion behind your back, sit all the way back on your seat, and pay close attention to your sitting position."

Standing in line or in a bus also affects your back. "If you're in the MRT, you can do split lunges, raising your arms to one side or the other. This will help stretch the iliopsoas muscle [which originates from the lumbar spine and attaches to the front of the hips] that is underactive," says Gabriel P. Flores D.C., upper Cervical Chiropractor and Toggle Recoil Specialist at N8Uupper Cervical Chiropractic in Makati. "When standing, distribute your weight to the balls of your feet. Maintain shoulders back and relaxed. Engage your core muscle. Try not to hold your head forward or to the side."

ADVERTISEMENT - CONTINUE READING BELOW

What other parents are reading

Traffic-caused pollution ups your risk for cancer

We may have gotten used to the pollution emitted by the mass of private and public vehicles in the city, but that doesn't mean we've become more immune to it. This is particularly true for those who take non-air-conditioned public utility vehicles. In fact, The International Agency for Research on Cancer has classified diesel engine exhaust as carcinogenic to humans.

Even short-term exposure to traffic-related air pollutants poses a threat to our lungs. A study published in the journal Thoracic Cancer in 2015 states that pollution from vehicles causes a broad range of acute and chronic diseases, including lung cancer. It's especially harmful to those who already have pre-existing respiratory problems. 

Dealing with it: If you're traveling via a non-air-conditioned vehicle, wear a face mask. It's not the most fashionable accessory out there, but it can help you breathe a little easier in the long run.

The environmental noise can cause your blood pressure to spike

Soundscape also plays a huge role in how traffic jams affect our health. If all we hear on our way to work are blaring horns, it's no wonder we get hot and bothered. "Theoretically, a person who is exposed to chronic stress such as traffic will have a higher circulating cortisol," says Dr. Hilario. "This is a glucocorticoid hormone and is related to the development of hypertension and even insulin resistance [diabetes]."

Dealing with it: You can try to avoid the rush altogether by spending time at a nearby gym or spa. You can also opt for soothing nature sounds, listen to calming music, or a recording of your children's voices. You can also take a more proactive approach by doing yoga or breathing exercises.

CONTINUE READING BELOW

Recommended Videos

What other parents are reading

Your heart takes a beating

The same environmental noise also puts our hearts through the wringer. According to a 2013 study by the University of Burdwan, the Asansol Mines Board of Health, and the West Bengal Pollution Control Board in India, "Acute noise exposure activates the autonomic and endocrine systems, triggering temporary changes in blood pressure and heart rate and vasoconstriction." These changes may not be as evident at first, but experts claim that they may eventually lead to ischemic heart diseases or diseases characterized by reduced blood supply to the heart.

Another study published in the European Heart Journal in 2013 reports that chronic exposure to particulate air pollution enhances atherogenesis or the formation of abnormal fatty or lipid masses in arterial walls. This leads to internal changes that may affect cardiovascular morbidity and mortality later in life. In fact, even transient exposure to traffic may up the risk of acute myocardial infarction, or the first manifestation of coronary artery disease, in susceptible persons.

Dealing with it: While we can't do much to alleviate traffic, we can choose to keep ourselves healthy and lower our heart disease risks by eating right. "Because you get hungry, you tend to stop at places that are most convenient, and when you look at what's convenient or what's on the road, it's all the bad stuff , the crappy food that's available," says BaronMethod nutritionist and founder Harvie De Baron. "It's all about planning for traffic, which means bringing some water or bringing a cooler in the car where you can pack healthy snacks. Right snacks would be good fruits—that's what you would put in a cooler," he says.

ADVERTISEMENT - CONTINUE READING BELOW

You become more prone to anger and depression

Researchers from the University of Michigan and the University of Washington in the U.S. found that traffic, as well as vehicle maintenance and accidents, can be linked to lowered health status and greater depressive symptoms.

Then there's road rage. We've all been tempted to cut someone off , make obscene gestures, or flash our headlights at other drivers. According to a Kutztown University of Pennsylvania research, these driving behaviors are becoming more commonplace. And while this doesn't necessarily mean that we're all going to turn into manic drivers, a bumper-to-bumper situation isn't bringing out the best in us either. "There is some evidence to suggest that milder forms of aggressive driving may escalate into more serious incidents," writes study author Bruce S. Sharkin Ph.D.

Dealing with it: Hitch a ride with friends, so you won't have to endure the stress —or loneliness—of standstill traffic alone. Can't carpool with anyone? Listen to the radio. Tune in to a funny talk show, or load your phone with interesting podcasts. It can make you laugh, or keep you engaged enough to prevent your mind from entertaining sad thoughts. 

This story originally appeared in the December 2015 issue of Good Housekeeping Philippines magazine. Minor edits have been made by the Smartparenting.com.ph editors.

What other parents are reading

Celebrate your pregnancy milestones!


Enter your details below and receive weekly email guides on your baby's weight and height in cute illustration of Filipino fruits. PLUS get helpful tips from experts, freebies and more!

You're almost there! Check your inbox.


We sent a verification email. Can't find it? Check your spam, junk, and promotions folder.
Trending in Summit Network