5 Signs Your Child's Fever Requires a Doctor's Urgent Attention

Know the warning signs.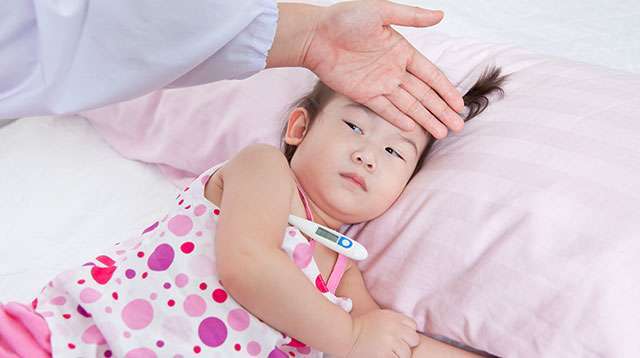 A child with a fever can be a scary experience for first-time parents. But Dr. Luis P. Gatmaitan, a medical doctor and children's author, reminds parents not to panic. "Remember that every person in the world has experienced having a fever. Slight elevation of temperature that does not cause distress in the child may not require medical attention," he said. 

If your child is alert, eating and drinking well, still interested in playing and has a temperature that's decreasing then there may be no cause for alarm, according to KidsHealth. There are, however, symptoms accompanying a fever that point to a more serious condition. You need to take your child's fever seriously:
 
1. If your baby is below 3 months old
Whether the fever is high or low, infants below 3 months old with a fever should be taken to a doctor immediately. "The very young has very minimal symptoms. The only sign of a serious infection may just be a fever," says Dr. Carmina Arriola-Delos Reyes, a pediatrician and infectious disease specialist. 

For older babies, a fever lasting more than five days, a temperature above 39.4 °C, or a fever accompanied by red flags like changes in behavior, severe vomiting, or diarrhea require medical attention. And, if your baby's fever is accompanied by seizures, take your child to the nearest hospital immediately. "Fever and seizures can be a sign of meningitis in your child," says Dr. Delos Reyes.   

What other parents are reading

2. When there's no sipon, ubo, sore throat or other possible signs of infection 
Dengue fever's symptoms are similar to the flu except the mosquito-borne disease presents with "no identifying source of infection," said pediatrician and infectious disease specialist Dr. Delos Reyes. "So walang ubo. Hindi naglalabas ng plema. Hindi masakit ang pag-ihi — walang UTI (urinary tract infection)."

Note also that a child with dengue will have persistent high fever. "We think of dengue fever if the child has high fever. Pabalik-balik yung lagnat na mataas every four to six hours," she said. The fever can last up to seven days and then go away on its own. Serious symptoms, like bleeding and low blood sugar, may then appear without the fever afterward, explained the pediatrician. 

3. Your toddler experiences vomiting and excessive sleepiness 
Along with fever and lack of appetite, these are red flags for meningitis, according to HealthyChildren, the parenting resource site of the American Academy of Pediatrics.

Meningitis is an infection of the lining outside the brain and spinal cord. It's a serious, though rare, condition that requires immediate treatment as it can cause brain damage. Protect your child against meningitis through frequent hand washing and vaccination against diseases that can cause it including polio, measles, chicken pox, and influenza.   

ADVERTISEMENT - CONTINUE READING BELOW

What other parents are reading

4. The fever has lasted more than five days or the temperature is above 39.4 °C
A fever lasting more than five days may be caused by a bacterial infection, said Dr. Delos Reyes. Your child will need to be evaluated by a doctor and possibly given antibiotics to treat the illness. Fever in children with chronic medical problems such as heart disease, cancer, lupus, sickle cell anemia and others should also be taken to the doctor. 

5. Your child is extremely sleepy or has symptoms causing severe discomfort
"The height of a child's fever is not always the best indicator of whether or not the child needs to be treated and evaluated. Ang mas importante is to observe for warning signals. See how your child behaves and appears," said Dr. Delos Reyes.

If your child is extremely sleepy, seems confused, has trouble breathing, has rashes or purple spots that look like bruises and is complaining of severe discomfort such as severe headaches and abdominal pain, seek immediate medical attention. 

Trending in Summit Network