6 Reasons Your Child Has Bad Breath and What You Can Do About It

Brushing regularly can make stinky breath go away, but sometimes you may need to consult a dentist or doctor.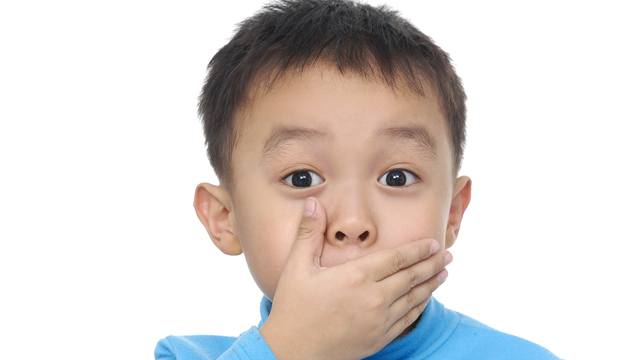 Bad breath, or halitosis, happens to all of us every once in a while. Children and babies seldom have bad breath, but toddler bad breath can still happen. Often it's only temporary and goes away easily, and other times intervention is needed. 

6 reasons why my baby has bad breath

Parents should begin practicing oral hygiene with your newborn just a few days after birth, and continue until they are old enough to do it properly on their own. But even with proper oral care, your child may still develop bad breath. See what's causing your child's stinky breath and what needs to be done about it.

1. Poor oral hygiene

"The main cause of bad breath in children is bacteria that stays in the mouth for long periods," Dr. Carina De los Reyes, pediatric dentist and former president of the Philippine Pediatric Dental Society Inc. (PPDSI), told Smartparenting.com.ph. With poor oral hygiene, leftover food particles stay in the mouth -- between the teeth, along the gum line, or on the surface of the tongue. Bacteria thrives on this, causing bad breath.

Even for babies whose teeth are just starting to come out, proper brushing should not be neglected. "Brush at least twice a day, especially before going to bed," says Dr. Georgina Roa-Remulla, pediatric dentist and director of the PPDSI. You don't want cavity-causing food left in your child's mouth and teeth overnight. Find the best tips for caring for your toddler's teeth here. 

What other parents are reading

2. A dry mouth

ADVERTISEMENT - CONTINUE READING BELOW

Breathing through the mouth, sometimes because of a stuffy nose, or sleeping with the mouth open are just a few reasons your child's mouth is dry. So how does this cause bad breath? A dry mouth has little or no saliva to keep odor-causing bacteria from accumulating.

"Any time you reduce saliva in the mouth, you reduce the mouth's ability to fight the bacteria that causes the bad breath," Dr. Hugh Flax, a cosmetic dentist and past president of the American Academy of Cosmetic Dentistry, told Medical Daily. While we sleep, the body does not produce as much saliva as when we are awake, which may explain that unpleasant, but short-lived, morning breath.

3. A smelly lunch

Just like how it is for grown-ups, a lunch packed with pungent foods can cause bad breath in children. Garlic and onions and other smelly foods can temporarily affect a child's breath as they go through his digestive system, says BabyCenter. A sugar-loaded treat, like candies or soda, can be particularly bad for your child's breath (and teeth!) as bacteria is attracted to sugar. Teach your child to brush his teeth after every meal, especially if he's had dessert, and make a habit out of it. 

4. Foreign objects

Curious tots will sometimes stick things, like pieces of food or even a toy, up their nose. And when these objects get stuck in your child's nostrils they can cause bad breath, especially if it's food that's already starting to putrefy and release an odor.

"A clue to this cause is a foul-smelling discharge coming from only one nostril where the object is stuck," says renowned pediatrician Dr. William Sears in an article for Parenting. If this is the case for your child, a trip to the doctor or dentist will solve the problem. 

CONTINUE READING BELOW

Recommended Videos

What other parents are reading

5. A condition or illness

Sinus infections (like a cough or cold), tonsillitis and allergies can also cause bad breath, says Dr. De los Reyes. The foul smell is caused by bacteria due to an infection, that this time is found in the upper and lower respiratory tract which makes its way to the mouth. Even bacteria from the stomach when bowel movement is not regular can cause bad breath, adds the pediatric dentist. When the infection clears up, your child's bad breath should go away too. If it doesn't, consult with a dentist to find other causes.

6. Tooth decay

Here's the cause of bad breath that parents dread: tooth decay or cavities. Brushing will not get rid of bad breath that is caused by dental caries, tartar buildup, and dental abscess. Your child will need to go to the dentist for evaluation and examination.

We all know that prevention via regular brushing will stop toddler bad breath from happening, so make sure you use the right kind of toothpaste for your little one. "Fluoridated toothpaste should be used as soon as the first tooth erupts. Fluoride is the best protection against dental cavities," says Dr. De los Reyes. The PPDSI has guidelines on what to look for when buying toothpaste for children of different ages. Read about it here. 

Sources: BabyCenter, Parenting, KidsHealth, Medical Daily

 

Celebrate your pregnancy milestones!


Enter your details below and receive weekly email guides on your baby's weight and height in cute illustration of Filipino fruits. PLUS get helpful tips from experts, freebies and more!

You're almost there! Check your inbox.


We sent a verification email. Can't find it? Check your spam, junk, and promotions folder.

Trending in Summit Network