7 Tricks to Get Your 2-Year-Old to Take His Medicine Without Physical Force

Get him to drink his medicine without the tears!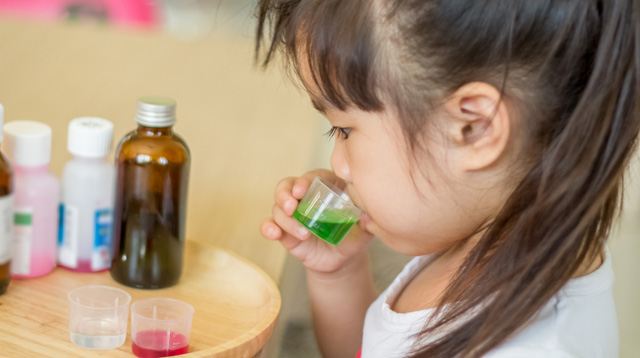 A spoonful of sugar helps the medicine go down, says Mary Poppins, but sometimes, it really isn't as easy as the catchy tune suggests! If you're looking for other tricks and tactics that will work minus all the fuss from your toddler or preschooler, here are a few suggestions. 

1. Give a brief, convincing explanation beforehand
It helps if you give a short explanation what the medication is for beforehand. For a fever, for example, you can say, "Your skin feels hot, and it means you're sick. This will make you feel better so you can get out of bed and play again." 

2. Use an oral dosing syringe instead of a medicine cup
Your child may be old enough to use a medicine cup, but an oral dosing syringe will help get bad-tasting medicine down easier. With a medicine syringe, you can slowly squirt the medicine on the inside of your child's cheek and towards the back of the mouth. This way, only a little will get on her tongue and she won't have to taste it too much. 

Don't squirt the medicine to the back of the throat as the medicine may enter the windpipe and cause choking, cautioned the Seattle Children's Hospital.

What other parents are reading

3. Give something cold first
Have your child suck on small ice chips before you give her the medicine. The cold helps numb the taste buds and will lessen your child's ability to taste. A popsicle or ice-cold water beforehand will work too. 

As a more novel idea that may just peak your child's interest, you can also try chilling a spoon in the freezer for a few minutes, said Cleveland Clinic. "Place it on your child's tongue, then remove the spoon and give your child the medicine."

4. Provide your toddler a choice
Toddlers exploring their independence can be persuaded to take their medicine if they're given a little power and choice over the matter. Give your child the medicine cup to drink on her own. You can count one to 20 and tell her she has to finish before the time runs out.  

Providing limited choices also works. Ask if she wants to have apple or orange juice with her medicine, or if she would rather take it before or after a bath. "This lets your child know that taking the medicine is something they have to do, but gives them some element of control," said the National Health Service (NHS) of the U.K. 

ADVERTISEMENT - CONTINUE READING BELOW

What other parents are reading

5. Avoid resorting to shouting or holding your child down
Have just one adult give your child the medicine. Making a big deal by having a lot of family members around to convince your child may only overwhelm her. A calm one-on-one approach is often more effective, said the NHS.

Physical struggles, like having to hold your child down, send the wrong message as well. It tells your child that the only way to get her to take her medicine is through force. "If you start holding a child down to give him medicine, you may have to do it again and again," social worker Mary Mathews told PBS. 

6. Ask your child's pedia if you can mix it with other food
If you know you're going to have trouble giving your child his medicine, as the pediatrician is prescribing the medicine, ask for ways you can make it more palatable already. Inquire if the medicine will be okay to mix with food or juice. 

With the go-signal from the doctor, thick food like fruit yogurt, or a small amount of orange juice will be able to mask the taste of the medicine. "Make sure your child eats the entire portion to receive the complete dose of medication. Avoid mixing medication in a baby's bottle – a baby who doesn't finish the bottle might not receive the full dosage," said KidsHealth. 

7. Praise and distract afterward
Once the medicine has gone down, comment on how well your child has done ("You finished that quick!") or give small rewards in the form of a sticker or stamp chart. Again, avoid turning medicine-time into a hardship and move on to an activity, like a coloring book, or game afterward. 

Good luck!

CONTINUE READING BELOW

Recommended Videos

Celebrate your pregnancy milestones!


Enter your details below and receive weekly email guides on your baby's weight and height in cute illustration of Filipino fruits. PLUS get helpful tips from experts, freebies and more!

You're almost there! Check your inbox.


We sent a verification email. Can't find it? Check your spam, junk, and promotions folder.

Trending in Summit Network