Your Baby Can Get Tooth Decay! Here Are The Signs He Needs A Dentist ASAP

Caring for your child's teeth should start when he's a baby.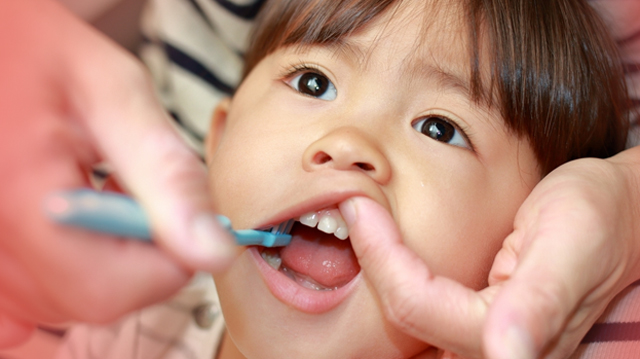 The moment your child's first teeth erupt is exciting — what parent wouldn't want to see her little one's pearly whites on full display? However, this milestone also signifies a need to take measures to care for your child's teeth, because if you don't, then he might become at risk for tooth decay. The following occurrences might mean your child's baby teeth are in trouble.

5 signs of tooth decay in your child

White spots along the gum line

According to the American Academy of Pediatrics (AAP), your child's tooth decay might first manifest as white spots along the gum line or on the tongue side on his upper front teeth. Dr. Kevin Donly, DDS, MS, president of the American Academy of Pediatric Dentistry, explains to Romper that these are the areas where the child's teeth enamel has a subsurface mineral loss.

Brown spots on the teeth

Decay may also be detected through brownish or yellowish spots on your child's teeth, says Dr. Erin Issac, DMD of the American Board of Pediatric Dentistry, an assistant clinical professor at the University of Pittsburgh School of Dental Medicine. She tells Romper that this decay can occur soon after a child's baby teeth erupt.

ADVERTISEMENT - CONTINUE READING BELOW

CONTINUE READING BELOW

Recommended Videos

The rough texture of the teeth

Baby teeth are typically smooth, so if your child's baby teeth are not, then that might mean he has tooth decay, according to Romper. Dr. Rocky Napier, a pediatric dentist and a spokesperson for the Academy of General Dentistry, explains the rough texture on the teeth might be caused by factors such as the nutritional content of your child's diet or his feeding habits.

Chipped or broken teeth

Decay can cause a baby tooth to get chipped or broken for no apparent reason, like a direct injury, says Dr. Issac. You might also spot some holes that signal that your child's tooth has become more fragile.

Changes in your child's behavior

Johns Hopkins Medicine says that tooth decay can cause a child to feel pain in the area surrounding the affected tooth or be sensitive to certain types of food, like sweets and hot or cold drinks.

ADVERTISEMENT - CONTINUE READING BELOW

How to protect your child's baby teeth from decay

Caring for your child's baby teeth should start when during babyhood, whether he is breastfed or formula-fed. For babies 12 months and younger, the AAP recommends wiping their teeth with a clean washcloth and gently brushing their teeth with fluoride toothpaste. For babies 12 to 36 months old, brush their teeth twice a day using fluoride toothpaste. (Click here to learn more about the appropriate amount of toothpaste to use when brushing your child's teeth.)

Regular dental check-ups can also help prevent tooth decay. Raising Children suggests visiting your dentist every six to 12 months. Your dentist though is the best perso to say how often your child needs to get a checkup.

For more tips on how to properly care for your child's teeth, click here and here.

Trending in Summit Network