Eczema Quick Guide: What You Need to Know From Diagnosis to Treatment

What exactly is eczema and does your child have it?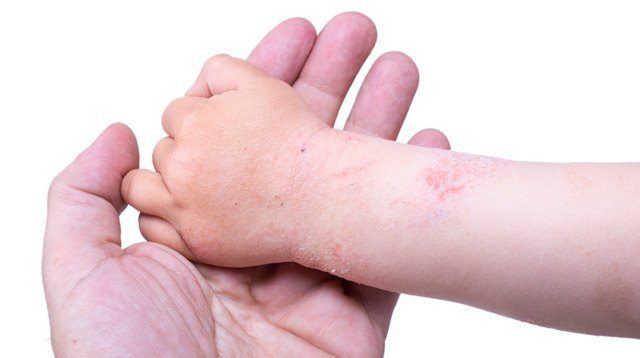 Eczema is a term for medical conditions that can cause redness, itchiness, and dryness of the skin, said Dr. Jamie Isip-Cumpas, a pediatrician from Parkview Children's Clinic in Makati. 

"Many things can cause eczema, so the first thing a parent needs to do is find the cause. When you know the cause, you'll know how to manage it," explains Dr. Joanne B. Gonzalez, a fellow of the Philippine Dermatological Society and the American Academy of Dermatology who holds a clinic at Derma 360° in Makati, told Smart Parenting. 

In children, some of the most common causes of eczema are atopic dermatitis, heat rash (Pinoy parents call it bungang araw), intertrigo, and seborrheic dermatitis for newborns. 

You may recognize seborrheic dermatitis as cradle cap, the crusty, scaly patches on your baby's scalp similar to dandruff. Intertrigo, on the other hand, is a rash in the folds of the skin. "In Filipino, we call it halas. It usually happens when your baby's milk drips to the neck area. Consistent moisture in the creases of the neck also causes the condition," said Dr. Gonzalez. 

However, when most parents talk about eczema, they're usually referring to atopic dermatitis. Here are a few things parents need to know about it: 

What other parents are reading

1.  Atopic dermatitis causes very dry and itchy skin
According to Mayo Clinic, "healthy skin helps retain moisture and protects you from bacteria, irritants, and allergens." With atopic dermatitis, however, the skin can't provide this protection, making the skin susceptible to irritants and allergens. This sensitivity can cause the dry, scaly and itchy skin in children with the condition.  

"Atopic dermatitis is very common. It's something you're born with," said Dr. Gonzalez. "It's not something that you can cure. It's not something that if you give very good medicine it will go away for good and never return." 

Since it is a chronic condition, a child who has been diagnosed with atopic dermatitis will have it for the rest of her life. But it doesn't mean that your child's skin will always be dry and itchy. Management and maintenance are key to help keep the rashes at bay. 

When your child's skin is itchy and dry though, he has to try his best to avoid scratching. "Scratching can create open wounds on the skin. Once you have open wounds, any infection can get in. The most common bacteria that infect the skin is staphylococcus," said Dr. Gonzalez. Bacterial infections will need antibiotics for treatment. 

ADVERTISEMENT - CONTINUE READING BELOW

What other parents are reading

2. Treatment can be tough
Be patient because treatment can take months or years to find the right one that will control your child's eczema. 

In infants, atopic dermatitis can be triggered by the environmental factors, from clothing to pollution, said Dr. Isip-Cumpas. Talk to a pediatrician who can help identify what's irritating so you can avoid it.

Depending on the severity, doctors also prescribe medication. Treatment is given when your child's eczema is having "episodes" or when the rashes flare up. "I'm usually very conservative with my treatment. I start with the lowest or mildest form which is usually topical -- you apply it on the skin. Then if that doesn't work, you go higher up -- antibiotics and steroids," said Dr. Gonzalez. 

Dr. Gonzalez stressed that antibiotics and steroids are given to control severe episodes of atopic dermatitis, like your child's skin, is very red and swollen. "You can't use these as maintenance. When you don't have the rash, you manage the condition with moisturizers."

When it comes to steroids, however, Dr. Gonzalez gives a word of caution. "Sometimes, patients will stop mid-treatment when it comes to steroids. It can be because this type of treatment can work really well and very fast," she said.

It's important, however, that you follow the doctor's instructions even if you can already see improvement in your child's skin. If you stop too early, you're not treating the rash completely, she added. It's still there, and it will come back, prompting you to start treatment all over again.

ADVERTISEMENT - CONTINUE READING BELOW

Recommended Videos

What other parents are reading

3. Keep your child's skin moisturized
"The main problem, again, of atopic dermatitis is very dry and itchy skin. It's what you have to avoid," said Dr. Gonzalez. "So, the mainstay of treatment is moisturizers. When you moisturize the skin, you'll lessen the chances of rashes and flare ups happening very often." Your child's dermatologist will be able to recommend a very good moisturizer. 

There are times when doctors tell patients with atopic dermatitis to bathe less frequently. "Prolonged exposure to water dries the skin more. We also tell patients that, as much as possible, avoid using hot water for showering or bathing. For babies, lukewarm is okay but not hot water as it strips the skin of oil."

If you're currently struggling with your child's atopic dermatitis, Dr. Gonzalez imparted reassuring words as a mom of a daughter with the condition herself. "It's usually difficult when the kids are young because the parents really have to take care of everything -- treatment, management, and maintenance," said Dr. Gonzalez.

"But eventually as the child grows up, he or she learns to take care of his or her skin. They know they shouldn't stay too long in the water, to use moisturizer after bathing, that they shouldn't scratch when it's itchy, and to avoid the things that can cause rashes. They learn to take care of their skin, so it usually becomes milder as they grow old."

Dr. Gonzalez's parting words: Consult a dermatologist for any concerns about your child's skin. 

Dr. Joanne B. Gonzalez holds clinic at Derma 360°: Professional Dermatological Center, Joya Lofts and Towers, Makati City. Contact the clinic by calling 403-0968.

ADVERTISEMENT - CONTINUE READING BELOW

Celebrate your pregnancy milestones!


Enter your details below and receive weekly email guides on your baby's weight and height in cute illustration of Filipino fruits. PLUS get helpful tips from experts, freebies and more!

You're almost there! Check your inbox.


We sent a verification email. Can't find it? Check your spam, junk, and promotions folder.

Trending in Summit Network