This Mom Shares a Vital Tip After Her Son Had a Seizure Mid-Flight

It's always best to be over-prepared when you are traveling with kids.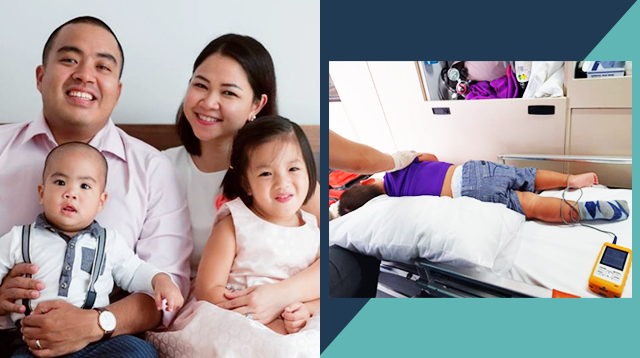 It was supposed to be a normal four-hour flight from Manila to Singapore for Clarissa dela Paz, 36, and her two kids, Alessi, 3, and Basti, 1. But it turned out to be the longest, most nerve-racking experience of her life when her youngest suddenly had a seizure attack mid-flight last October 24, 2018.

"He was okay before flight and was even running around the airport," Clarissa wrote on a Facebook post detailing the incident. "He fell asleep in the plane on my lap, and I felt he was getting warmer. In the middle of his nap, he had the seizure."

Clarissa said Basti was shaking with eyes wide open "looking dazed," and bubbles were forming in his mouth. His lips had turned blue. In a panic, Clarissa shouted for help and called for any doctor onboard.

What other parents are reading

Fortunately, the flight crew quickly came to her aid and two Filipino nurses were also onboard. They laid Basti on the floor in recovery position and gave him oxygen. Clarissa wrote that she was told the plane was considering an emergency landing.

After two agonizing minutes of seizing, Basti's color came back and while he was still unconscious, his breathing stabilized. In an interview with SmartParenting.com.ph, Clarissa shared the nurses assured her it was normal that Basti slept after a seizure, so the crew decided to continue the flight and land in Singapore.

"They moved us to the third row [of the plane] and assured us that medical assistance and an ambulance would be ready as soon as we landed," Clarissa wrote. "It felt like the longest flight I ever had."

ADVERTISEMENT - CONTINUE READING BELOW

What other parents are reading

Clarissa's only adult companion on the flight was the kids' yaya. They had just come from a five-day vacation in Manila and was going back to Singapore where her husband Miko and their family have been based for the last five years.

Clarissa said that as the plane began to land, Basti regained consciousness and started crying. "I just let him cry because that felt so much better than him being knocked out," she wrote.

Upon landing, a doctor quickly attended to her son and checked his vital signs while an immigration officer cleared them for entry to Singapore. "As soon as we were cleared, we rushed downstairs to ride the ambulance waiting by the plane. Basti was unconscious again the entire ambulance ride but started crying in the emergency room, which was good."

What other parents are reading

Basti's temperature upon landing was at 38.7 degrees celsius, but it could have been higher while they were on the plane.

PHOTO BY

courtesy of Clarissa dela Paz

CONTINUE READING BELOW

Recommended Videos

It turned out that Basti suffered from febrile seizure, which, according to MayoClinic, is a convulsion in a child caused by a spike in body temperature, often from an infection. It typically lasts for a few minutes and while incredibly frightening, it is usually non-life threatening and doesn't lead to any brain damage.

"Basti's fever was on and off for a couple of days [after the flight], but he was given antibiotics and since he took them, the fever has stopped," Claire tells Smart Parenting. "After blood tests, we found out bacterial infection caused the fever."

Clarissa says always carried medication for fever, allergy, and asthma whenever they travel. But on that particular day, she packed it in their check-in baggage since the kids did not show any signs of getting sick.

What other parents are reading

Suffice to say, she has learned her lesson. "I will now carry a thermometer — I bought a hospital-grade thermometer immediately after the incident — and an ice bag. The crew provided ice cubes, but there was no ice bag, so we ended up putting the ice in the vomit bag provided in-flight. It wasn't easy to use," Clarissa shares.

According to the doctor that checked Basti in the emergency room, febrile seizure usually occurs when a child's temperature reaches 39 degrees celsius and up. "Now,  as soon as I feel my kids are warmer than usual, I will check their temperature right there and then and put ice on their head," Clarissa says.

After fighting off a bacterial infection, Basti has recovered and is now doing well. Here he is with his family!

PHOTO BY

courtesy of Clarissa de la Paz

ADVERTISEMENT - CONTINUE READING BELOW

A medical emergency can happen any time, to any person, and Clarissa's story is a reminder that it's important to always have a first-aid kit with you while traveling. The US Centers for Disease Control and Prevention offers a list of approved first-aid items that travelers can carry on airline flights:

Acetaminophen or ibuprofen to relieve headaches, pain, fever, and simple sprains or strains
Antihistamines to relieve allergies
Antacids
Anti-nausea or motion sickness medicine
Cough and cold medicine
Over-the-counter medicine for diarrhea
Antibacterial hand wipes or an alcohol-based hand cleaner (should contain at least 60% alcohol and should be below 100 ml)
Bandages of assorted sizes
Bandage closures
Triangular bandage (to wrap injuries or make an arm sling)
Elastic wraps (to wrap wrist, ankle, knee, and elbow in case of injury)
Gauze in rolls and adhesive tape
Safety pins to fasten splints and bandages
Antibiotic ointment to prevent infection in cuts, scrapes, and burns
Cool packs
Thermometer
Disposable rubber gloves
Calamine lotion to relieve itching
Hydrocortisone cream
Sunscreen
Aloe gel (for sunburns)
Insect repellent

Some first-aid items, like scissors (even with rounded tips) and tweezers may be restricted by certain airlines so make sure to call the airline before your flight and check airport guidelines or government regulations of the country you're travelling from.

What other parents are reading

In the unfortunate event that your child suffers from a seizure where he falls, shakes or jerks, and becomes unaware of what's going on around them, the CDC shares the following guidelines:



Ease the person to the floor.
Turn the person gently onto one side. This will help the person breathe.
Clear the area around the person of anything hard or sharp. This can prevent injury.
Put something soft and flat, like a folded jacket, under his or her head.
Remove eyeglasses (if any)
Loosen ties or anything around the neck that may make it hard to breathe.
Time the seizure. Call for help if the seizure lasts longer than 5 minutes.

ADVERTISEMENT - CONTINUE READING BELOW

What other parents are reading

Celebrate your pregnancy milestones!


Enter your details below and receive weekly email guides on your baby's weight and height in cute illustration of Filipino fruits. PLUS get helpful tips from experts, freebies and more!

You're almost there! Check your inbox.


We sent a verification email. Can't find it? Check your spam, junk, and promotions folder.

Trending in Summit Network