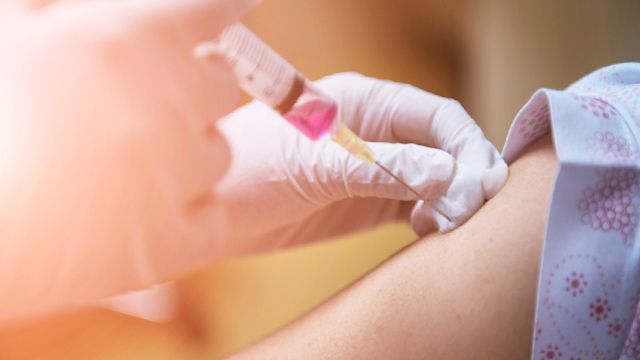 We have good reason (and science backs us up) why we're pushing for children to complete their vaccines. Viruses, like the one that causes measles, and bacteria can travel quickly through a community and make people sick. But when enough people in a community are vaccinated against a certain disease, infections won't spread as easily, and that means fewer people will get sick. This is called herd immunity.
"By being vaccinated, an individual is not only protected from being infected themselves, but they then also cannot pass this infection onto other people where it may cause severe disease," explains Dr. Manish Sadarangani, director of the Vaccine Evaluation Center at BC Children's Hospital in Canada, in an article published by the University of Oxford.
Herd immunity protects the weak
For herd immunity to work, a large portion of the population needs to be vaccinated. "An immunization coverage of 95% amongst all children is needed for a community to be fully protected against measles," the WHO writes in a public service announcement posted on their website. "This includes protection for the vulnerable members of the population such as infants that are too young to receive vaccination, people who have weakened immune systems, and older adults."
Gid M-K, an epidemiologist, explains how herd immunity works in simpler terms. "Imagine if you catch measles. After seeing the doctor, [you] stay at home for the rest of your infectious period. You've limited your contact with uninfected people by staying at home once you realized you were sick. Even so, you're still likely to have infected a significant number of people whilst you were [wandering] around, blissfully unaware," he writes in his Medium account.
"But what if these people were vaccinated? If the vast majority of people you ran into on the street were already immune to catching measles, you might only pass on the disease to one person before going home. If they were all vaccinated, the outbreak of measles would stop with you."
Herd immunity helps eliminate vaccine-preventable diseases
Because of the measles outbreak, the Philippine Pediatric Society and the Pediatric Infectious Disease Society of the Philippines have issued new recommendations that state infants who are 6 months old may receive a shot of the measles vaccine or the Measles-Mumps-Rubella (MMR) vaccine. These vaccines are typically administered when a baby is at least 9 months old.

Infants who are below 6 months old, however, cannot receive the vaccine yet as it is too risky, according to DOH Secretary Francisco Duque. "Their immune system is not yet fully developed. Aside from that, they have natural protection against measles that they acquired from their mothers," he tells The Philippine Star.

This is where herd immunity comes in. People who can't get vaccinated can still be protected from vaccine-preventable diseases if herd immunity is active in their community. "This includes babies, people with vaccine allergies, and anyone with immune-suppressing disease like HIV or cancer," according to WebMD.
Herd immunity can protect people from disease if high percentage of people in any one area are vaccinated. "The more contagious it is, the more people need to be vaccinated," says Dr. Sadarangani. "Before the use of the measles vaccine, every person with measles would infect another 10-15 people and so the disease would spread very quickly. To achieve herd immunity for measles, at least 90-95% of the population needs to be vaccinated."

"A disease like polio is less contagious and 80-85% of the population would need to be vaccinated for the herd immunity to work," he adds.

When vaccination rates drop, diseases that have once been eliminated may reappear in the country. For example, measles was eliminated in the United States in 2000, but outbreaks have reoccurred in recent years as travelers may have brought in the disease from countries where the infection is still prevalent.

"When people's immunity drops, it can lead to new disease outbreaks unless more people in the area keep getting vaccinated," says WebMD.
Vaccines are still the best protection
The Department of Health (DOH) has already declared five measles outbreaks in five regions in the Philippines, including Metro Manila, Central Luzon, CALABARZON, Western Visayas, and Central Luzon. From January 1 to February 9, 2019, the DOH have recorded more than 4,300 measles cases and 70 deaths.

To address this alarming rise in cases, the DOH has formed a task force that will conduct a mass immunizationactivity against measles, according to the Philippine News Agency.

The country has seen a decline in getting the first dose of measles vaccine in the past decade, especially in 2018, resulting in children becoming more susceptible to the infection. The World Health Organization (WHO) estimates that 2.6 million children under the age of 5 are not protected from measles.
Herd immunity only works for diseases that are spread directly between people, says Dr. Sadarangani. So, while herd immunity is effective, vaccines are still the best way to protect yourself.
"For many diseases, children and in particular young children, are at the highest risk of the disease and also have the most severe illness. The best way to protect someone against disease is to vaccinate them directly, rather than rely on 'indirect' protection through herd immunity," says Dr. Sadarangani.